A Peek Inside RealVantage's Internal Mechanism
Watch our webinar as we provide a close-up, front-seat view of the internal workings at RealVantage.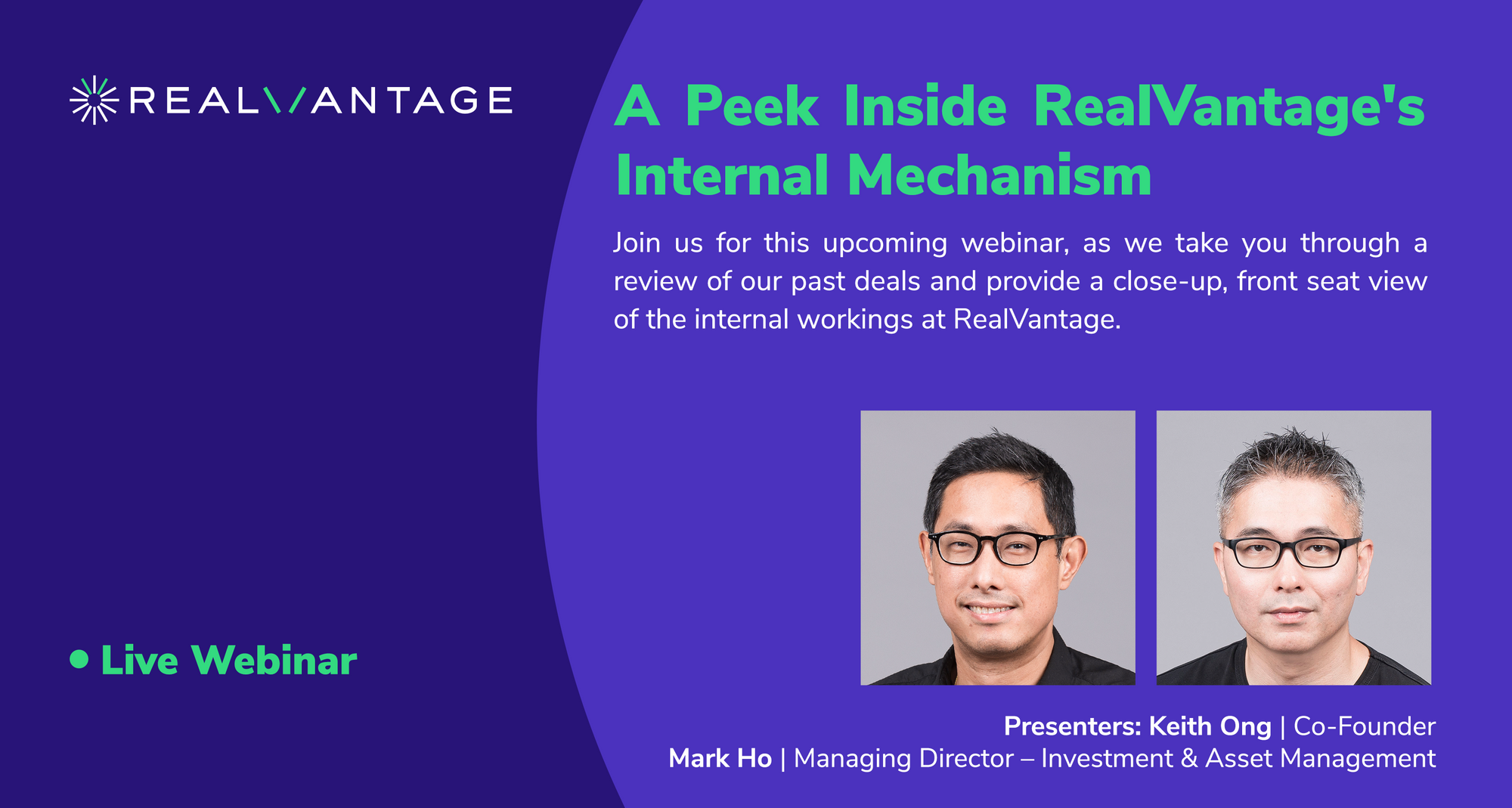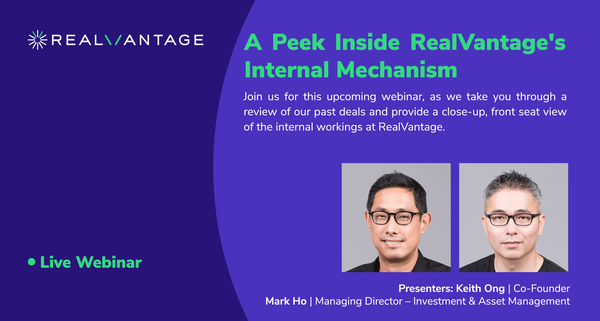 Thank you for the great turnout, you will find the webinar via the link below.
| Time Stamp | Topic Reference |
| --- | --- |
| 00:00 | Introduction |
| 00:54 | What We Do |
| 01:46 | Pain Points in Property Investments |
| 03:18 | Our Artificial Intelligence Edge |
| 04:12 | People |
| 05:08 | Safeguarding Investors' Interest |
| 06:11 | Our Modus Operandi |
| 07:16 | Handling Investors' Funds |
| 09:06 | Asset Management and Reporting |
| 10:13 | Alignment of Interest |
| 10:44 | Full Transparency & Disclosure |
| 11:10 | Our Investment Process |
| 12:09 | RealVantage Investment Assessment Framework |
| 16:01 | Due Diligence Framework |
About The Speakers
Keith Ong | Co-Founder
Keith is an industry veteran with over 20 years of experience, he has transacted in excess of USD 3 billion across geographies, sectors and the entire real estate investment spectrum. He was the Assistant Director of Investment in ARA Asset Management, Director of Investment in Rockworth Capital Partners, and the Director of Investment Management and Capital Transactions for Firmus Capital.
Mark Ho | Managing Director - Investment & Asset Management
Mark has over 16 years of experience spanning cross-border investment, research and strategy, he has advised on and executed transactions in excess of USD 800 million across multiple asset classes and investment strategies. He was involved in investment, research and strategy at Pacific Star Group, capital market transactions and investment research at JLL, and real estate private equity at Deutsche Bank before joining a family office.
Transcript
0:00
Mao Ching

Good evening, everyone, sorry for the delay had something technical difficulties. Thanks for tuning in. I hope everyone is keeping well. It's great news that we are moving into phase three soon. I'm the Co-Founder of RealVantage, my team and I are glad to provide an overview of existing views and the internal workings in RV, primarily on our deal evaluation process.
And joining me today is our colleagues Keith and Mark. Keith, my Co-Founder will be speaking about our deal selection evaluation criteria. And thereafter Mark will be speaking about the performance of our existing portfolio. So a bit of logistics on our end, there's a chat box on your right feel free to post your questions and we will take them at the end of the session. So there are good number of signups on the webinar. Let me do a quick introduction to RealVantage.
So in a nutshell, RealVantage acts as your real estate fund manager bringing you all the benefits of direct real estate investing minus the hassle. So, we play three key roles right first we source and analyse, underwrite real estate investment opportunities.
For each deal, we will provide an investment thesis set out the projected returns the whole period, the investment structure and the risk factors. And then next, once the deal is invested, we will actively manage the asset and investors will be kept updated regularly. At the end of the investment period, we will seek the best exit for investment right we will we also interface with our investors through the online platform. The onboarding process, the investment process, asset performance tracking, and distribution of funds are all done digitally.
So typically, for a real estate investor in Singapore, they are, you know, very limited options, right? That's the Singaporean will choose that condominium unit or to invest in and then subsequently you put out you know, a huge chunk of capital as the down payment, and then he will look for a rental tenant to cover the rents.
Now, we but actually there are many other ways to invest in real estate and we see ourselves bringing value in the following ways right? Firstly, we provide greater access to deals our deals across real estate value chain ranges across the value chain and also the capital structure right. So deals which individual investors may not have ready access to.
For example, you could participate in a joint venture with a developer to develop and sell residential units or you could be a co-owner of an office building. Secondly, our opportunities are project specific. So investors gets to diversify their investment capital either by country sector or strategies. And by strategies, I mean investors can invest into stable yield driven opportunities to get higher returns right. And this includes the development and value-add deals.
Thirdly, with flexible investment ticket sizes, investors are able to gain exposure to direct real estate while avoiding over concentration risks. And lastly, we'll actively manage the asset through the investment lifecycle so it becomes hassle-free for investors.
Next, I would like to highlight how we do it differently here at RealVantage right and we are a small team we cover many different markets and to help us sharpen our investment decision we have developed an in house system artificial intelligence system we use technology to help us in terms of sharpening our the deals that we do to source for better deals as well as to assess it in a quicker sharper faster way.
So essentially, the system enables the team to gain new insights source better assess faster make better investment decisions. And to give an example right so AI system comprises of these following components as listed here on the slide. And it also seeks to answer or give us answers to questions such as which markets are rents fall, falling at a declining rate. Which markets are under supplied compared to let's say, the 10 year average.
Now, the concept is only as good as the team behind me. So let me introduce the team. At RealVantage, we have a combined experience of close to 100 years in real estate fund management, data science and technology. And many of us come from very reputable organisations such as GIC, ARA Barclays Bank and Deutsche Bank. In real estate we have transacted more than 10 billion in real estate globally and across sectors from residential to commercial assets. And we are blessed to have two very experienced industry veterans who sit on our investment committee.
They vet and approve all the deals that we put up for funding. So Mr. Anthony Ang is the CEO of Singapore listed REIT and a Singapore's ambassador to Tunisia. Formally, he was a CEO of ARA Dragon Fund and Fortune REIT. And Mr. Richard Tan is the former CFO of Suntec REIT and is a veteran in the banking and finance industry. So with that, let me hand over to Keith who will go through our investment process.
5:08
Keith

Okay, thank you, Mao and very good evening. Thank you for joining us today. We have a solid turnout today. So I'm glad you mentioned take the time, I will be elaborating on our internal mechanisms at RealVantage primarily how we safeguard investors funds and deal review process.
Some of you might have read there was recent news in the press regarding a certain online platform that alleged to have misappropriated investors funds and channelled the proceeds to investments that were not for its intended purpose. It's unfortunate that such dealings have managed to slip through the cracks, although it may not have been the platform's intention to deceive, right.
So we decided to conduct this webinar to take you through our internal process and procedures. We will discuss in depth on our deal review process procedures, practices and the various safeguards that were put in place. Hopefully, you get a better appreciation on how we conduct business.
Okay, I'll start by speaking about the investment structure. Now, what do you own when you invest with us? That's a very important question everybody should ask themselves, all our deals are structured into what we call a single purpose vehicle. Now, what do we mean by that is a newly formed company.
So when you invest, you are made a shareholder of an SPV, a single purpose vehicle. The SPV but the vehicle that owns the asset or invest solely into the sponsors entity. Sponsor, we mean the partner on the ground and nothing else right RealVantage will be appointed the manager to manage the SPV and the asset. So what we are trying to achieve here, we're trying to show a clear legal ownership to your investment. Right.
Another key feature that we have, you can see to the left, we have what we call an escrow agent. The escrow agent is a third party fund custodian their job is to manage the bank account and safeguard funds on behalf of the investors. Let me elaborate on this. Handling funds for my investors really is has to be a systematic and procedure manner and is an important part to have the relevant checks and balances.
Firstly, all of investors funds are deposited into a designated bank account. It is not, I emphasised is not a RealVantage controlled account. The bank account is managed by the escrow agent and RealVantage has rights to view right. Later I will discuss, explain the checks and balances we have. Right. Next. The escrow agent that we have appointed is called LegalWorks Law Corporation. Right?
They have a $30 million indemnity coverage. So don't worry about them running away. For all our transactions, the escrow agent plays a very important role. Firstly, they have to vet through all the contracts, they will double check on the payment terms the transaction sum the con, the transaction conditions, ensuring all these have been fulfilled. And after that, for all movements of funds, there will always be two approvers the escrow agent and RealVantage. So this is a check and balance mechanism. So the escrow agent can't actually push money to themselves, right.
Certainly, RealVantage can't take the money out by ourselves as well, right? There's no way you can do that. So what we're trying to do here, for all movements of funds, now RealVantage will always have a check and balance mechanism. Simply put, we can't unilaterally move funds out. And we can't move any of our investors funds out.
Now the next one, it's important to also understand what do you know, but how do you keep track of investment when you have invest with us. So for every deal, there'll be a designated asset manager, his role is to be responsible for the performance of the asset. His job is to ensure that it performs up to the projected returns that we have conveyed and liaise closely with the market and also with the sponsor.
We have a monthly cadence of monthly meeting with the sponsor on the ground to track the performances right. Our investors are kept abreast with our custom built online Asset Management module. So details such as the performance of the asset occupancy rate, the rental rates, the distributions that we have provided, the distributions that are upcoming. All this will be on our online platform.
In addition, every quarter we will email to our investors a quarterly report. Those who don't like to log in, you can look at the property report, it provides all the details on your investment.
Next, very important aspect is alignment of interest. Now what what do we mean by this? It's important that all fund managers like ourselves, have skin in the game. So putting money where your mouth is, there's no point us saying is a fantastic investment. Right? We personally have invested in all our deals, right? This is to ensure that we are totally aligned with our investors, we invest in the same capacity and in the same structure. Right.
Next point is on full transparency and disclosure, right? Those who have logged on to our website and seen opportunities, all our deals are laid out very clearly, we put forth the investment strategy, the risk factors, the cashflow models, and most importantly, even the fees that we charge, it's all up there, you can see it online, right? So you're fully appraised of the deal.
Okay, next part, I'm going to talk about is the investment process. This is a very important part, I like to emphasise, you know. So in RealVantage, my team and I have executed many real estate transactions throughout our career. So from my experience, for successful investment to happen, it's all about dealing with the risks involved, knowing what they are, and finding ways to mitigate them. So once we can tackle the downside risks, the upside will take care of itself.
Thus at RealVantage, we spend a tremendous amount of time and effort on due diligence, with the aim to identify and uncover the risk involved.
Broadly speaking, our due diligence covers three areas. First, the sponsor or the partner that we work with. Second is on the deal itself. And third is on the investment structure. Right, I will discuss this in greater detail. Right?
So the investment process at RealVantage is robust and vigorous one that have we have adopted from institutional best practices. So not many deals actually pass the test, right? First, it starts off with market research and strategy formulation. So on a regular cadence, we do a macro scan to assess the markets that we are in and to identify new markets, that may have compelling value propositions.
So questions we ask ourselves include; where are we in the various real estate cycles? What is the economic outlook for the market that we are in? What are the growth drivers for the market? So from that exercise, we narrow down to the market, we think are attractive, and we formulate a strategy.
For example, we may conclude that the logistics sector in the UK real estate market is a compelling one to go into, right. So we identify the market and the strategy on how we're going to go into. Next step, what we do next is to source for deals within the identified markets, through our networks, contacts and brokers. For deals that we work with the local partner or sponsor, so we spend a lot of time as well to evaluate the sponsors track record, their background, the history, the expertise, and the ability to execute the project.
Next step is once we have identified a deal, we put it through a vigorous assessment criteria, or what we term deal underwriting in any view, we always ask what is the investment thesis and the objective? Fundamentally, when we look at the deal, we ask ourselves one very simple question, how are we going to make money in this deal? Right? Are we buying at a good discount to market? Are we able to create value through fixing the asset or simply are we in the right time of the cycle? That the markets going to build for us?
So the value creations strategy has to be crystal clear, right? Once the investment thesis is establish, we dive into really the nitty gritty of we call are granular deals, identifying rentals and sales comparables, we run a detailed financial model, it creates sensitivity analysis, we tests assumptions. And once all these boxes are checked off, we go into formal due diligence. This is another detail process, which I'll talk about in my next slide.
So after due diligence is done we go into something called deal structuring, in deal structuring, very simply we are trying to find the optimal investment structure. Is it going in through equity or notes? The gist of it is to really is to minimise tax exposure because we invest largely in overseas projects right and also to preserve our divestment flexibility.
Once all that is done, we encapsulate all our findings into a investment memo that is circulated to our investment committee for approval. Right. So our investment committee like Mao has mentioned, helmed by two very esteemed industry veterans, they will scrutinise us, they will question us. And if they're not happy with the deal, they will through out the deal. But fundamentally is another final check and balance on the deal before we put it up for funding. Right.
Now, after the approval is made, we will go through another set of documentation, but we prepare, review, execute all the relevant documents. And really, once the investment is done, that's when the hard work starts. So we have put in place a detailed asset management strategy, listing out the key deliverables for the year, the budgets, and for partnerships as well we'll list out, what the sponsor needs to do, the information that he needs to furnish us on a regular basis. And more importantly, we also keep very close close tabs on the markets that we have invested in.
Okay, next one I'd like to discuss. I know this is pretty dry topic, but I think it's a very important one to talk about is the due diligence framework that RealVantage typically undertakes. Now, there are typically six aspects we should cover, but I'll just briefly talk about three of them.
First is legal due diligence, right. This is a very important aspect and what we are trying to uncover is to ensure that the title to the property is clean. This means the property title is free of encumbrances, legal charters or liens. So we don't want to take over property and discover further down the road that someone else has a legal stick on the asset. So that's very important part of the legal due diligence.
Next aspects is the financial aspect, the financial due diligence. The objective is simply to verify the actual income of a property. Say for example, if you are buying an office building with 50 tenants, right? Each tenant has his own lease agreement, some unique to itself. So in our lease reviews, we look out for break clauses, rent discount, option terms, right?
We would apart from the income part of it, we also look at the expenses, we look at operating expenses of the property to ensure is sufficiently covers the maintenance of the property. Essentially, in financial due diligence, we want to ensure the revenue and expense of the property matches up the price that we're paying for right.
Okay, next important aspect is technical due diligence, okay? This is akin to kicking the tires of the car, right? We have professionals doing this aspect, building engineers and surveyors, right. So the gist of technical due diligence, although there are many aspects to it, the gist is to identify two key areas. First, the property is maintained well and adheres to the building regulations.
Now. If the asset is in breach of a certain building code, there could be huge financial penalties with the regulator's. For example, in certain jurisdictions, the fire sprinkler system in a building needs to be tested and certified every year. So if it's not done, the regulators will be after us right. Next, it's also important to identify the current and future capital expenditure of the asset.
An asset like real estate is still a depreciating asset. Certain equipment in the property would need to be overhauled or replaced. For example, the lifts, air conditioning system, all these have a useful life. So it's important for us to identify the potential costs or such replacements, and factor this in in our financial projections. So simply, we don't want to be faced with a huge capital outlay down the road, which has drastically affect the projects returns.
So in essence, due diligence, it's fundamentally to look at things that would affect the income of the asset. All this has to be anticipated in advance, right. A good fund manager should know all this in advance. This risk should be mitigated and in all translate into the price that you're paying. For example, if you have a huge replacement and lift replacement coming up in the next two years, you will factor that in your price instead of getting hit with it. And the worrisome thing is you may not have the funds necessary to replace it.
Transcribed by https://otter.ai
---
Find out more about RealVantage, visit our team, check out our story and investment strategies.
Sign Up at RealVantage
RealVantage is a real estate co-investment platform that allows our investors to diversify across markets, overseas properties, sectors and investment strategies.
Visit our main site to find out more!
Disclaimer: The information and/or documents contained in this article does not constitute financial advice and is meant for educational purposes. Please consult your financial advisor, accountant, and/or attorney before proceeding with any financial/real estate investments.