The Real Estate Cycle (And How To Find The Next Investment) [Updated 2021]
In this article, we explain the different phases of the real estate cycle and the strategies investors use in specific periods of the cycle.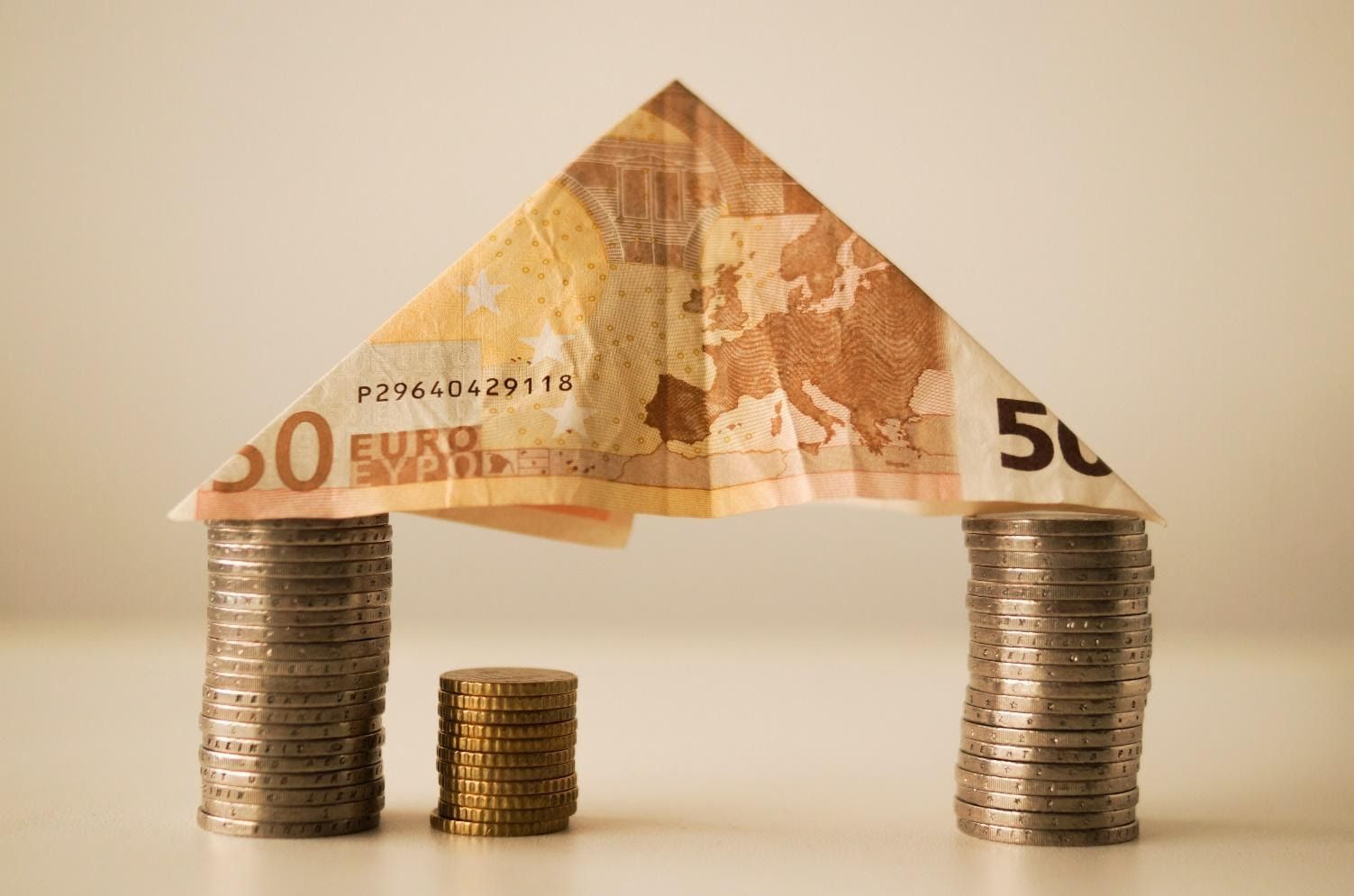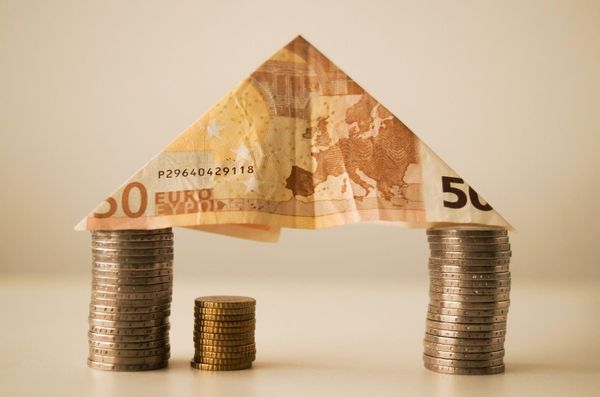 Table of Contents
---
Real estate is an industry that is intertwined with the general economy; it is a dynamic sector with trends constantly changing. Global occurrences such as the COVID-19 pandemic, Brexit, and the US-China trade war are some of the recent major trends that have impacted the real estate landscape.
Read also: RealVantage's COVID-19 Viewpoints and Strategies
Understanding the real estate cycle can help investors project income and capital appreciation of a property and also advise investors on the right time to make capital improvements or sales. Real estate investors can apply the theories of the real estate cycle in order to identify the correct phase, and deploy the appropriate investment strategy to maximise returns.
Below we explain the different phases of the real estate cycle, and the strategies investors use in specific periods of the cycle. We will also explore some of the economic factors that affect the real estate cycle, and pinpoint the phase of the real estate cycle we are currently in.
The Four Phases of the Real Estate Cycle
Back in 1933, Homer Hoyt, an American economist who specialised in land economics, discovered that the real estate business cycle has an average duration of 18 years. However, many modern researchers claim that real estate cycles are too unpredictable to establish an accurate time period, as there are too many variables that can affect the time horizon of the cycle. Nonetheless, a typical real estate cycle consists of four different phases: recovery, expansion, hyper supply, and recession.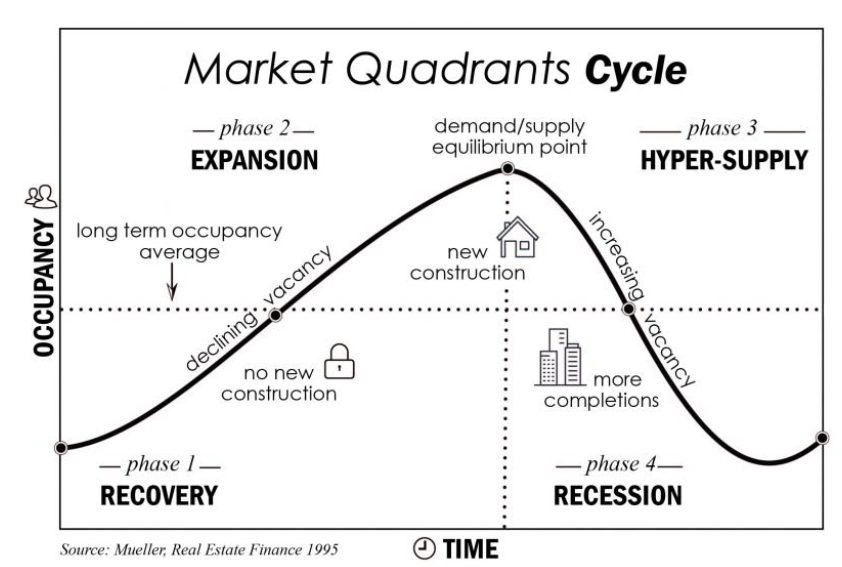 Phase 1: Recovery
The recovery phase is the first stage after a recession. Low occupancy rates, tepid demand for housing, declining numbers of development projects, and stagnant rental growth are some common indicators in this phase. The recovery phase can be tricky and difficult to identify as most people still feel the impact of the previous phase - recession, and hence have pessimistic outlooks.
However, many sophisticated investors consider this phase to be the prime time to purchase below market value properties.
Strategies
As the economy is still in distress though recovering, many property owners are still experiencing financial hardship and hence may sell real estate assets at a bargain. Investors can acquire these bargain-priced properties and hold them in anticipation for capital appreciation once the recovery phase ends.
Read also: Seeking Distressed Assets – A Playbook during Tumultuous Times
In addition, investors can also invest in properties that require improvements and apply a value-add strategy. Both the first strategy and the value-add strategy can be risky as rental demand in this phase tends to be weak. However these strategies can potentially be very profitable, especially when market rents rise, which accelerates once the economy shifts to the expansion phase. Timing the market and having sufficient liquidity are the keys to success in this phase.
Phase 2: Expansion
After the recovery phase, the real estate market will undergo a phase of expansion. In this phase, demand for properties and spaces increases, occupancy rates are on the rise, and rental prices surge. Job growth is steady and there are more new property developments. Investment activity soars as people regain their confidence in the economy.
Investors who have invested in discounted properties during the recovery phase, can reap their 'harvest' by selling their properties, as prices and rents reach a peak in this phase. The peak is where demand and supply for real estate are in equilibrium.
Strategies
As economic sentiment is high, interest rates will likely be low and financing becomes readily available. Many real estate developers and investors will be able to secure low-cost financing, and will choose to develop new properties or redevelop existing properties, as strong leasing momentum can help investors reach their desired returns. The expansion phase is also a good time to acquire value-add investment properties because the perceived risk is lower in this phase.
Phase 3: Hyper supply
The hyper supply phase starts when the supply of real estate in the market exceeds demand. New developments and redevelopments during the expansion phase have caused oversupply in the market, and prices of real estate start to decline due to the lack of sufficient demand.
Although rental rates might remain high because of strong economic factors, vacancy rates will start to rise. The increase in the number of new developments will begin to slow down as market inventory remains high. The hyper supply phase typically lasts for a long time,  before the economy enters into the recession phase eventually.
Strategies
In the hyper supply phase, investors should put a great deal of thought on their financial position as the economy begins to enter into a recession. Investors that do not have sufficient cash to get through the recession should consider liquidating their inventory to avoid a decline in property value in the next phase. On the other hand, for investors who hold properties that have strong tenants and long-term leases, the best course of action would likely be to stay put and ride out the coming downturn.
Phase 4: Recession
The recession phase can be painful for property investors. In this phase, the supply of properties overshadows demand, and real estate prices fall dramatically. Most property owners will suffer from high vacancy rates and lower rents, and rental income will plummet.
The economic downtown will also cause unemployment rates to rise and tenants may demand rent concessions or reductions to stay. The number of new construction projects plunges and investment activity slumps. The real estate cycle will ultimately reach the lowest point in this phase before any signs of recovery start to show.
Strategies
Real estate investors should keep a lookout for signs of recovery in this phase rather than feel emotional about the state of the economy. Recessions provide opportunities for investors with liquidity to acquire properties at deep discounts. Bank-owned or foreclosed real estate are great targets that opportunistic investors can consider purchasing during the recession phase.
However, investors should keep in mind that this phase is regarded as a high-risk period due to a lack of market liquidity and demand, and that investors will likely have to wait for an extensive and undetermined period of time before property prices hit a peak again.
Read also: The Real Estate Risk/Reward Spectrum & Investment Strategies
Sign Up at RealVantage
How Long do Real Estate Cycles Last?
Real Estate Cycles have been tracked as far back as the 1800s, with research showing that the US real estate market typically follows a similar pattern over 18 year cycles, which has proven to be true over the past 200 years.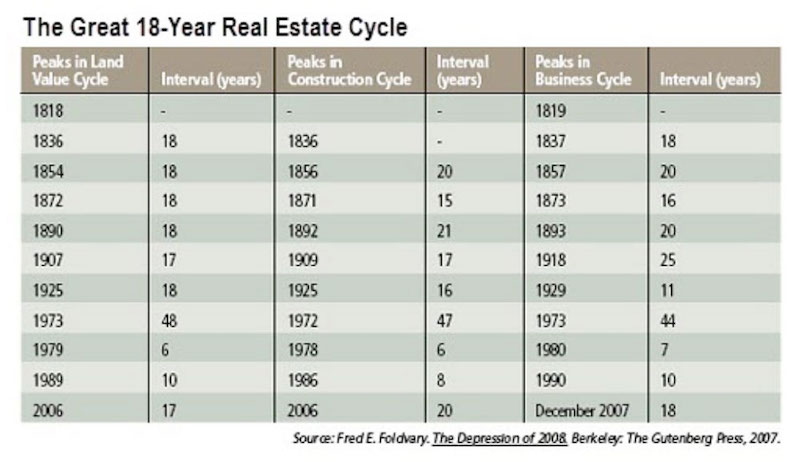 However, the above sample size is small from a statistical perspective. Applying the theory of real estate cycles to the actual real estate market is a lot harder, hence trying to time the market is extremely difficult. Ultimately, it is less about timing the market perfectly, and more about being as informed as possible.
How does the Economy Affect the Real Estate Cycle?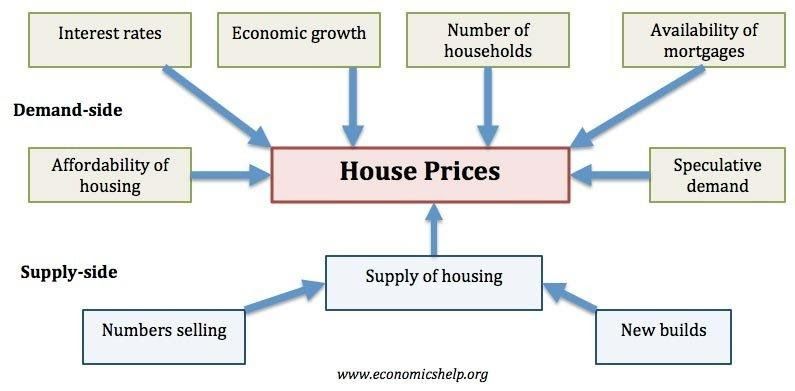 The real estate sector is to a large extent influenced by the state of the economy, and GDP growth, unemployment rate, interest rate, and consumer confidence are some of the economic factors that greatly affect the real estate industry.
State of the economy
One factor that drives the demand for real estate is the income of the general public. When the economy is booming, home prices will rise in accordance with rising wages. People can afford to spend more on housing, boosting momentum in the property sector. Likewise, in a recession, falling wages mean people have less purchasing power. The demand for housing weakens, causing real estate prices to tumble.
Unemployment Rate
Unemployment will affect people's ability to purchase real estate, as inability to apply for mortgages and afford mortgage payments increases.
Interest Rate
Interest rates are a major component of the real estate sector that determines the cost of financing, including mortgages and private home loans. High interest rates cause financing costs for real estate to go up, discouraging buyers from taking loans to purchase properties. A low-interest rate environment, however, will attract more buyers and cause an uplift in investment activities in the housing market.
Consumer Confidence
Consumer confidence measures consumers' degree of optimism about the current and future state of the economy. Consumer confidence will affect expectations of the property market and will directly impact investors' risk appetite for real estate. Low consumer confidence will cause consumer spending to fall, and vice versa.
Is Real Estate Cyclical?
Real estate is cyclical and tends to follow a pattern where the market goes up and down. Investors can invest in real estate when the cycle is trending downwards. This indicates a fall in the market, where many homeowners need to sell their homes, making it a buyers' market. The real estate cycle may also be localised to a particular market or country, so it is important for buyers to consider the cycle within their target housing market.

The real estate cycle also tends to follow general economic trends since real estate is a major economic driver. The demand for real estate is heavily influenced by economic factors with a traditionally outweighed supply.
What Stage of the Real Estate Cycle are we in 2021?
The COVID-19 pandemic has caused the global economy to go into the largest depression in history. With more than a third of the world's population placed into lockdown, consumer spending plummeted, causing nearly 500 million full-time jobs to disappear. Countries closed their borders, and the aviation industry shuttered.
While the full impact of the pandemic has yet to be realised, many experts agree that the global economy has already entered the downturn phase. Consequently, the real estate market is also believed to have slumped into a recession as the broader demand for property has tempered. Tenants' demand for rent relief and rent reductions have become more commonplace across the world. The number of real estate transactions has declined substantially since the COVID-19 outbreak began and has caused the real estate market to become less liquid.
Nonetheless, there are still numerous buying opportunities in the recession phase of the real estate cycle. Investors with liquidity can acquire distressed assets at steep discounts and wait for profits when the economy shows signs of recovery.
Sign Up at RealVantage
What Step of the Real Estate Cycle Generally Follows Recession?
A recession generally comes at the end of a real estate cycle, followed by a recovery period. During the recovery period, the market is usually at the lowest point in the cycle with low rental rates and low occupancy rates, in line with declining real estate demand. Over the entire recovery period, rental rates and occupancy rates gradually recover, leading into the expansion phase, whereby the market trends upwards.
So, is it a Good Time for Real Estate Investment in 2021?
Given the current property market following the COVID-19 pandemic, real estate has become more accessible for investors. Interest rates have dropped to record lows in the past year and are expected to remain stagnant over the next few years. This gives homebuyers more purchasing power and affordability. Shifts to work-from-home policies have also spurred homebuyers to rethink their living situations and seek more stable housing options, increasing housing demand.
However, while the market is ideal for real estate investment, low interest rates coupled with high demand indicates an increase in competition. For real estate investors, this means that properties are highly demanded and thus will be bought off the market faster, so investors have to act quickly when deciding to invest in a property in 2021.
Understanding Singapore Property Market Cycle
The Singapore Property Market Cycle is driven by local property supply and demand. The property market is unique in that Singapore's land is limited and fixed. However, the increasing population consistently  drives demand, keeping demand high with the same limited supply. Singapore is also viewed as a real estate safe haven investment for wealthy foreigners, and buyers are confident prices will grow steadily in the long term. The Singapore government has put policies in place to regulate the property market, such as imposing stamp duties on the buying and selling of properties in Singapore.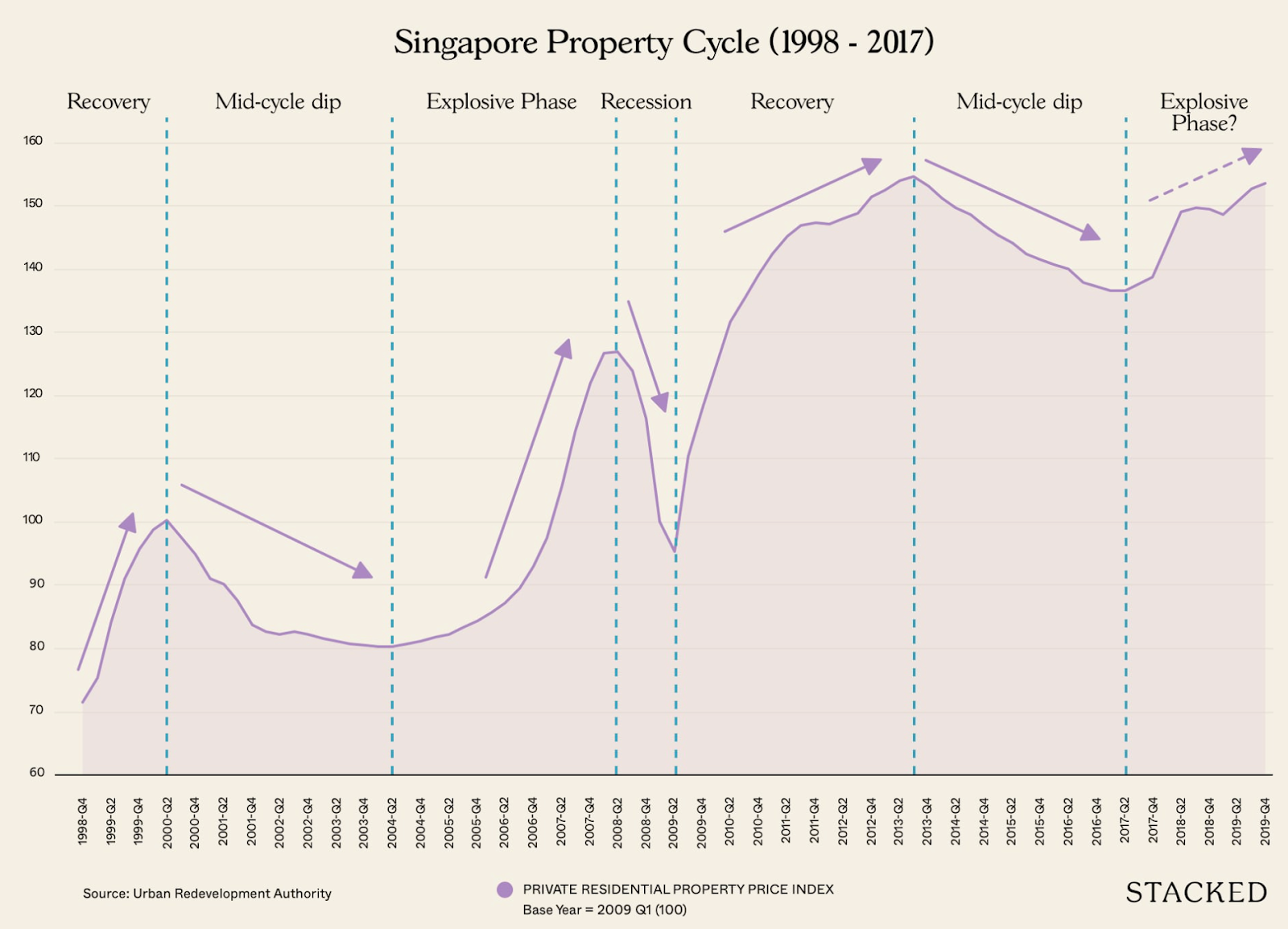 Prices increase due to the high demand for land. This causes some real estate investors to act speculatively, purchasing property in the hopes of gaining a profit. However, the increase in prices also limits affordability for most homebuyers, leading to a drop in property demand. Banks respond to this by limiting the amount of credit they give out and increasing their interest rates, leading to an overall low sentiment in the market, which transitions into a buyers' market. This is followed by a new real estate cycle, starting with the recovery phase, where the market picks up and trends upwards. Overall, the property cycle follows an upward trend, with each new cycle beginning at a higher starting point than the previous cycle.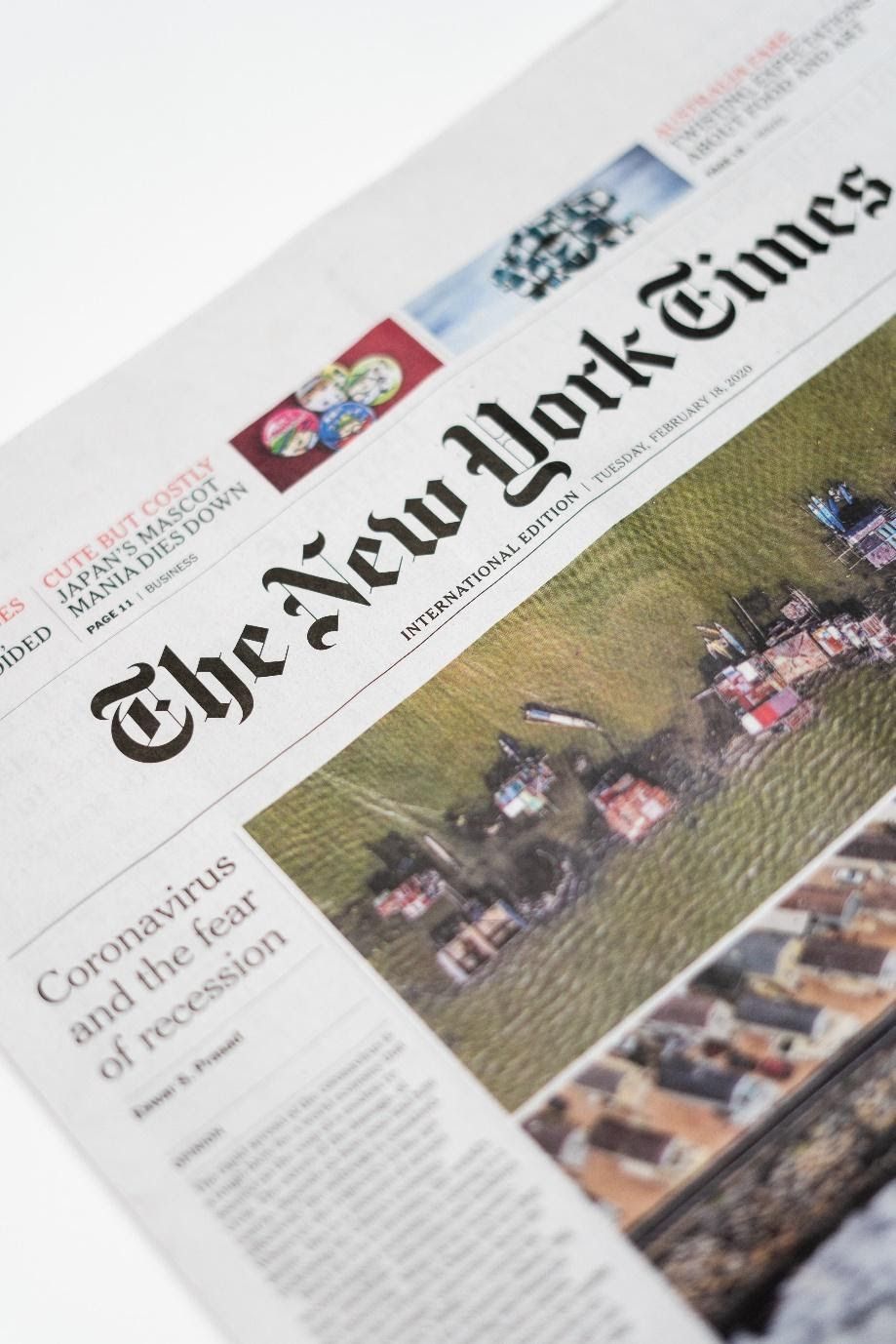 In Conclusion
Investors should have a view on the current state of the economy, and the current position and phase of the real estate cycle. Different phases of the cycle imply a different level of demand and supply for real estate, and hence affect prices and returns. By following the various investment strategies tailored to different phases, it is possible to invest successfully across the cycle.
While there is no foolproof method of predicting what the full impact of the COVID-19 pandemic will have on the real estate sector, investors should see this new environment as an opportunity rather than a drawback. Investors who are able to adapt to the new environment will be able to come out on the other side stronger, as the economy enters the recovery phase of the real estate cycle.
---
Find out more about real estate co-investment opportunities at RealVantage. Visit our team, check out our story and investment strategies.
Sign Up at RealVantage
RealVantage is a real estate co-investment platform that allows our investors to diversify across markets, overseas properties, sectors and investment strategies.
Visit our main site to find out more!
Disclaimer: The information and/or documents contained in this article does not constitute financial advice and is meant for educational purposes. Please consult your financial advisor, accountant, and/or attorney before proceeding with any financial/real estate investments.