Atlanta Multifamily Opportunity Case Study
With the latest divestment of our Embry Hills Multifamily Opportunity, we have delivered 10 investment exits in total to our investors – either at or higher than the projected returns.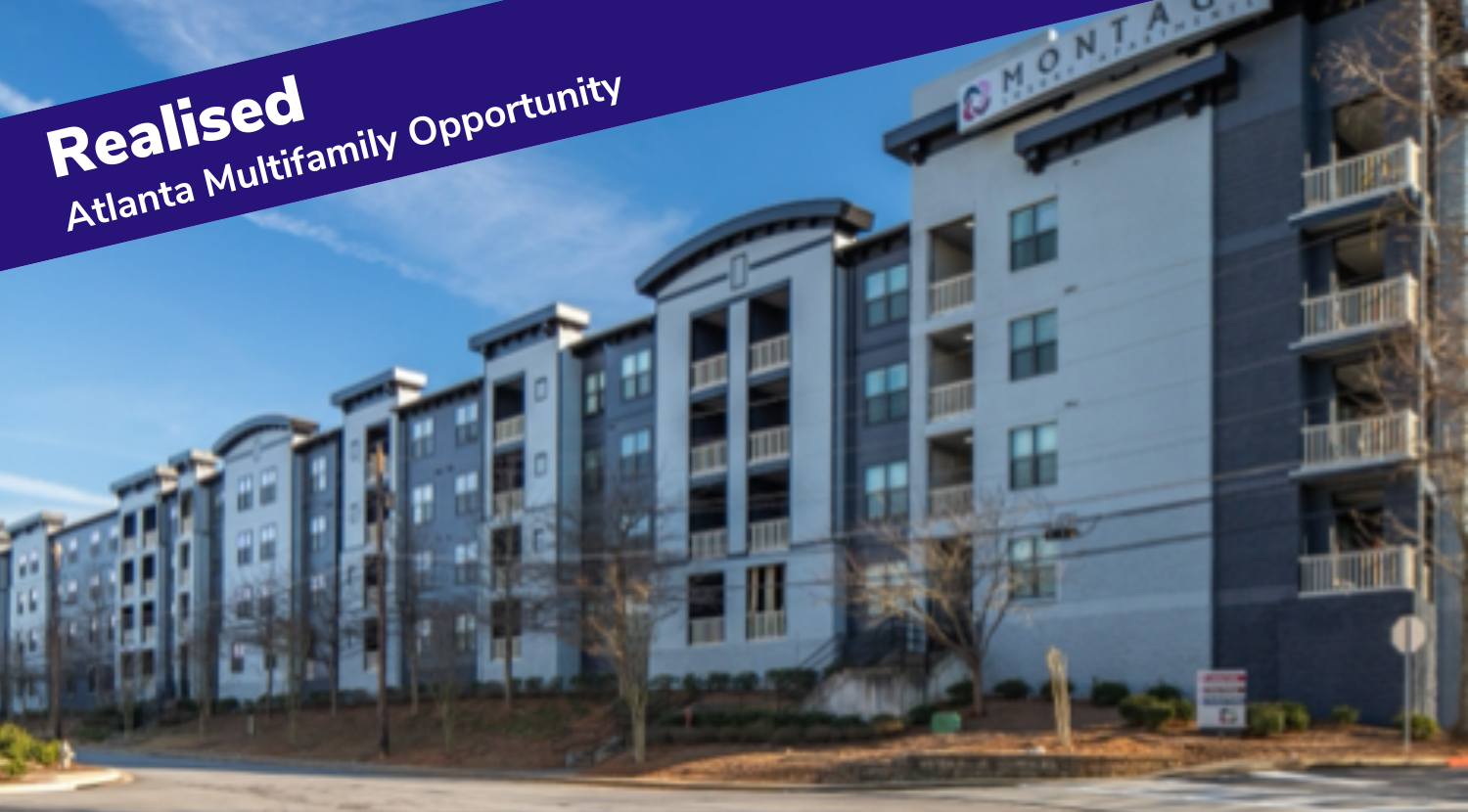 July 2022 marked a significant milestone for RealVantage. With the latest divestment of our Embry Hills Multifamily Opportunity ("Embry Hills"), we have delivered 10 investment exits in total to our investors – either at or higher than the projected returns. These deals account for close to a third of the 33 investments we have embarked on so far, since the inception of RealVantage in April 2019.
While the returns of Embry Hills were projected at an internal rate of return (IRR) of 12.7% with a return on equity (ROE) of 57%, the actualised returns generated an IRR of 37.8% and an ROE of 68% over an investment period of 20 months. Given that most of our investors are based in Singapore, on a Singapore-dollar adjusted basis, the returns would be even better at an IRR of 40.3% and an ROE of 73%.
The success of this deal can be attributed to several factors, and this article will provide you with more insights into the anatomy of RealVantage's investment in Embry Hills.
Investment overview
This was an investment in the acquisition and subsequent asset enhancement of a 225-unit multifamily asset in Embry Hills, Atlanta, Georgia, U.S.A.
Risk profile
Value-add
Investment start date
20 November 2020
1 Excluding a small amount that will be distributable within 6 months, when the new buyer of the asset releases the retention sum under a survival clause in the acquisition deal.
2 Returns computed on a net basis, after taking into consideration fees and taxes, in the project local currency.
Comprehensive research
Late-2020 was a period dogged by economic uncertainties and disruptions from the COVID-19 pandemic but these are exactly the circumstances that reward quality research and executional efficiency.
Shortly after the onset of the pandemic, RealVantage published a research piece and has since executed the strategies we have shared in the article – that is, deploying into residential-for-rent, logistics, neighbourhood retail and non-traditional debt – which aligned us with the long-term structural drivers. To save investors from the complexities of research, the gist of our findings are usually distilled into bite-size nuggets of information during our webinar sessions conducted on every deal.
Embry Hills checked off a multitude of boxes for what RealVantage was targeting: mid-segment residential-for-rent; low-density suburban location; economically vibrant city with sound fundamentals that was projected to outperform the rest of the U.S.A.
Favourable entry basis
The asset was initially on the market with a targeted sale price of USD44.6 million but was taken off the sales campaign in the wake of the COVID-19 outbreak. RealVantage's U.S. partner successfully made an off-market bid of USD40.65 million, representing a 10% discount to its pre-pandemic pricing, and that bid was accepted by the asset owner. This transaction leveraged a pre-existing relationship between our U.S. partner and the seller, having consummated two deals previously. With in-place passing rents at about 8.3% below competing projects within the vicinity, the asset presented an ideal candidate for a value-add strategy to close the rental gap.
Clear value-add strategy
Over the investment period, multifamily market rents in Atlanta grew about 24%. While that is an enviable pace of growth, more was needed to be done in order to generate the returns this deal delivered. In the due diligence conducted running up to the acquisition of the asset, numerous angles for value-add had already been identified; these include physical upgrades and operational improvements.
Shortly after the takeover of the asset, no time was wasted in the implementation of the value-add strategy – the property management staff was mostly replaced and the renovation programme kicked off almost immediately as repairs were carried out in the previously identified areas. Other physical upgrades, such as new flooring, a new coat of paint, as well as new stainless steel kitchen appliances, quartz countertops, and upgraded plumbing fixtures were progressively installed across the common areas as well as identified apartment units. Implementing these changes, the asset transformed from a tired-looking apartment into an attractive and modern multifamily project, which allowed for significant rental increases from USD1,110 per unit at the point of takeover to USD1,567 per unit at the point of divestment. In addition, the asset's ancillary income has also increased by making reserved parking chargeable, installing package lockers and collecting rent from them, adding washers and dryers to the property units and billing residents for their usage.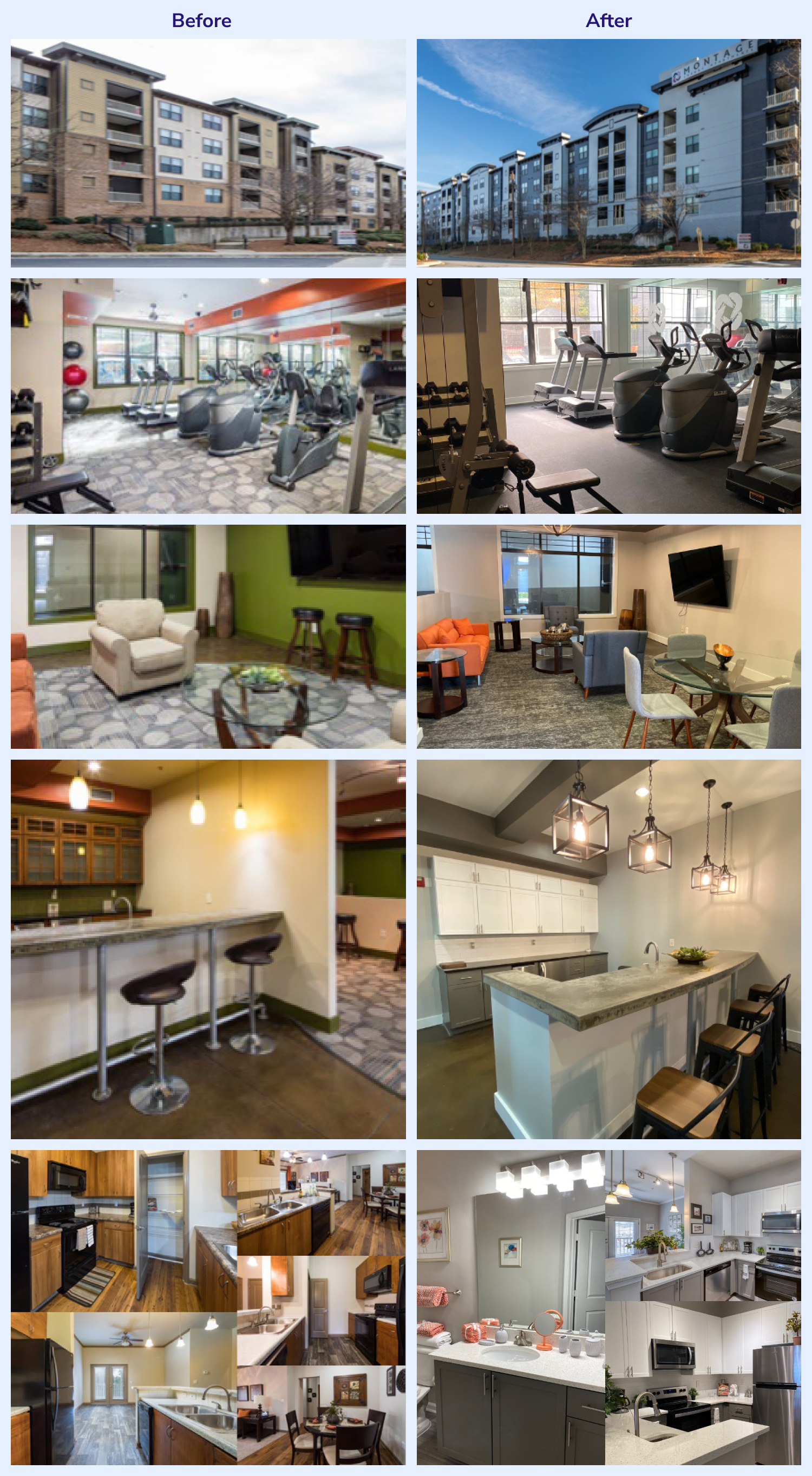 Leveraging an experienced local partner
With an extensive track record of success within the Atlanta market, the deal sponsor Liquid Capital met RealVantage's stringent assessment criteria for its local partners. Clients were able to benefit from the partner's economies of scale and established relationships with service providers, such that the extensive value-add strategy could be implemented within the budget and well ahead of the initially provisioned time frame.
While the value of pressing ahead with the asset enhancement schedule expeditiously is now evident, the cash-on-cash quarterly distributions to clients averaged about 7.1% during the investment period, falling short of the initially projected 7.5%. The shortfall was particularly evident in the first quarter (i.e. 6.8%) before the gap narrowed in the progressive quarters. Through regular quarterly reports, RealVantage was able to keep clients informed that the lower distributions were due to the local partner's conservative approach to managing cash flow to ensure that the fast-paced asset enhancement schedule went smoothly.
We look forward to your support going forward
As our Embry Hills investors would agree, many ingredients go into serving up a great investment deal – comprehensive research; well-grounded investment thesis; clear strategy to drive returns; and the right partners for execution, just to name a few. Against a tumultuous and challenging investment backdrop, we are glad to have delivered as promised to our investors again and thank our investors for their continued support. Look out for other upcoming real estate investment opportunities in our pipeline, and we hope to see you participate in our future deals soon.
DISCLAIMER: Please remember that past performance may not be indicative of future results. Different types of investments involve varying degrees of risk, and there can be no assurance that the future performance of any specific investment, investment strategy, or product made reference to directly or indirectly in this article, will be profitable, equal any corresponding indicated historical performance level or be suitable for your portfolio. Due to various factors, including changing market conditions, the content may no longer be reflective of current opinions or positions. Moreover, you should not assume that any discussion or information contained in this article serves as the receipt of, or as a substitute for, personalised investment advice from RealVantage. To the extent that a reader has any questions regarding the applicability of any specific issue discussed above to his/her individual situation, he/she is encouraged to consult with the professional advisor of his/her choosing.
---
Find out more about real estate co-investment opportunities at RealVantage. Visit our team, check out our story and investment strategies.
Sign Up at RealVantage
RealVantage is a real estate co-investment platform that allows our investors to diversify across markets, overseas properties, sectors and investment strategies.‌
‌Visit our main site to find out more!
Disclaimer: The information and/or documents contained in this article does not constitute financial advice and is meant for educational purposes. Please consult your financial advisor, accountant, and/or attorney before proceeding with any financial/real estate investments.