Atlanta, a Thriving Metro with a Profusion of Opportunities
Atlanta's diverse economy and firm growth trajectory has given many investors and businesses an optimistic outlook for the area.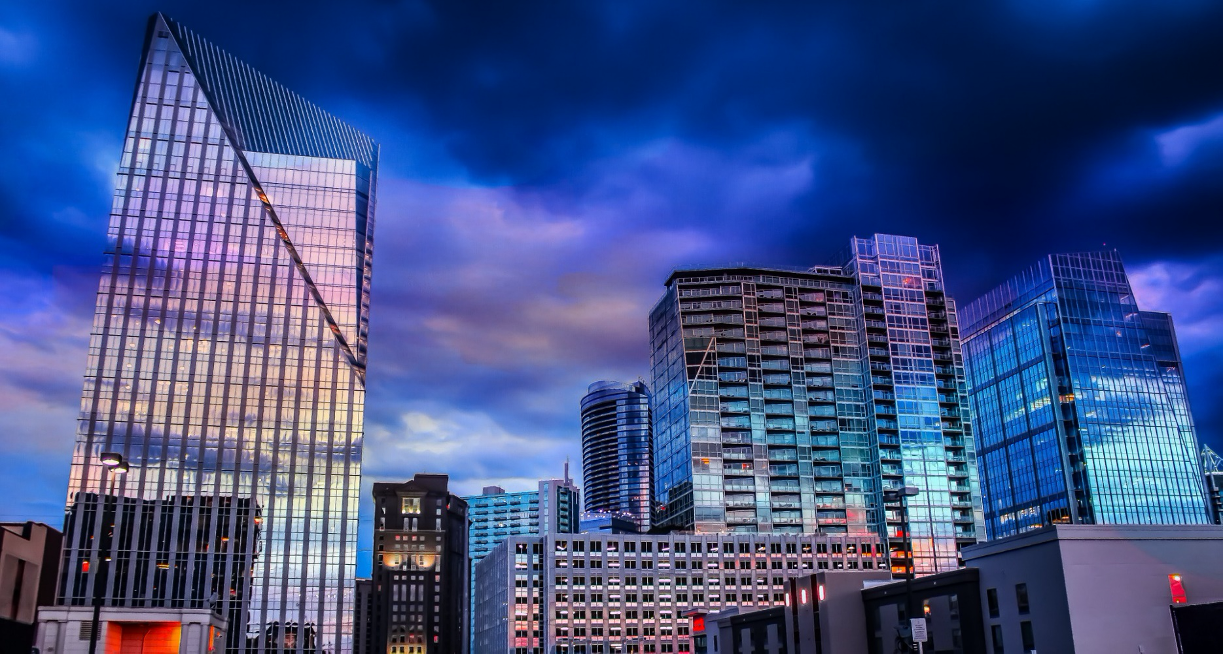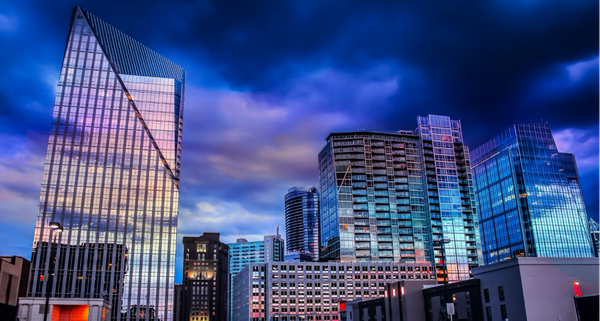 Table of Contents
---
Metro Atlanta, the largest metropolitan region in the state of Georgia, is home to the 37th most populous city in the United States. It is considered one of the major fastest growing area in the country.
According to recent data from the U.S. Census Bureau, the area has gained a staggering 730,000 residents since the great recession of 2008. The region's population spiked from nearly 5.3 million people to more than 6 million, making it the fourth fastest-growing metro area in the nation. Not only is Atlanta well-known for its fast-growing population, its economy is also expanding phenomenally. Atlanta is considered as a top business destination and transportation hub, the area's ability to access large human capital has attracted dozens of corporations and industries.
It houses the headquarters of some of the largest multinational corporations such as Delta Airlines, AT&T Mobility, and The Coca-Cola Company. With an exponentially growing population, ever-expanding economic impact, verdant neighbourhood, and exciting culture, metro Atlanta is a place where newcomers will be putting down roots and locals never leave.
Read also: Market Selection in Real Estate - RealVantage's Approach
Population Growth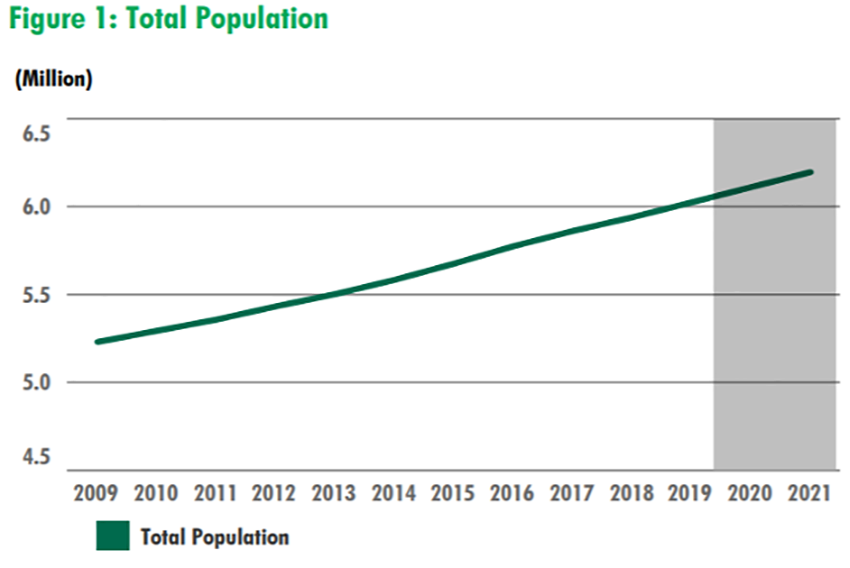 Driven by a prospering economy and an influx of young, skillful professionals, Atlanta's population is forecasted to rise in the next few years. CBRE has estimated that the population of Atlanta will grow steadily, reaching almost 6.2 million in 2021.
They mentioned that this population growth is fuelled mainly by company relocation, expansion of the industrial sector, development of ports, airports, and other construction activities.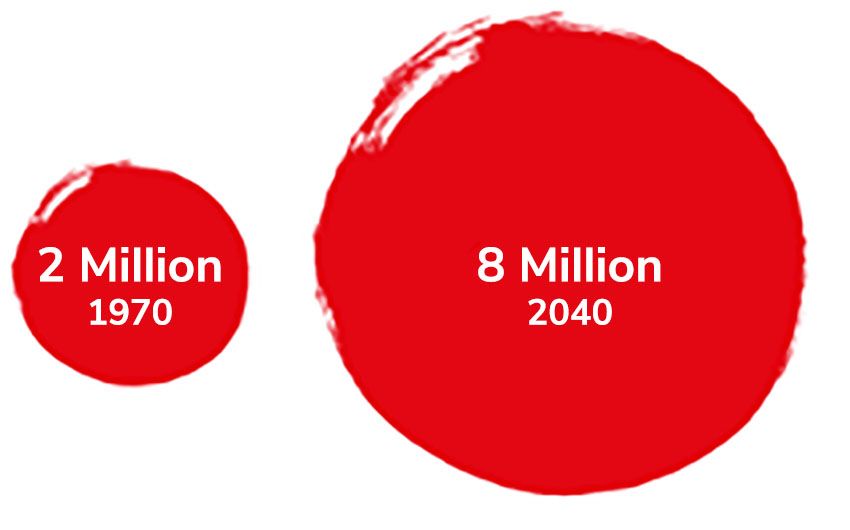 Simultaneously, The Atlanta Regional Commission has also predicted that Atlanta's population will grow 42% by 2040, ultimately reaching 8 million residents in the metro. The commission pointed out that the low cost of living and housing is the primary reason for people to settle down in Atlanta.
According to COLI and Zillow, the area's cost of living index and median home prices are below the national average. Home prices in cities such as New York and San Francisco are extortionate, which have encouraged new home buyers to look into more affordable markets, such as metro Atlanta. For this reason, many young professionals are pricing out large cities like New York and Washington, D.C.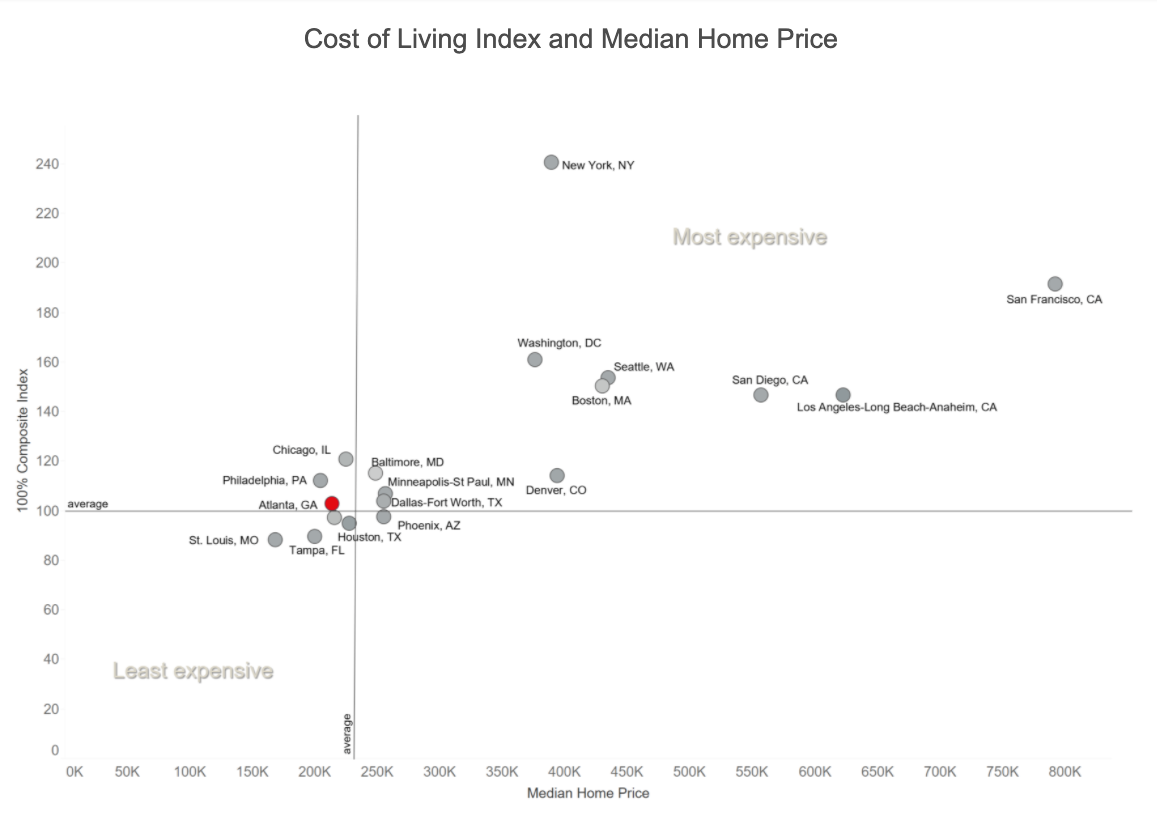 Strong Economic Foundation and Drivers
Industry Expansion
Atlanta's economy is strongly driven by three main industries: technology, logistics and healthcare. According to the Atlanta Regional Commission, technology jobs such as software development and computer system engineer jobs posting take up approximately 5% of all job postings in the metro, a higher percentage compared to the national average.
Truck operators are the third-largest percentage of job postings, followed by registered nurses. Industries such as healthcare, accommodation and technical services in Atlanta are also showing significant growth over the years. In addition,WorkSource Atlanta expects about 55,000 new local jobs in healthcare and technology alone by 2024.
Read also: Important Considerations when Buying Overseas Properties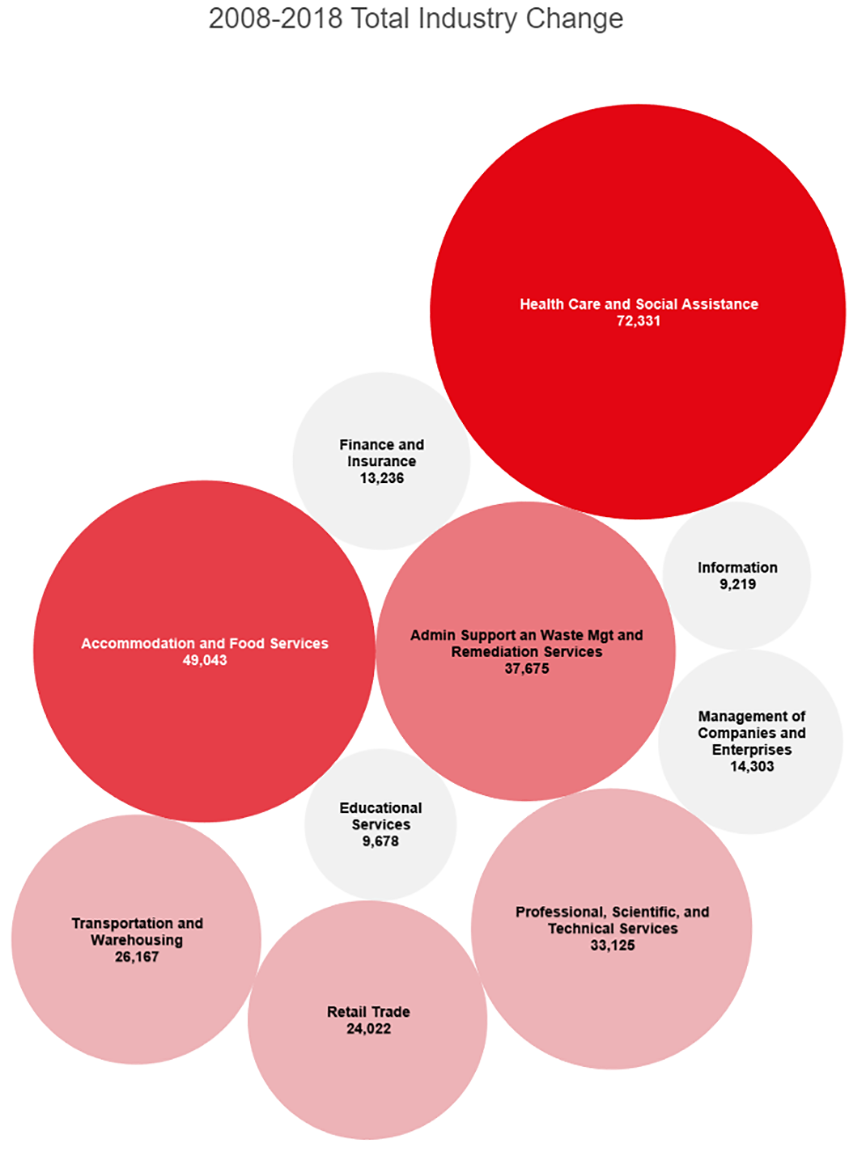 Sign Up at RealVantage
Large Pool of Educated Workers
Atlanta's growing pool of skilled labor has made it more attractive to employers. TheAtlanta Regional Commission found that more than 40% of the region's workforce has a bachelor's degree or higher and nearly one-fourth of the area's residents are young adults (millennials), both higher than the national average.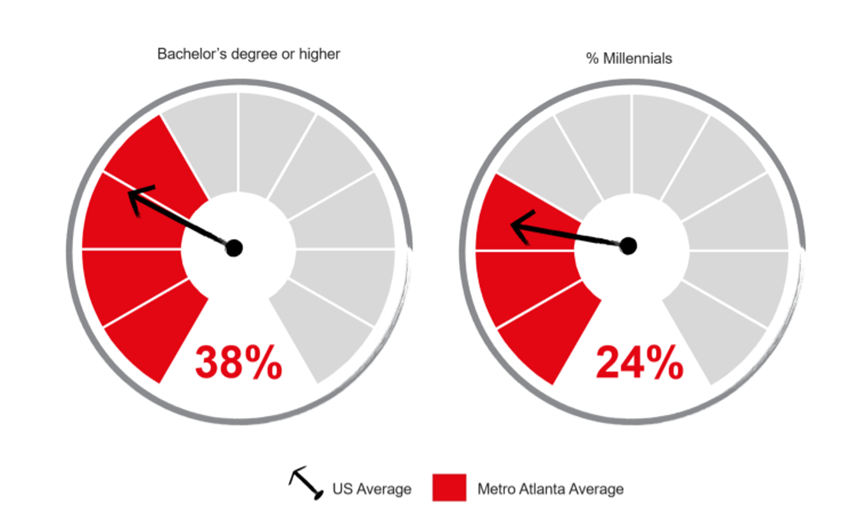 This is because many educated employees are moving to Atlanta for employment, and corporations are also drawn to the huge pool of skilled labor. TheAtlanta Business Chronicle states, "It's a fuelling development cycle that has made Atlanta one of the hottest residential and labor markets in the country."
CBRE predicts that industry expansion and company relocation to areas in Atlanta will continue to nourish Atlanta's job market in 2021, increasing total employment to 2.9 million. Atlanta's history of high migration rates and overall job growth has made the metro an ideal destination for businesses. With metro Atlanta to remain as one of the top 5 regions for employment growth in the near future, prospects for future business and resident attraction appear strong.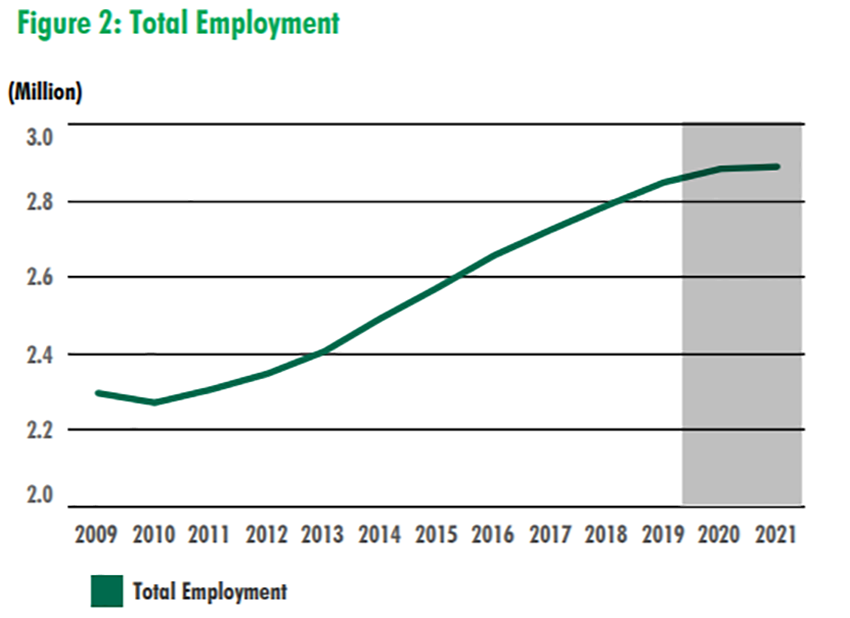 Superior Quality of Life/Education
Atlanta is favoured by many due to the quality of life it can offer. The region has a mix of diversity and a rich history. Atlanta is famous for its music and film scenes, plenty of restaurants, bars, and major professional sports teams.
Despite being a bustling metropolitan area, it has an abundance of trees and walkable space, which is a rare sight in major cities. Furthermore, due to its strategic location, Atlanta is home to the world's busiest airport. Many Fortune 500 companies are also headquartered there, making Atlanta a thriving center of commerce.
As there are more than 30 institutions of higher education in Atlanta, it is seen as one of the nation's largest centers for colleges and universities. The US News and World Report has ranked Georgia Institute of Technology in Atlanta in the top 10 public universities since 1999. Georgia Tech, which is primarily an engineering and research university, has been the predominant cause of a growing startup scene in Atlanta.
Other than that, there is also Georgia State University, the state's flagship university, as well as Morehouse College, Spelman College, and Emory University, to name a few.
No Restrictions on Short Term Rentals and Favourable Regulation Environment
Investing in a property to rent it out on a short-term basis has been on the rise. Atlanta, being a major market, has shown a strong track record in this home sharing-concept. Furthermore, the current pandemic has resulted in less listings on the market, and buyers might be more inclined to rent. According to Mashvisor's data, the best neighbourhoods in Atlanta can generate a double-digit rate of return on rental properties in 2020, surpassing the rates which most other places can offer.
Read also: Implications of COVID-19 Aftermath on Real Estate Sectors
Another reason to consider investing in Atlanta is because of the laws and regulations. As of 2020, it is legal to list properties in Atlanta for short-term rentals on Airbnb, VBRO and other websites. Whilst some other areas have strict regulations in place banning short-term rentals, there has been no such ordinance in Atlanta. Some requirements that are established are relatively reasonable, such as registering for hotel and business licenses, paying taxes and fees, and proper zoning.
Positive Outlook for Home Values
Properties in Atlanta have been experiencing steady growth over the years. The data from Zillow up to August 2020 has shown that the median prices of homes in Atlanta have grown steadily for the past decade, from approximately 120k in 2012 to a soaring 300k in August this year. This is almost a 300% increase for the past nine years!
In addition, home value is expected to continue rising by 4.7% over the next year.
Despite the coronavirus crisis, the Atlanta housing market is recovering well so far. The government stimulus package has pushed interest rates on home loans to a historic low. This has encouraged buyers' and investors' activities in the Atlanta housing market. Based on the industry survey administered by Freddie Mac, the monthly average for a 30-year fixed mortgage loan in September 2020 is set at 2.89%.

As of September 2020, the consensus of the housing market in Atlanta is positive. It tends to skew towards the seller because some are not willing to list until the situation stabilises. The housing market is also adapting to social distancing guidelines by using technologies such as virtual tours and electronic signing.
Read also: Application of Technology in Real Estate Investments
In Conclusion
Atlanta's distinctive demographic attributes, exceptional job market and remarkable quality of living are captivating young professionals, corporations, and investors. The Atlanta Business Chronicle has concluded that the Atlanta metropolitan region is on course towards recovery from the coronavirus pandemic.
The unemployment rate, median home prices and population growth all fared relatively well compared to other metropolitan areas in the country. Atlanta's diverse economy and firm growth trajectory has given many investors and businesses an optimistic outlook for the area.
---
Find out more about real estate co-investment opportunities at RealVantage. Visit our team, check out our story and investment strategies.
Sign Up at RealVantage
RealVantage is a real estate co-investment platform that allows our investors to diversify across markets, overseas properties, sectors and investment strategies.
Visit our main site to find out more!
Disclaimer: The information and/or documents contained in this article does not constitute financial advice and is meant for educational purposes. Please consult your financial advisor, accountant, and/or attorney before proceeding with any financial/real estate investments.