Ascendas REIT Overview
In this article we talk about the things you need to know about Ascendas REITs, from its last 3 years performance, year on year return to investment risk levels.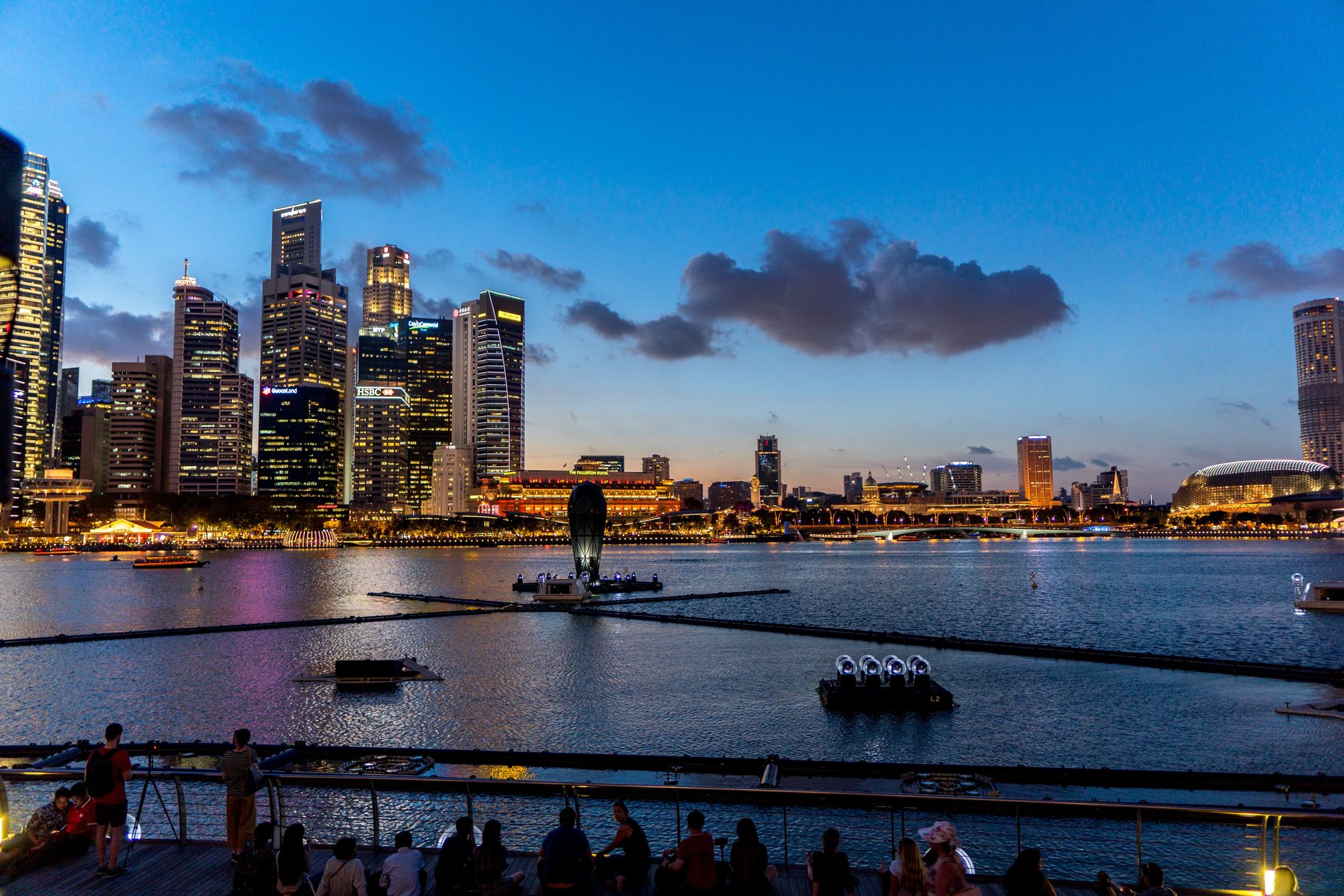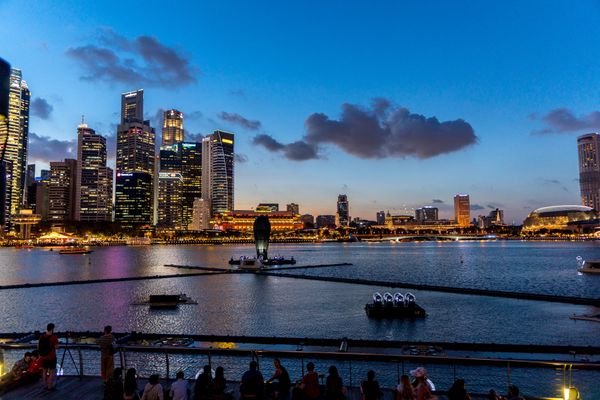 Table of Contents
---
Background
In January 2001, Ascendas Pte Ltd was formed through the merger of JTC International's Business Parks and Facilities Group and Arcasia Land.
Just over 18 months later in November 2002, the Ascendas REIT (the "REIT"), Singapore's first business space and industrial REIT, was listed on SGX-ST. It had a portfolio of eight properties worth approximately S$636 million, and the IPO price was S$0.88 per unit.
In July 2004, the REIT issued its first commercial mortgage-backed securities ("CMBS") with AAA rating: an equivalent of S$300 million in Euros. Almost 4 years later in March 2008, Ascendas acquired the Goodman Group's stake in the REIT and its 40 per cent equity stake in the REIT's Manager, Ascendas-MGM Funds Management Limited ("AMFML"). AMFML was subsequently renamed Ascendas Fund Management (S) Limited ("AFM").
The REIT made its first investment in China in February 2011 through the acquisition of a S$118 million business park property under development in Jinqiao, Shanghai. In June 2014 it became one of the 30 constituent stocks of the FTSE Straits Times Index.
In August 2018, the REIT completed its first acquisition in the United Kingdom made up of a portfolio of 12 logistics properties. In December 2019, the acquisition of 30 Business Park properties in the United States and Singapore for S$1.66 billion followed.
The REIT has received numerous awards and extensive recognition globally since its inception almost 20 years ago.
Management of the REIT
Ascendas REIT is managed by AFM, which is a wholly-owned subsidiary of CapitaLand Limited.
AFM looks to deliver consistent distributions and long-term capital stability to unit holders by:
Proactive portfolio management
Disciplined value-adding investments
Prudent capital and risk management
Ascendas REIT Share Price And Other Key Data (A17U.SI)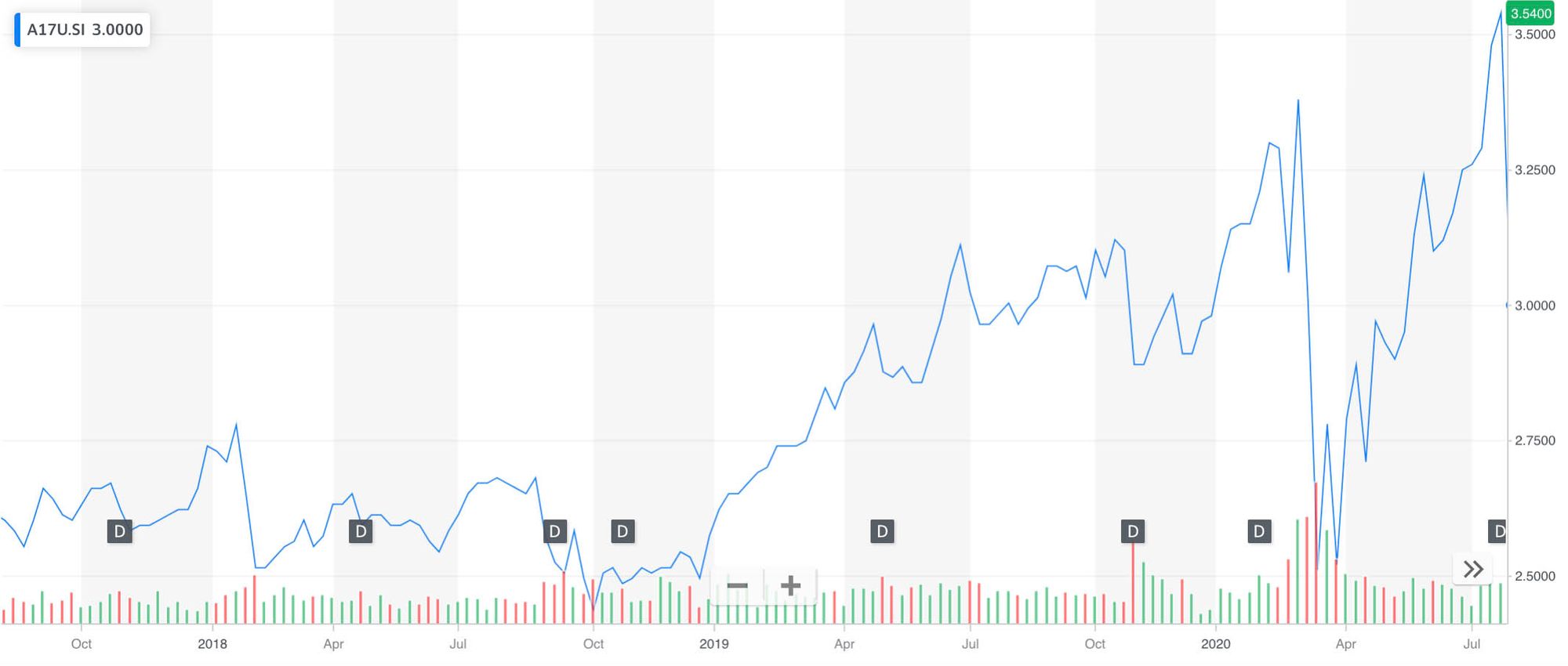 As of late October 2020, the REIT's share price was S$3.16, with a 52-week range of 2.22-3.65.
Its market capitalisation stood at 11.404 billion SGD, with a price-to-earnings (P/E) ratio of 21.88 and earnings per share (EPS) of 0.144.
Ascendas REIT Annual Report Highlights
The REIT published its 2019 annual report on April 13th, 2020. Main highlights therefrom include: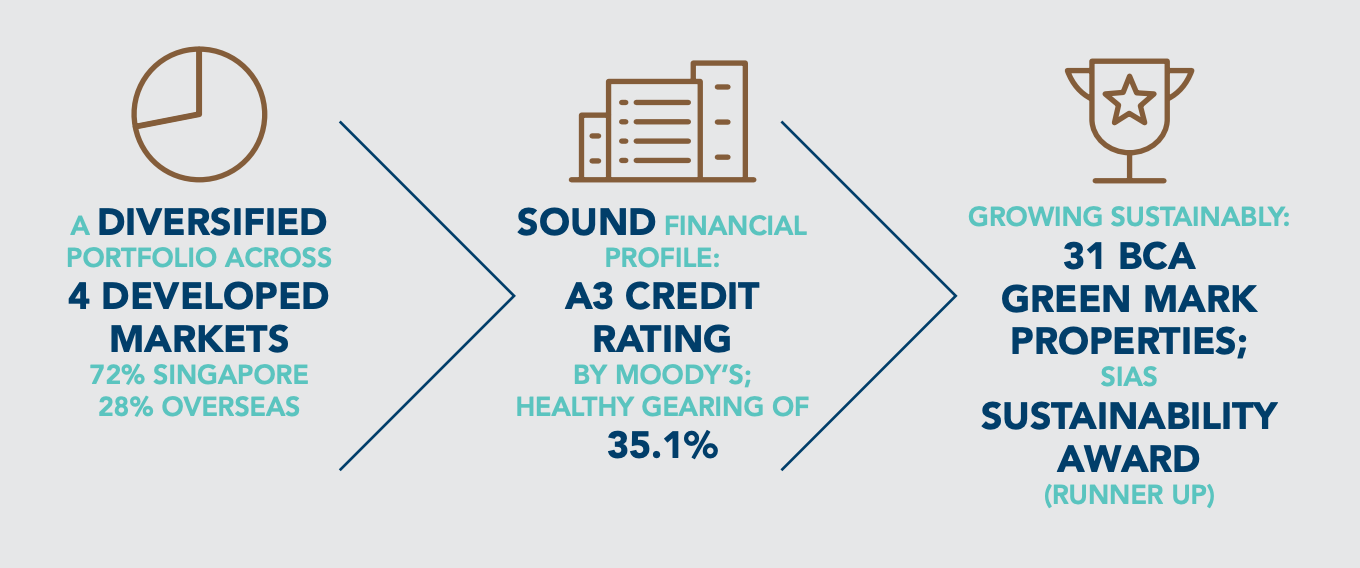 CapitaLand Limited acquired Ascendas REIT on June 30th, 2019;
At the end of 2019, the value of the REIT's total investment properties was S$12.8 billion, comprising a total of 200 properties;
The REIT acquired a total of S$1.66 billion worth of properties from its sponsor CapitaLand; with this acquisition, the REIT further diversified its portfolio geographically to include the United States;
Overall portfolio occupancy remained stable at 90.9%, with rental reversions at +6.0% (for leases renewed during the financial year); the weighted average lease to expiry is 3.9 years;
A sound capital profile, with aggregate leverage at 35.1% (75% of its borrowings effectively on fixed interest rates), and a Moody's credit rating of A3;
Distribution per unit for the 9 months ended December 31st, 2019 was 11.490 cents;
Although fragile trade relations, geopolitical tensions, and the COVID-19 outbreak are expected to pose headwinds to global economic activity, the REIT's management remains confident moving forward, and plan to optimise their returns despite the uncertainties;
The REIT will remain Singapore-centric with about 60% to 70% of its investments in the Island-state;
Some of the REIT's redevelopment and asset rejuvenation plans in 2020 include a new redevelopment project at International Business Park, and two asset enhancement initiatives at Singapore Science Park 2, along with the redevelopment and maximisation of plot ratio at iQuest@IBP.
Read also: What is an Accredited Investor?
Ascendas REIT Key Statistics for 2019
Gross revenue increased 5.7% year-on-year (y-o-y) to S$699.1 million, mainly attributable to the two UK logistics portfolios acquired in August 2018 and October 2018, contributions from the UK business park portfolio, and two Singapore business park properties acquired in December 2019;
Net property income increased 10.6% y-o-y to S$537.7 million, in tandem with the increase in gross revenue;
The total amount available for distribution rose 5.2% y-o-y to S$375.4 million, largely due to contributions from the new acquisitions in the United Kingdom, the United States, and Singapore.
Read also: Understanding IRR, Cash Yield, and Equity Multiple
Sign Up at RealVantage
Current Assets Under Management ("AUM"): Countries and Assets
The majority of the REIT's portfolio is in Singapore with investments of S$9.1 billion (72%), followed by Australia at S$1.6 billion (12%), the United States at S$1.3 billion (10%), and the United Kingdom at S$0.8 billion (6%.);
44% of the REITs investment properties are business parks and suburban office properties, 31% are industrial properties, and the remaining 25% are logistics properties.It has more than 1,490 customers across 20 industries, with diversification ensuring a significantly reduced exposure to one particular industry, as well as having a low customer concentration risk.
The REIT has a diversified portfolio in Singapore comprising Business & Science Park properties, Integrated Development, Amenities and Retail properties, High-Specifications Industrial properties, Light Industrial properties and Logistics & Distribution Centres.
Most of the properties are located along major expressways or are in close proximity to MRT stations, or centrally located near major housing areas or near the airport and seaport.
Read also: Guide to Investments in Singapore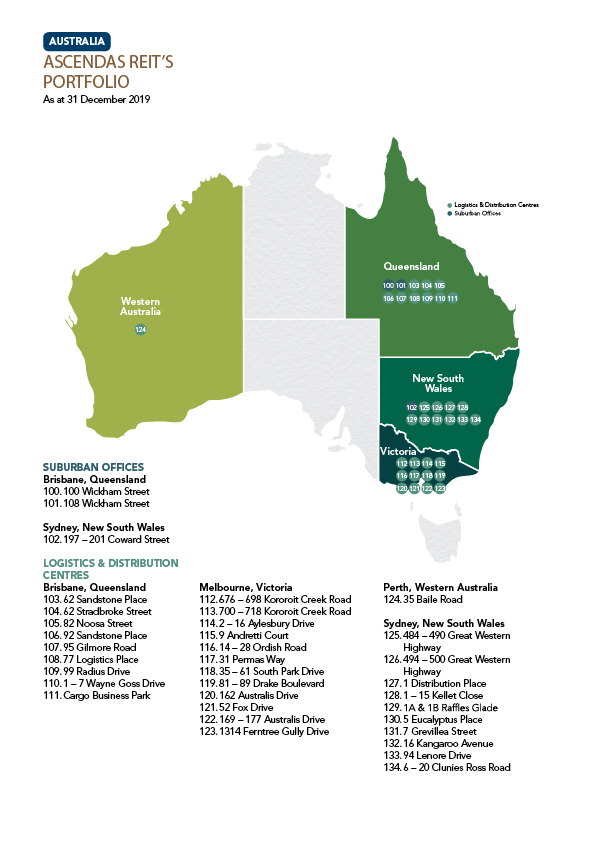 The Australian portfolio comprises logistics and suburban office properties in the key cities of Sydney, Melbourne, Brisbane and Perth.
The logistics properties are high-grade, functional and large-scale distribution facilities located near major transport infrastructure. Suburban offices are high-quality office spaces located outside the Central Business Districts.
Read also: Investing in Australian Residential Real Estate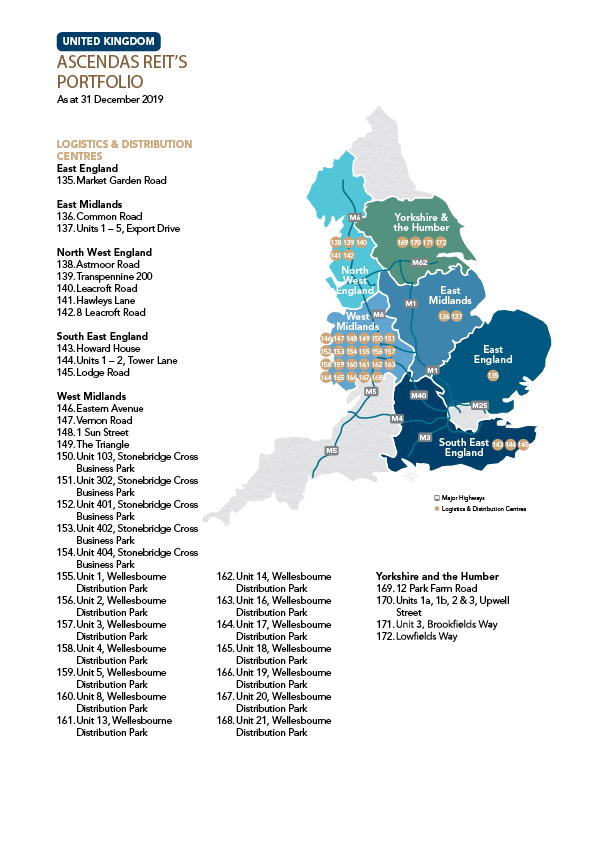 The portfolio in the United Kingdom comprises logistics properties located in established industrial areas across various regions in the United Kingdom including Yorkshire and the Humber, North West England, East and West Midlands, South East England and East of England.
The properties are sited on freehold/virtual freehold land and are well accessible to major motorways such as the M1 and M6, providing good connections to large catchments of the United Kingdom.
Read also: Investing in the UK Real Estate Market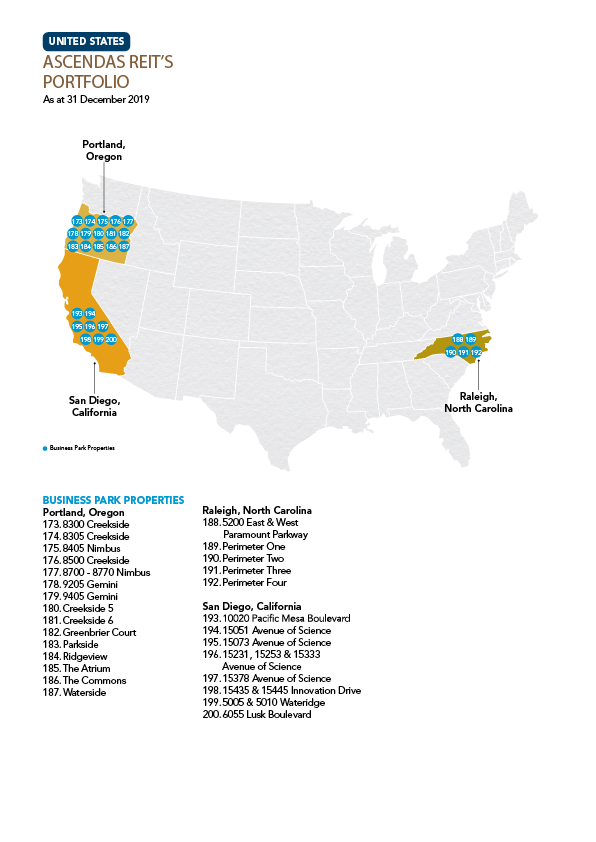 In the United States, the portfolio comprises properties in  Portland, Raleigh and San Diego, three leading technology cities.  
In  Portland, the portfolio encompasses two business parks, namely: Cornell Oaks Corporate Centre ("COCC") and Creekside Corporate Park ("CCP"). Located along Highway 26, the COCC is the closest business park campus to Portland centre. It is within the Sunset Corridor which enjoys a concentration of high technology companies, and in the so-called "Silicon Forest". The CCP offers convenient access to Lake Oswego, Downtown Portland and Hillsboro, as it is located close to Highway 217.
At the heart of the Research Triangle, a region in North Carolina anchored by three major research universities (University of North Carolina at Chapel Hill, North Carolina State and Duke), is the Raleigh portfolio. The location is known as Perimeter Park and includes the Raleigh, Durham and  Chapel Hill settlements.
The San Diego portfolio is located in Sorrento Gateway Campus and the CareFusion Campus, both in Sorrento Valley. Further properties are in the Innovation Corporate Centre in Rancho Bernardo. All three are business park campuses. There is a large concentration of telecommunications, software, financial, healthcare, electronics and professional services companies in Sorrento Valley.
The Innovation Corporate Centre is close to the Carmel Mountain Ranch Town Centre.
REITs vs Co-investment Opportunities
A REIT is a corporation, trust, or association that invests directly in income-producing real estate. Its shares are listed on a stock exchange and can be and traded like a stock.
REITs are required to pay a minimum of 90% of taxable income in the form of shareholder dividends each year. This makes it possible for individual investors to earn income from real estate—without having to buy, manage, or finance any properties themselves.
A REIT's mode of operation is similar to that of a mutual fund in that investors combine their capital to buy units of a commercial real estate portfolio and then earn income from their shares.
Read also: An Overview of Investing in REITs
Co-investment, on the other hand, offers Accredited Investors the opportunity to co-invest in real estate, either in their home country or overseas. Such investment opportunities typically occur when partners or a collection of individuals identify real estate deals that they can't necessarily afford on their own. Or it may be investors wish to "pool" funds to have a larger investment amount; or when they wish to mitigate any investment risk between a number of parties.
The process of becoming a co-investor is quite straightforward:
Signing up as an investor is quick and simple, usually through an online onboarding process;
Members have exclusive access to investment opportunities presented by the co-investment sponsor, all presented in a highly transparent manner;
All opportunities will have been rigorously vetted, analysed, and cleared by an investment committee for funding;
The investor can choose the amount they wish to invest and makes payment to a designated Escrow Account; this is administered by an external fund custodian;
Once the Escrow Account is funded, a preferred opportunity is selected, and the sum to invest confirmed;
Once deal has been financed, definitive agreements are provided for e-signing;
Co-investors have full visibility into the performance of their investment via the sponsor's platform and total funds invested, and distributions can be tracked;
Quarterly asset management reports will be distributed to members.
In summary
REITs and co-investment opportunities offer investors a way to access real estate without the need to directly own, operate, or finance properties.
In general, REITs provide a steady source of income through dividends. Co-investment opportunities, on the other hand, create much of their value through appreciation, which makes them attractive to longer-term investors.
Read also: REITs or Real Estate Co-Investments?
Read also: How Does Internal Rate of Return (IRR) Impact Real Estate Investors' Decision-Making Process?
---
Find out more about real estate co-investment opportunities at RealVantage. Visit our team, check out our story and investment strategies.
Sign Up at RealVantage
RealVantage is a real estate co-investment platform that allows our investors to diversify across markets, overseas properties, sectors and investment strategies.
Visit our main site to find out more!
Disclaimer: The information and/or documents contained in this article does not constitute financial advice and is meant for educational purposes. Please consult your financial advisor, accountant, and/or attorney before proceeding with any financial/real estate investments.