Purpose-Built Student Accommodation as an Asset Class
Investments in the PBSA asset class in the U.K. has grown dramatically in the last few years. Should investors invest in this asset class? Read to learn more.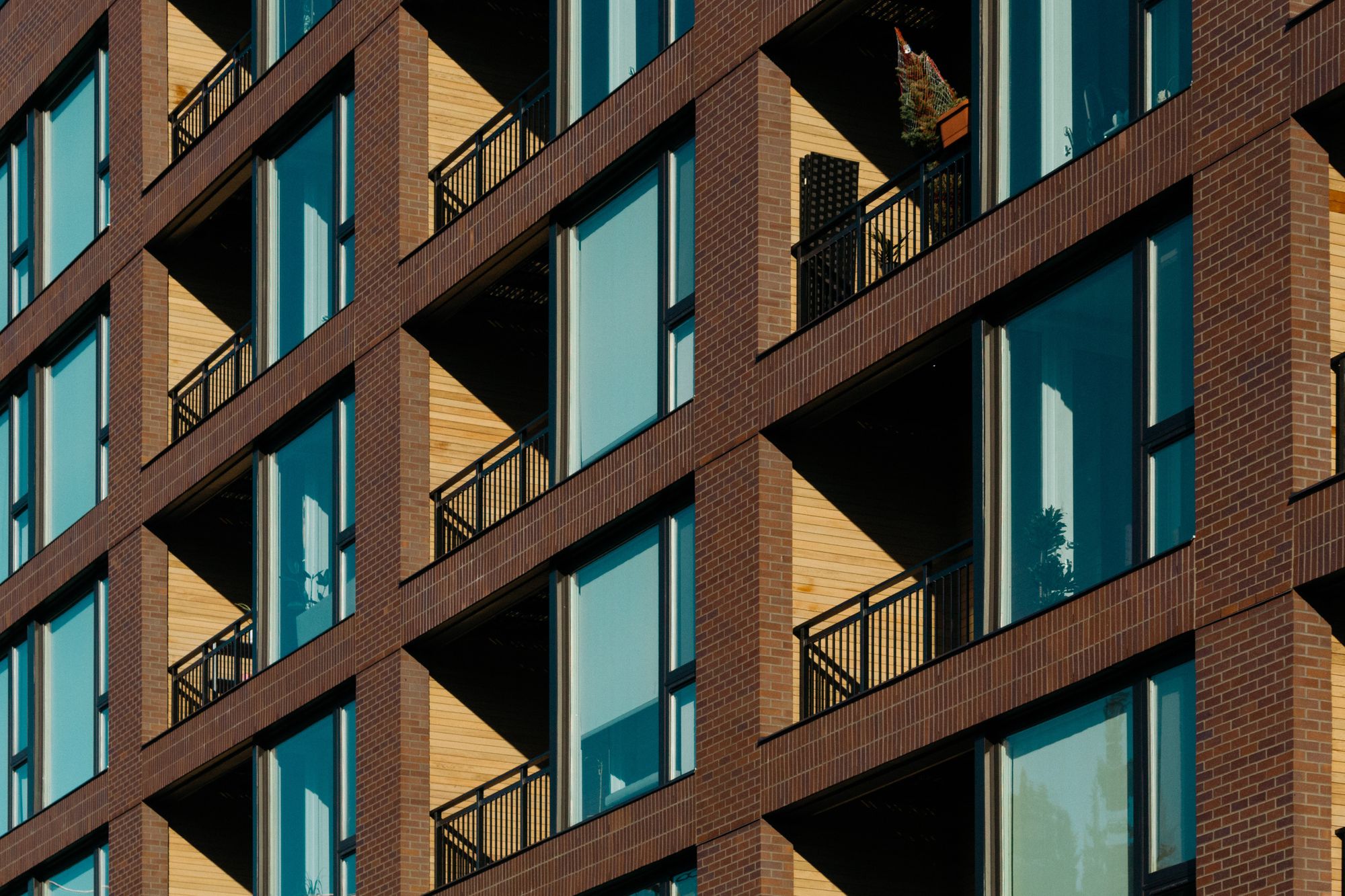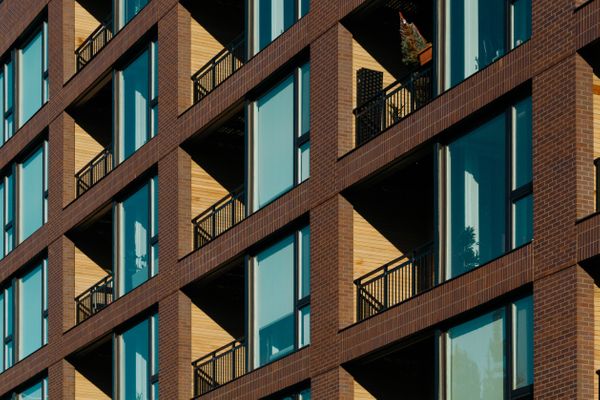 In the U.K., around 2,200,000 students are currently enrolled on a full-time basis at universities, of which 1,630,000 of them require a bed space during their course of study.
Domestically, a very high percentage of U.K.-domiciled students attend a university away from their home base and they are competing with overseas students who also require student accommodation. As such, demand for purpose-built student accommodation ("PBSA") across the country is huge.
Yet, there are only a total of some 698,000 student beds available for the 2021/22 academic year. A total of 24,612 student beds were added to the supply stock in 2021/22, a figure barely higher than the previous academic year and almost 25% lower than the five-year average before the pandemic.
The quality of higher education in the U.K. is globally recognised As a result, the U.K. continues to attract an increasing number of international students. With overseas enrollment numbers expected to continue its upward trend, it is clear that there is going to be a shortage of quality student accommodation going forward.
Read also: Investing in the UK Real Estate Market
The conundrum in student housing in the past
Up till around 10 to 15 years ago, it was left to the universities and also smaller, private landlords to provide accommodation for students. Universities often provided on-site "halls of residence", but in reality, these are only a little more than sleeping rooms with small areas for study. Sometimes, universities would help to arrange ad-hoc off-campus accommodation, but that was not always the case.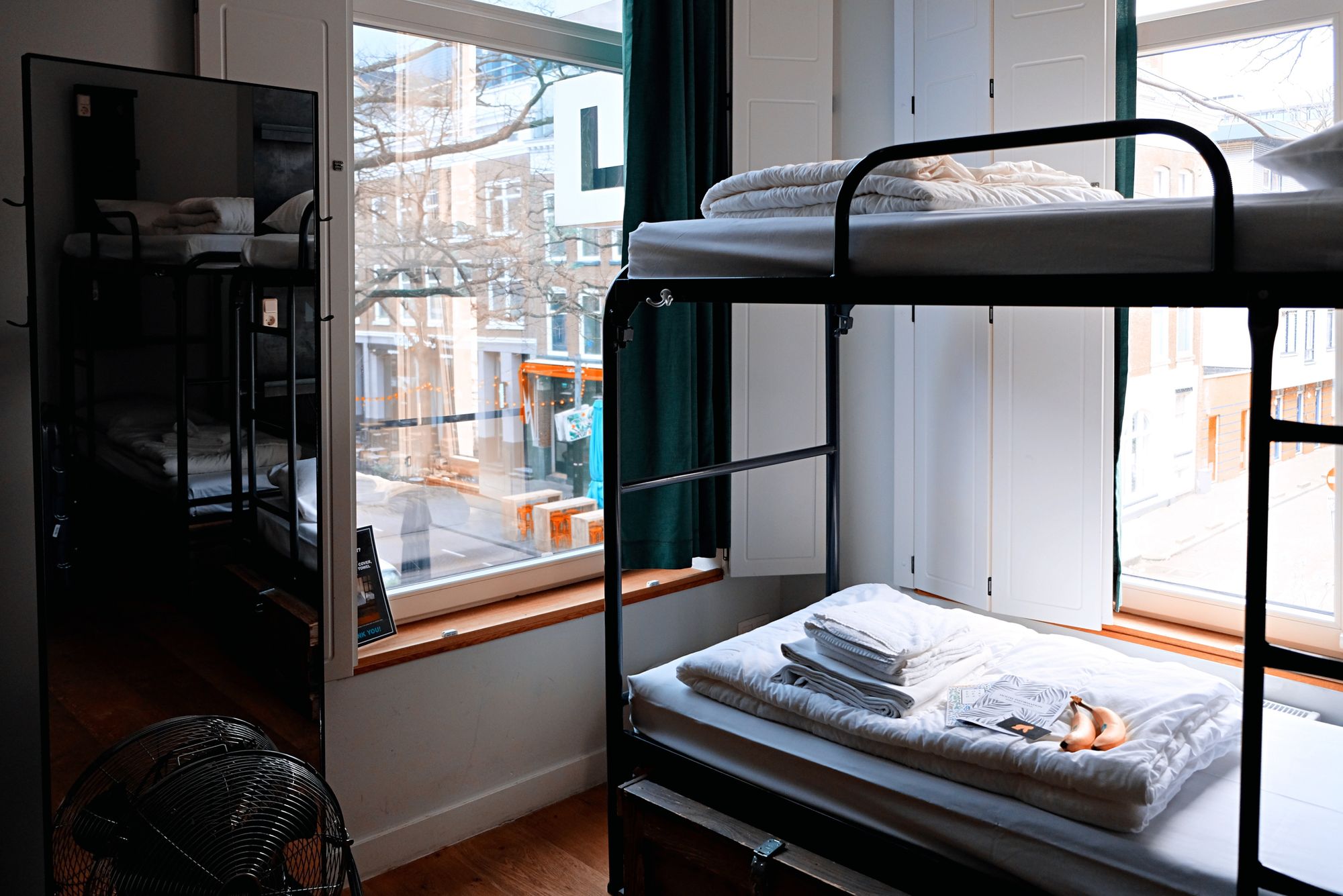 A high proportion of students lived off-campus in privately owned and rented accommodation. This was usually in either single houses shared by three, four, or even more students, or alternatively, in houses converted into small flats or bedsits, but the quality and maintenance of off-site accommodation was dismal.
Complaints were common about the condition of some of these properties, either being too run down or lacking in basic services, including security. And in some cases, very high rents were being charged. But the most common complaint was the overall shortage and the huge challenge for students to find suitable accommodation.
Read also: Understanding Property Management
The current remedies to student accommodation shortage
Over the last 10 to 15 years, a number of developers and investors who had identified the student accommodation sector as an investment opportunity began to enter into partnerships with universities to provide accommodation.
Even though the goal was the same, namely to create modern, liveable, attractive, affordable and well-managed units for students to live and study in, various development permutations were attempted.
Three primary options were pursued:
Developers built the accommodation either on university land, or off-site, taking the development profits as their compensation and leaving both the ownership and operation with the university;
An arrangement by the university to partner with the developer to share building costs and have a build-operate-transfer" ("BOT") arrangement. The developer would bear most of the costs but it would be "nominated" to run the accommodation for the long-term via a lease or other similar arrangement. The rental and profits will be shared in accordance with the terms of the development agreement; or
Simply, the developer undertook the development of the PBSA, creating an attractive product off-campus for students and bearing the risks, but taking all of the rewards.
Sign Up at RealVantage
Trends indicate lower supply pipeline - of PBSA in the U.K.
2021/22 witnessed a continuation of the longer-term slowdown of new schemes being brought to the market (69), down more than half from the level in 2017/18. The pandemic has resulted in some projects to be delayed due to rising and uncertain built costs, wider inflationary concerns, land availability and planning policy in some locations.
Why choose PBSA
It is likely that, given a choice, most students will live in PBSA accommodation, and perhaps more so for overseas students. Some of the key factors influencing such a decision would include:
Purpose-built accommodation (most new units are around 13 square metres for an en-suite to 19-20 square metres for a studio) are likely to offer a sense of community to local students away from their homes or those who are overseas for the first time;
The accommodation is conducive for studying with 24-hour security; this helps to give parents a sense of reassurance about the safety of their children;
Some recognised operators include wi-fi, utility bills and even contents insurance, as part of the package, so that total outgoings are known in advance;
The strength of developer's marketing: the ability to pick and choose a unit with clear terms and conditions, floor plans, etc. before physically visiting the university is a definite marketing advantage for developers in persuading students to stay with them;
Recognised brand names such as Unite Students (74,000 beds), Upp (34,600), or iQ (28,000) promise and deliver a homogeneous unit with quality assurance;
The general affluence of the students' parents may mean that the marginally higher rates for PBSA rent (typically 2% to 3% higher, with exceptions), when compared with other accommodation, may not be material to decision-making.
Read also: Market Selection in Real Estate - RealVantage's Approach
Current ownership status
With the continued increase in the participation of developers into the PBSA sector, the ownership ratios of the stock have changed and currently stand at:
| PBSA Sector | Percentage |
| --- | --- |
| University owned | 46.7% |
| Privately owned | 53.3% |
Attraction to Investors
Investments in the PBSA asset class in the U.K. has grown dramatically, with 58% of the reported total investment worth GBP17 billion from 2017 to 2019 originating from overseas. Asian money, notably from Singapore, Thailand and China formed the bulk of foreign investment.
For developers, the attractions of PBSA are fairly obvious; these are:
Secure, recurring income streams;
A clear shortfall in supply compared to demand near favoured universities;
A growing market for students from affluent families to study in the U.K. (particularly from China, India, Canada, the U.S. and Nigeria);
Even though yields have been compressed over the last few years, prime regional yields can be between 5% to 6% (although the yield tends to be lower in London, at  3.75%);
Returns are predicated on occupancy by students for term time but there may be possibilities for additional income over the summer months from conferences, events or even leisure travellers;
Since a number of new developments in or near larger cities now embrace PBSAs as part of mixed-use or multi-use schemes, there may be other amenities afforded near PBSAs, such as a retail centre or hotel, or even a residential tower which can produce other income streams for developers and owners, within the complex.
Read also: Overview of St Andrews (Scotland, UK) as an Investment Destination
Read also: Manchester as an Investment Destination
Notable recent transactions and major players
The growth in supply has been driven by the strength of investor demand, with over GBP4 billion of PBSAs traded in 2019, trending above the five-year average. Much of this activity was due to Unite Students PLC acquiring Liberty.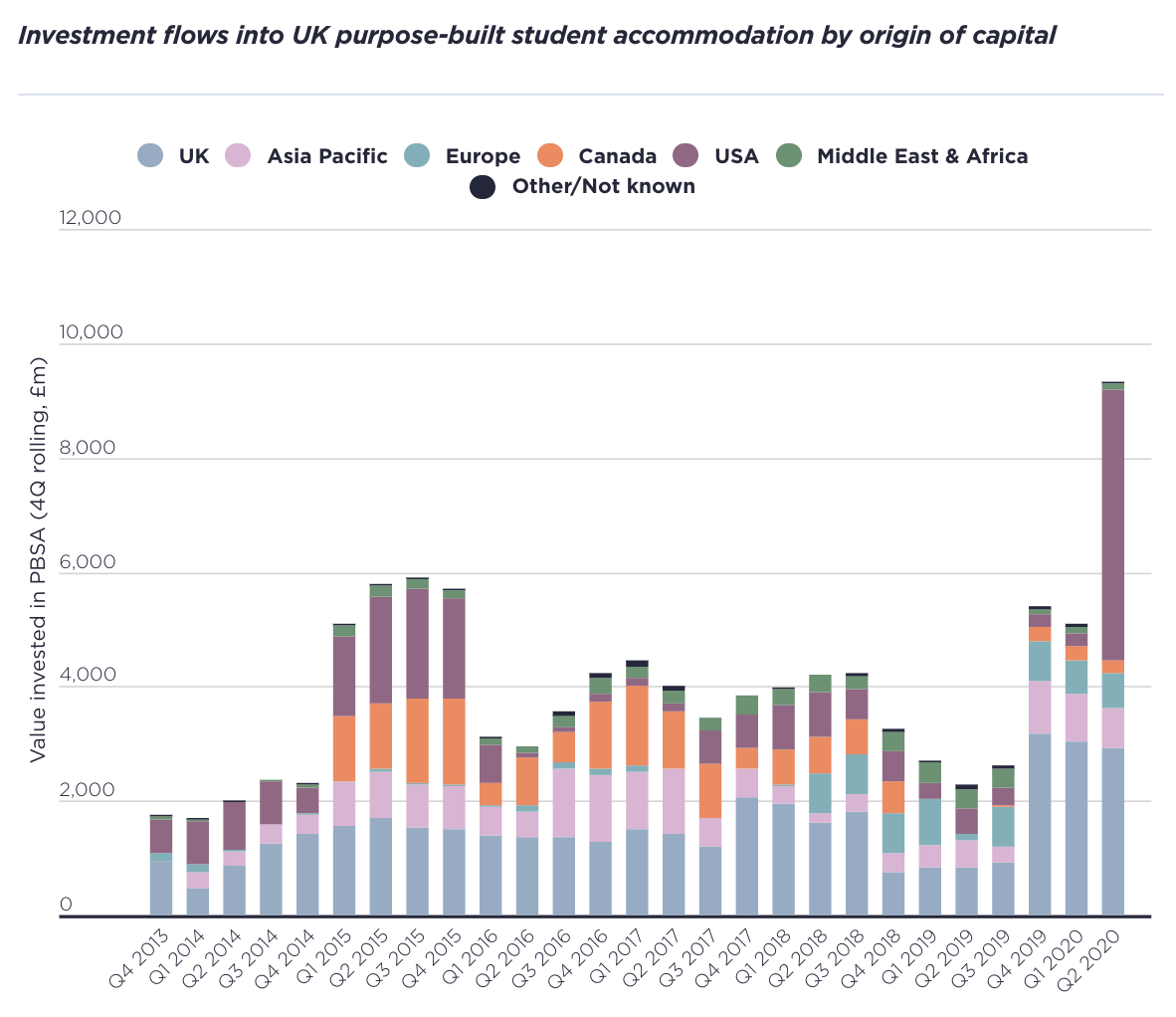 2020 will represent a new high in terms of PBSA investment activity. In May 2020, Blackstone acquired iQ Student Accommodation in a GBP4.66 billion deal. This transaction alone is worth more than all the PBSA stock traded from 2016 to 2018.
2019 also witnessed the arrival of further new entrants to the market, notably DWS with their acquisition of Kelaty House in London and the Vita Student portfolio. This helps to demonstrate the continued attractiveness of the U.K. PBSA sector to global investors, even in an environment of political uncertainty.
Indeed, two major fund-raising exercises have been held in 2020 with the Unite Group raising GBP300 million in June and Kinetic raising GBP100 million in July.
Read also: Important Considerations when Buying Overseas Properties
The outlook: a continued interest in PBSA
The PBSA sector is likely to remain generally strong across the U.K. with a fundamental mismatch of both demand and supply. Once the pandemic abates and the uncertainty associated with Brexit dissipates, the sector is expected to continue to grow and outperform other market sectors.
---
Find out more about real estate co-investment opportunities at RealVantage. Visit our team, check out our story and investment strategies.
Sign Up at RealVantage
RealVantage is a real estate co-investment platform that allows our investors to diversify across markets, overseas properties, sectors and investment strategies.
Visit our main site to find out more!
Disclaimer: The information and/or documents contained in this article does not constitute financial advice and is meant for educational purposes. Please consult your financial advisor, accountant, and/or attorney before proceeding with any financial/real estate investments.