Manchester as an Investment Destination
Manchester is currently on track for success if it is able to adapt its property hub to retain talents and provide them with a balanced work-life package.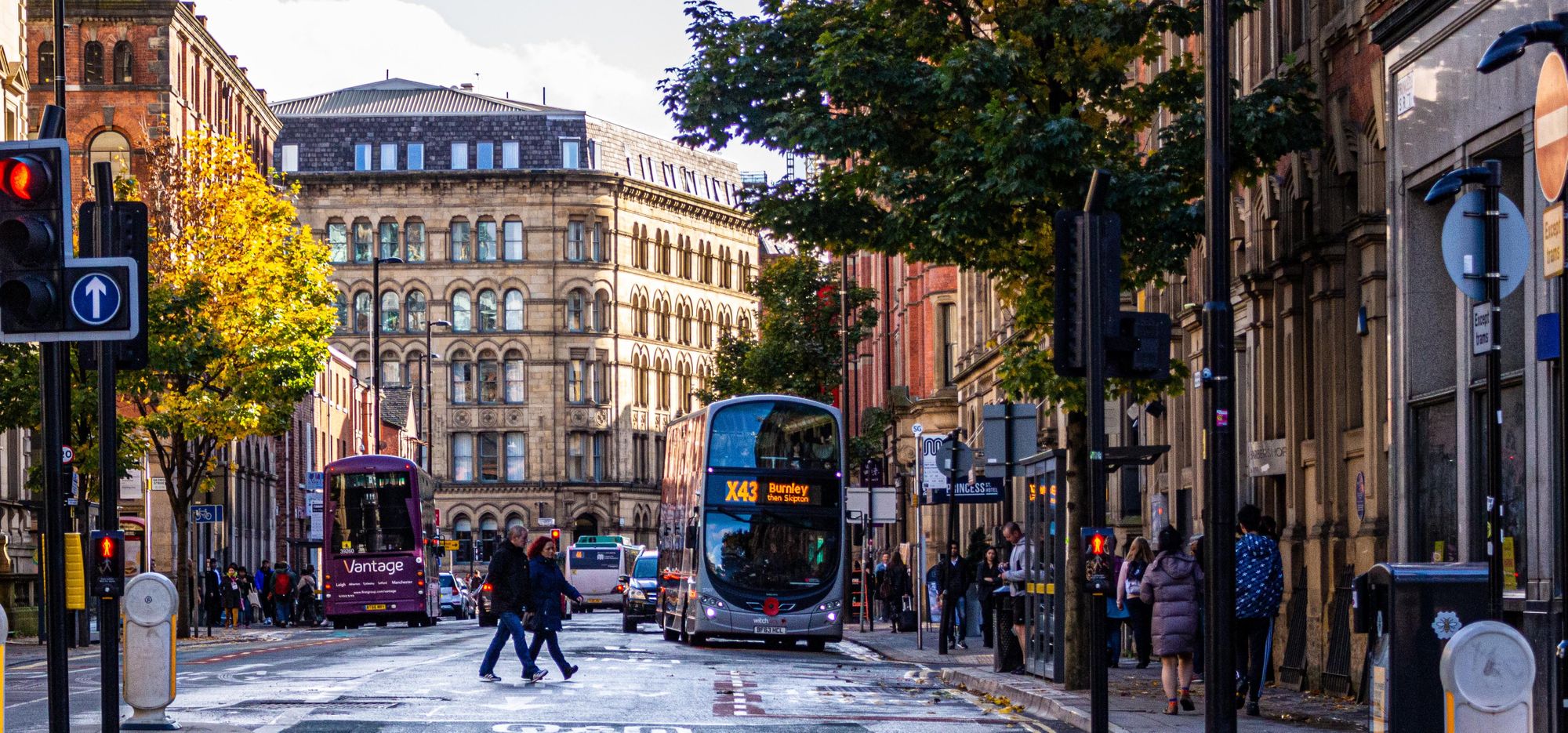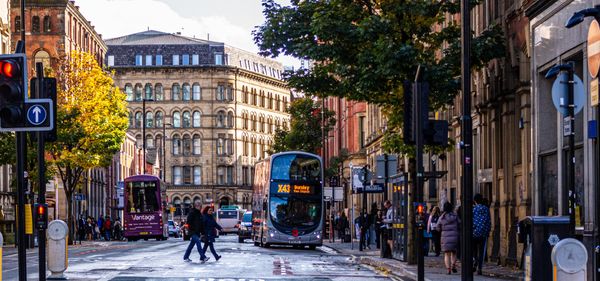 Table of Contents
---
With a staggering combined global fan base of more than 190 million for two of Manchester's leading football clubs, it is little wonder that mentions of Manchester naturally evoke thoughts of the beautiful game. But beyond just football, the city of Manchester has more than staked its claim on its fair share of accolades, especially as an investment destination.
For the fourth year running, Manchester was ranked the best-performing city in the UK (outside of London) for attracting foreign direct investments (FDI), according to the EY 2020 UK Attractiveness Survey.
With its global connectivity, affordable cost of living and doing business, forward looking and business-friendly government, and access to human capital amongst a long string of other reasons, the city has assembled an extremely compelling value proposition for businesses, investors and people to gravitate towards the city.
Read also: Investing in the UK Real Estate Market
Punching Above its Weight
Named by Deloitte as one of the fastest growing cities in Europe in 2018, Manchester is arguably the most established regional city in the UK. With a strong global brand, it is not hard to see why more and more people are choosing Manchester as a place to study, work and live.
After all, Manchester significantly outscores other tech hubs like London, Cambridge and Oxford on the cost of living. Home prices average just £209,431 in Manchester, remarkably lower than in London (£758,937), Cambridge (£495,385) and Oxford (£514,356).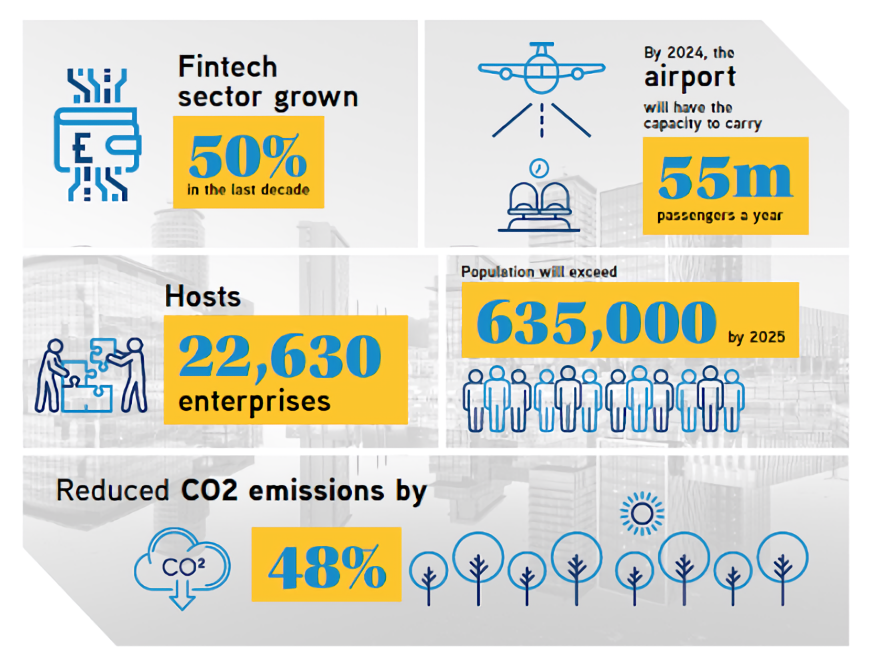 Manchester has been experiencing strong economic growth supported by the tech, creative and media industries. According to Invest in Manchester, Manchester represents the largest city region economy behind London, with a gross value added (GVA) of £62.8 billion. Furthermore, Manchester's GVA is expected to grow by 45.2% between 2016 to 2036, reflecting enormous headroom for growth ahead.
Amongst other reasons, this can be attributed to the wealth of young and educated talents that Manchester offers, attracting investments from talent-hungry businesses. This growing business sector also has a ripple effect on office real estate in the city, with positive long-term growth prospects in office real estate.
Since the "Global Liveability Index" was launched in 2011 by the Economist Intelligence Unit, Manchester has consistently been ranked as the most liveable city in the UK, beating London, Birmingham and Liverpool. A whole range of factors are considered for this index, across 5 broad categories of Stability, Healthcare, Culture & Environment, Education and Infrastructure.
The fact that Manchester has established itself as a global cultural centre is one of the aspects that makes it a vibrant place to live in. The football clubs and cultural experiences like the biennial Manchester International Festival are some highlights of the exciting things that Manchester offers. Perhaps this is why 51% of Manchester's graduates choose to remain in the city, second only to London.
While Manchester has been recognised as a great place to live in, it has not gone unnoticed by institutional real estate investors. The city emerged as the 6th most transparent city on JLL's Global Real Estate Transparency Index 2020 as an increasing number of large investors blazed a trail of deal-making.
Interestingly, it was not within the top 50 most transparent cities in JLL's 2018 rankings, but is now ranked as the second most transparent UK city (behind London), providing compelling evidence that Manchester has come into its own as a real estate investment destination in recent years.

Read also: Overview of St Andrews (Scotland, UK) as an Investment Destination
Sign Up at RealVantage
Thriving Tech Sector
The UK economy is strongly driven by technology. Manchester is seen as a leading business destination and is one of the biggest tech hubs in the UK outside of London by the number of digital workers.
In 2018, Greater Manchester's tech industry contributed £4.98 billion to the UK economy. Manchester now boasts a wide range of digital growth areas, including FinTech, nanotechnology and new media.

Numerous startups have been attracted to the bright lights of Manchester. This is facilitated by certain initiatives, including Yorkshire Bank's free-to-access B Works space and Barclays' Eagle Labs venture. These initiatives provide space and support for startups to learn and work.
A cluster of FinTech businesses has also emerged in the city. One prominent example is AccessPay, a fast-growing Manchester-based FinTech business specialising in cloud-based payments and cash management automation.

Besides startups, major digital players are also increasingly drawn to Manchester for its competitive cost of doing business and availability of graduate talents. Earlier this year, Amazon opened a huge tech center in Manchester. The increasing number of businesses seeking to base their operations in Manchester augurs well for its job and population growth prospects.
Read also: An Analysis of COVID-19's Impact on Office Real Estate Demand
Future Outlook
In JLL's "Living with 2020 Vision: UK City Centre Forecasts" report, it noted that the economy of the North West will be one of the strongest performing ones in the UK for the next 5 years.
More interestingly, Manchester is forecast to have both the highest sales price growth (17.1%) and rental growth (16.5%) of any UK city for the 5-year period up to 2024. This heightened demand can be attributed to the city's robust job market and population growth, as mentioned earlier.

The June 2020 Zoopla UK House Price index showed that property values in Manchester are growing at 4.1% annually, which is higher than the UK average of 2.7% and more than twice of London's 1.7% annual growth.
Moreover, there has been a huge wave of development in Manchester. Deloitte's Manchester Crane Survey 2020 showed that 2019 was the third highest development year on record for the city, with 27 schemes completing. These schemes also cover a whole range of real estate sectors - including residential, office, hotel, retail and leisure, demonstrating the strength of Manchester's property market.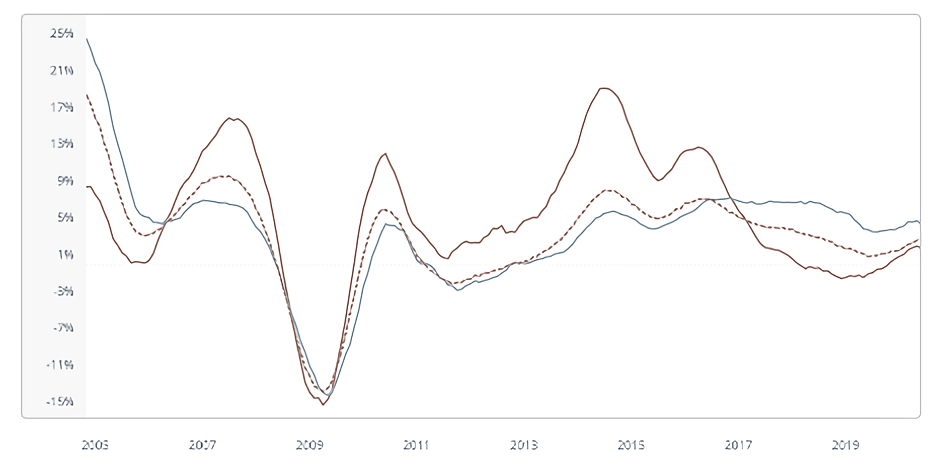 Despite the ongoing developments, there remains insufficient homes in the supply pipeline to accommodate Manchester's growing population. According to Manchester City Council's latest State of the City Report, the city centre population is estimated to increase by 100,000 by 2025. The strong population growth can be seen as a source exerting upward pressure on prices.
Read also: Six Critical Success Factors in Direct Property Investment
Closing remarks
Manchester is getting increasingly appealing for students, businesses and investors alike, who are drawn by its attractiveness across various aspects. Investing in Manchester is also a smart overseas investment option for Singaporeans, particularly as a co-investment option for accredited investors.
Read also: An Overview of Institutional Investors
As with JLL's regional forecasts, Manchester is currently on track for success if it is able to adapt its property hub to retain talents and provide them with a balanced work-life package. We may even expect a London-centric property hub to be a thing of the past, if more of UK's regional cities are able to narrow the gap they have with London.
---
Find out more about real estate co-investment opportunities at RealVantage. Visit our team, check out our story and investment strategies.
Sign Up at RealVantage
RealVantage is a real estate co-investment platform that allows our investors to diversify across markets, overseas properties, sectors and investment strategies.
Visit our main site to find out more!
Disclaimer: The information and/or documents contained in this article does not constitute financial advice and is meant for educational purposes. Please consult your financial advisor, accountant, and/or attorney before proceeding with any financial/real estate investments.