Keppel REIT Overview
In this article, we talk about the things you need to know about KREIT, from its last 3 years performance, year on year return to investment risk levels.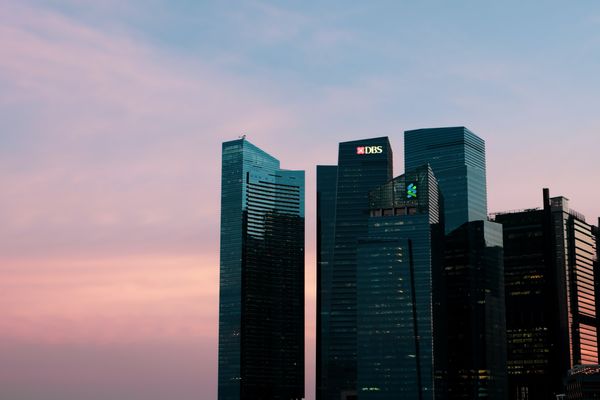 Table of Contents
---
As real estate private equity practitioners now moving into the rapidly emerging real estate co-investment space, it is important that we keep a pulse on the stakeholders within the industry. Naturally, developments in the REIT market are on our radar screen.
For the benefit of keen investors in REITs, the RealVantage team has looked through selected high profile REITs to aggregate and organise the content to provide an easy overview. In particular, this article focuses on Keppel REIT and will aggregate the following information.
General Overview / Background of the REIT
Last 3 years Keppel REIT Share Price and Transaction Volume
Annual Report Highlights
Key Statistics
Assets Under Management
This information is intended to provide a brief overview for investors who are interested in finding out more about this REIT.
Background
KREIT is a real estate investment trust investing predominantly in commercial properties in Singapore and key gateway cities in Australia. It currently owns nine commercial Grade A office assets with another property under development.
The REIT has assets under management of approximately $8 billion in Singapore, key Australian cities of Sydney, Melbourne, Brisbane and Perth, as well as Seoul, South Korea. Keppel REIT is sponsored by Keppel Land Limited, one of Asia's leading property companies.
It is managed by Keppel REIT Management Limited, a wholly-owned subsidiary of Keppel Capital Holdings Pte. Ltd. (Keppel Capital). Keppel Capital is a premier asset manager in Asia with a diversified portfolio in real estate, infrastructure and data centre properties in key global markets.
Read Also: Investing in Australian Residential Real Estate
Keppel REIT Share Price (K71U.SI)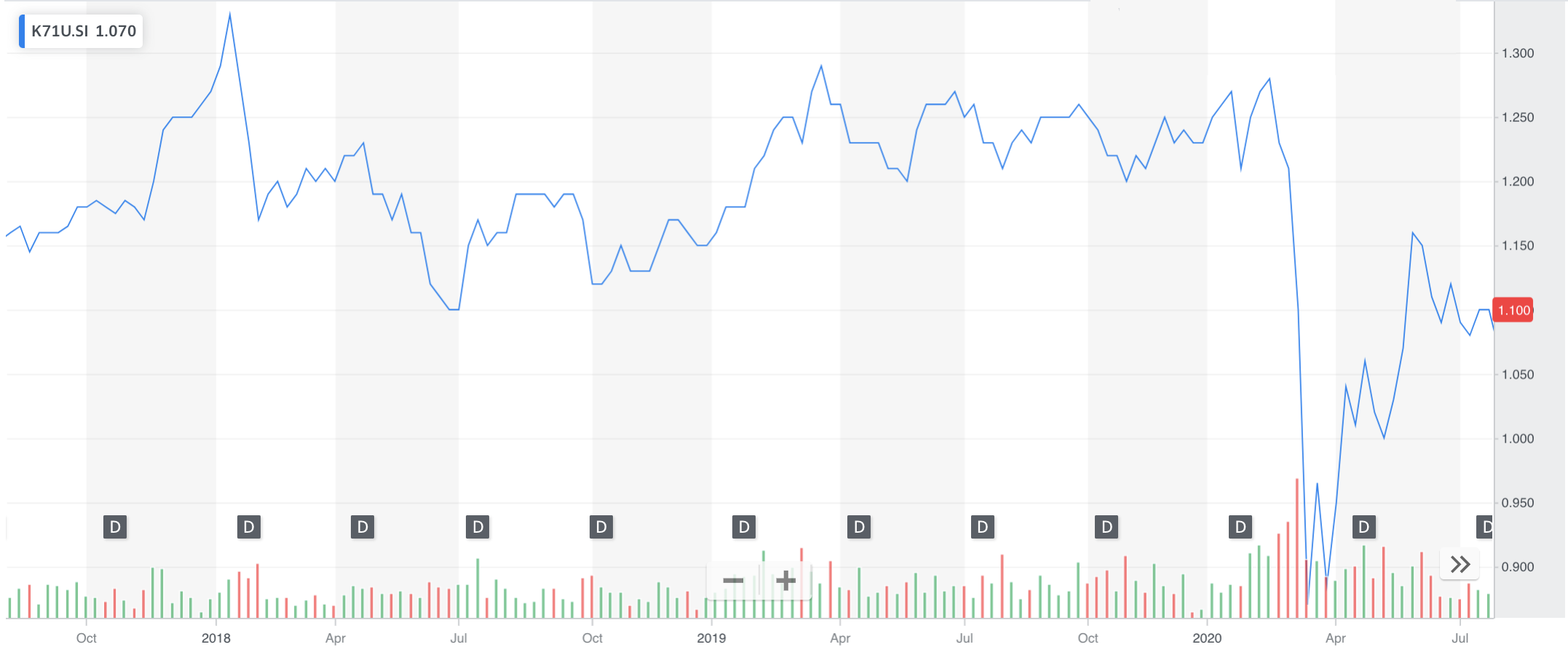 Keppel REIT Annual Report Highlights
Unaudited Results for the Quarter ended 31 March 2020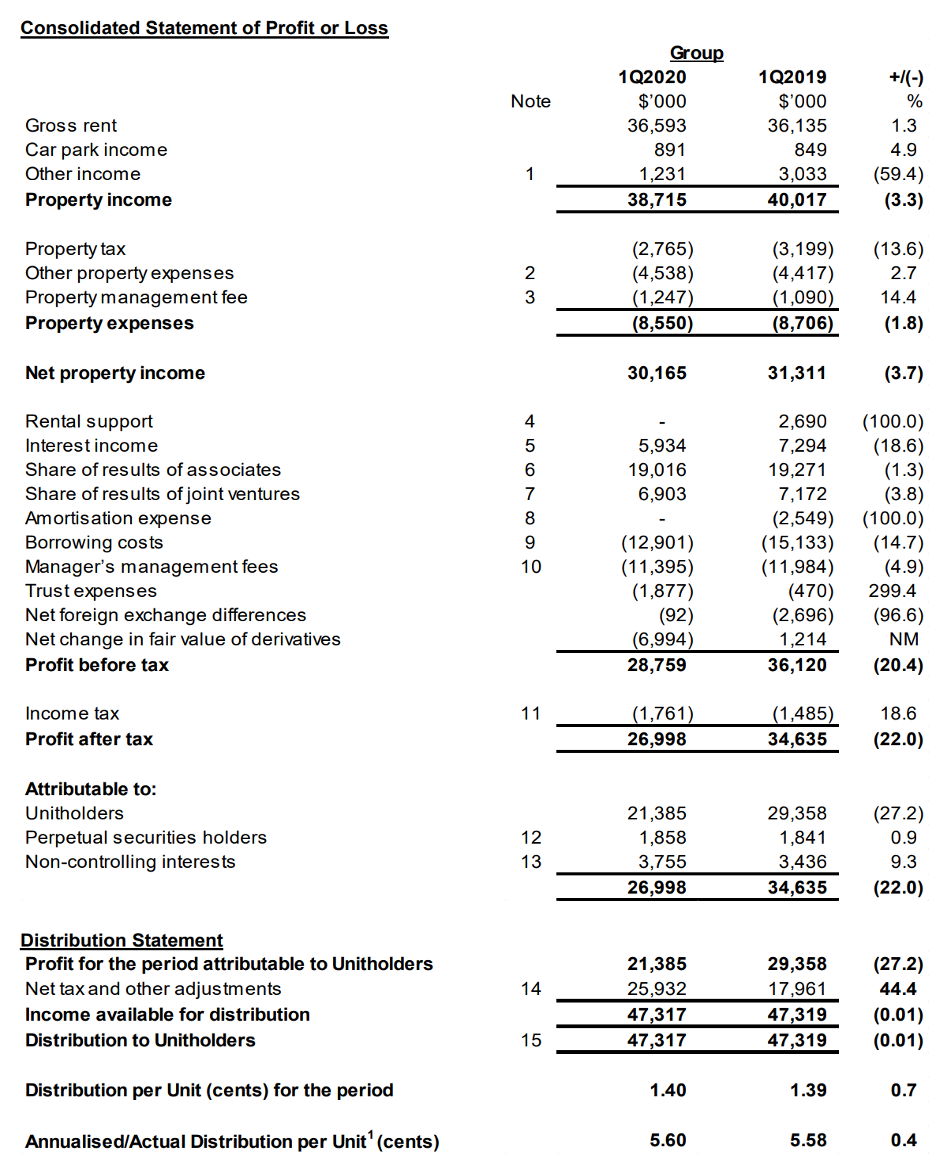 Sign Up at RealVantage
Keppel REIT Key Statistics
| | |
| --- | --- |
| Book Value Per Share | 1.46 |
| Price to Book Ratio | 0.8 |
| Market Cap Value/M | 3939 |
| Shares Outstanding/M | 3367 |
| Occupancy Rate | 0.99 |
| WALE (by NLA) | 4.7 |
| Weighted Average Debt Maturity | 3.8 |
| Estimated Interest Cost | 0.022 |
| Borrowing % Fixed Rate | 0.79 |
| Beta (5Yr Monthly) | 0.68 |

Source: Keppel REIT
Current Asset Under Management (AUM)
Singapore
The assets in Singapore are a 79.9% interest in Ocean Financial Centre, a one-third interest in Marina Bay Financial Centre (comprising Towers 1, 2 and 3 and the subterranean mall, Marina Bay Link Mall) and a one-third interest in One Raffles Quay.

Ocean Financial Centre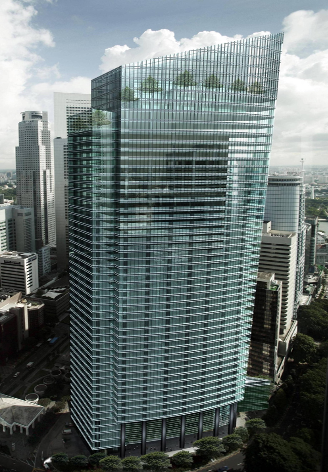 Location: 10 Collyer Quay Singapore 049315
Description: Situated at the intersection of the Central Business District (CBD) and new Downtown at Marina Bay, the peerless location of Ocean Financial Centre makes it the perfect place for work and play.
Privy to a myriad of entertainment outlets, this world-class development is a stone's throw away from Singapore's vibrant cultural hub, Esplanade – Theatres on the Bay and Marina Bay Sands.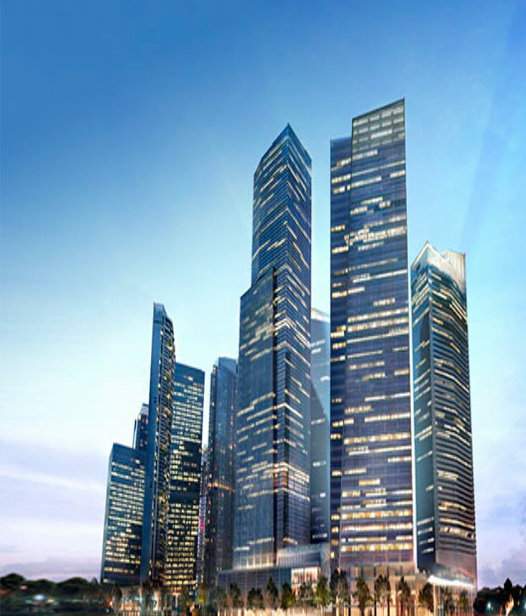 Location: Straits View, Singapore 018984
Description: Nestled in the heart of Singapore's central business district, MBFC sits atop prime waterfront land. Our 3 million square feet of premium office space houses international financial institutions and world class corporations that reflect Singapore's position as the financial capital of Southeast Asia.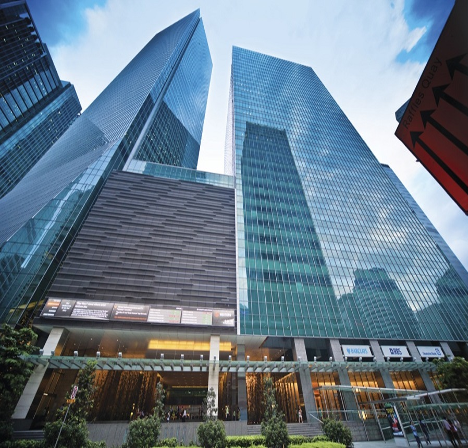 Location: 1 Raffles Quay, Singapore 048583

Description: ORQ's two office towers — North Tower and South Tower, totalling about 1.3 million square feet of prime Grade A office space were purpose-built for banking and financial corporations in August 2006. The 29-storey South Tower has 18 office floors, with a typical floor area of 30,000 square feet while the 50-storey North Tower has 42 office floors with a typical floor area of 18,000 square feet.
ORQ was awarded the 2008 Prix d'Excellence in the 'Office' category by The International Real Estate Federation (FIABCI) for embodying excellence in all aspects of development including construction, brokerage, facilities management, marketing strategy, impact on the local community and benefit to the environment.
Read Also: Guide to Investments in Singapore
Sign Up at RealVantage
Australia
The assets in Australia are a 50% interest in 8 Chifley Square in Sydney, a 50% interest in the 8 Exhibition Street office building and 100% interest in three adjacent retail units, as well as a 50% interest in the Victoria Police Centre at 311 Spencer Street in Melbourne, a 50% interest in 275 George Street in Brisbane, and a 50% interest in David Malcolm Justice Centre in Perth.
8 Chifley Square, Sydney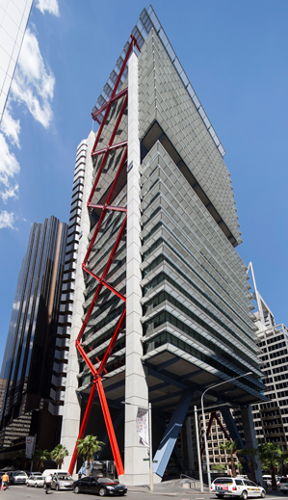 Location: 8 Chifley Square, Sydney NSW 2000

Description: 8 Chifley Square is a 30-storey premium grade commercial building located at the junction of Hunter Street and Elizabeth Street, in the heart of Sydney's prime business precinct. Its distinctive interlinked "vertical village" concept provides tenants with greater flexibility in the design of connected workspaces and encourages employee interaction and greater collaboration.
8 Chifley Square achieved the 5 Stars NABERS Energy rating in 2019 and holds the 6 Star Green Star – Office Design v2 as well as As Built v2 certifications by the Green Building Council of Australia (GBCA).
8 Exhibition Street, Melbourne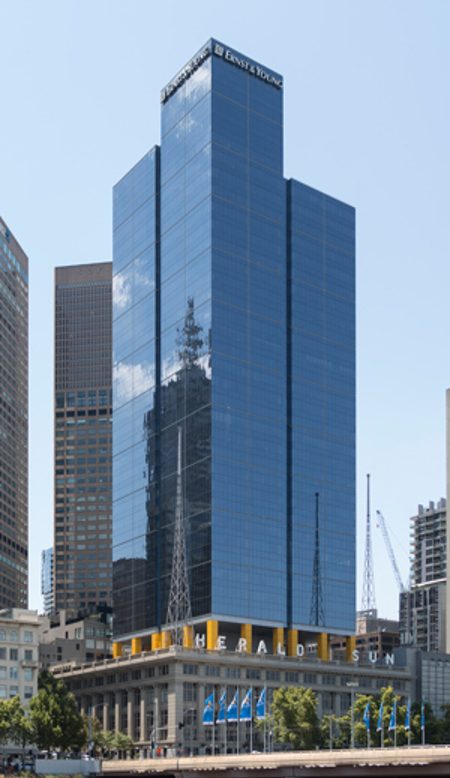 Location: 8 Exhibition Street, Melbourne VIC 3000

Description: 8 Exhibition Street is located in the prime business district of Melbourne. The property comprises a total NLA of approximately 485,000 sf across a 35-storey freehold premium grade office tower and three adjacent retail units.
The office tower offers a panoramic view of various landmarks such as the Yarra River and the Royal Botanic Gardens. It is located close to public transportation nodes and is within walking distance to the Parliament and Flinders Street major railway stations.
8 Exhibition Street achieved the 5 Stars NABERS Energy rating in 2019.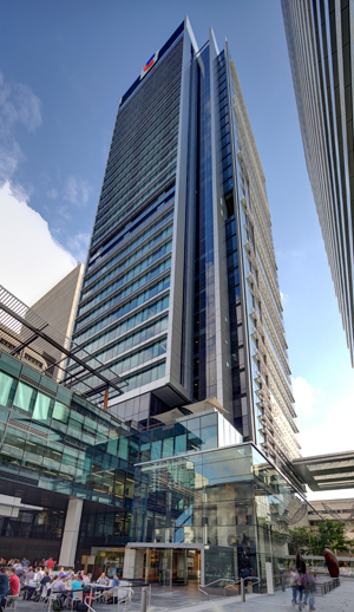 Location: 275 George Street, Brisbane QLD 4000

Description: 275 George Street is a prime grade building in Brisbane's CBD and offers approximately 450,000 sf of quality office space. Strategically located near the city's two largest railway stations, Roma Street Station and Central Railway Station, the 31-storey building offers tenants excellent connectivity and panoramic views of the cityscape.
275 George Street achieved the 5 Stars NABERS Energy rating in 2019. The building also holds the 5 Star Green Star – Office Design v2 and As Built v2, as well as the 3 Star Green Star – Performance v1.1 certifications by GBCA.
Read also: Brisbane Riding on Cyclical and Structural Tailwinds
David Malcolm Justice Centre, Perth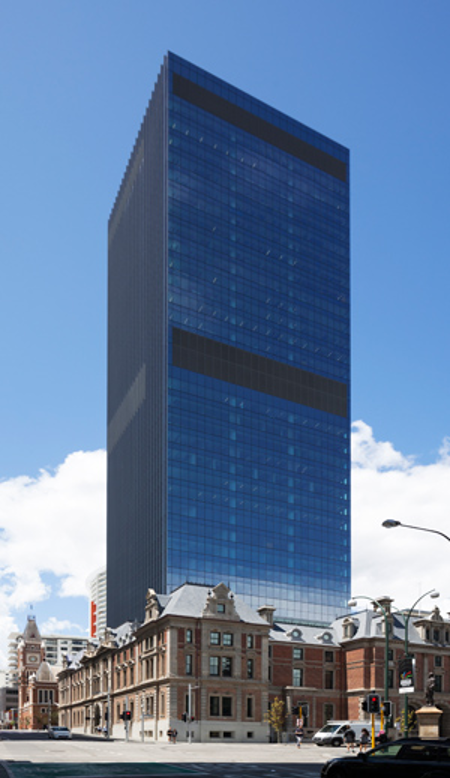 Location: 28 Barrack St, Perth WA 6000

Description: Located in Perth's CBD at the junction of Barrack Street and St Georges Terrace, the 33-storey David Malcolm Justice Centre and its annexe are built on the historic site of the Old Treasury Building. It offers a total NLA of approximately 336,000 sf and houses the Supreme Court's civil functions, judicial chambers, as well as the departments of Treasury and Justice.
David Malcolm Justice Centre achieved the 5 Stars NABERS Energy rating in 2019. The building also holds the 5 Star Green Star – Office Design v3 and As Built v3, as well as the 6 Star Green Star – Performance v1.2 certifications by GBCA.
Victoria Police Centre at 311 Spencer Street, Melbourne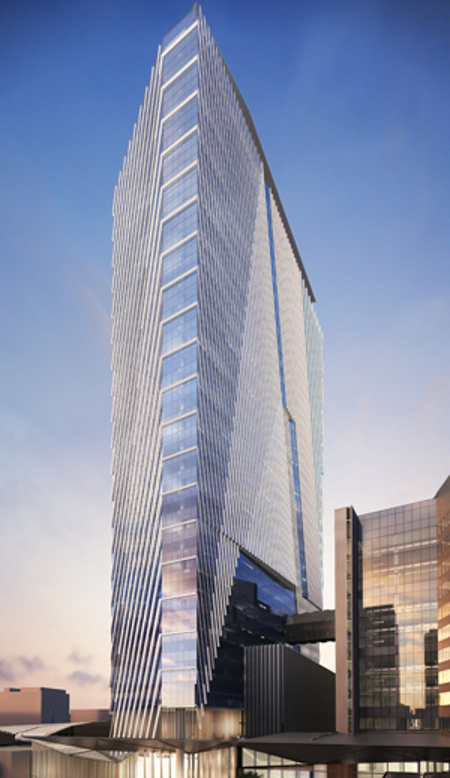 Location: 311 Spencer Street, Docklands VIC 3008

Description: Victoria Police Centre at 311 Spencer Street is strategically located between Melbourne's CBD and the Docklands precinct. It is also within walking distance to the Southern Cross Station, the city's major railway and transportation hub. The 40-storey Grade A office tower offers a total NLA of approximately 728,000 sf of prime office space. The office tower is fully leased to the Minister for Finance – State of Victoria, and serves as headquarters for the Victoria Police.
Designed by leading architecture firm, Woods Bagot, the office building will be an eco-icon in Melbourne, meeting the requirements of the GBCA 5 Star Green Star – Office Design and As Built certifications. It is also targeting a 4.5 Stars NABERS Energy rating.
Read Also: REITs or Real Estate Co-Investments?
South Korea
The asset in South Korea is a 99.4% interest in T Tower in Seoul.
T Tower, Seoul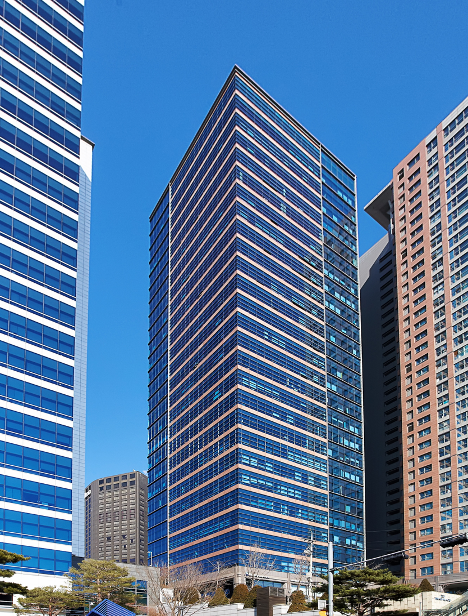 Location: 827 Namdaemunno 5(o)-ga, Jung-gu, Seoul

Description: T Tower is a freehold 28-storey office building located in Seoul's CBD. Completed in 2010, the building offers an NLA of approximately 228,000 sf.
T Tower is well-served by various railway, subway and bus networks, including direct connections across the Seoul metropolitan area and regionally via high speed KTX train services. It is also a five-minute walk to the city's major railway station, Seoul Station. The building is located amid a diverse range of amenities and major hotels. It is also close to key retail districts such as Myeong-dong and Namdaemun.
Read Also: Important Considerations when Buying Overseas Properties
REITs vs Co-Investments
While REITs are a fantastic instrument for investors to gain exposure to the real estate sector, it is not without limitations.
Despite the United States being the most advanced and deepest REIT market in the world, real estate co-investment has grown by leaps and bounds since the JOBS Act of 2012 paved the way for this alternative investment channel. Clearly, US investors have come to appreciate the additional value offered by co-investment, alongside their REITs market.
With that in mind, RealVantage has embarked on the mission to offer investors within the Southeast Asian region similar benefits their US counterparts have been enjoying for the past decade. As the US investors have shown, there is room and purpose for both investment modes to co-exist within an investor's strategy.
Read also: Real Estate Co-Investment – The New Alternative
For interested readers to make a more informed decision over options available to them, we hope they will find this article comparing REITs to real estate co-investments to be a balanced and helpful read: https://www.realvantage.co/insights/reits-or-real-estate-coinvestments/
Read also: What is an Accredited Investor?
---
Find out more about real estate co-investment opportunities at RealVantage. Visit our team, check out our story and investment strategies.
Sign Up at RealVantage
RealVantage is a real estate co-investment platform that allows our investors to diversify across markets, overseas properties, sectors and investment strategies.
Visit our main site to find out more!
Disclaimer: The information and/or documents contained in this article does not constitute financial advice and is meant for educational purposes. Please consult your financial advisor, accountant, and/or attorney before proceeding with any financial/real estate investments.