Interview with Grafunkt's Co-Founder: How Do You Manage Your Personal Wealth?
In a recent interview by RealVantage, Jefery shares his investment philosophies and how RealVantage played a part in their private wealth creation endeavours.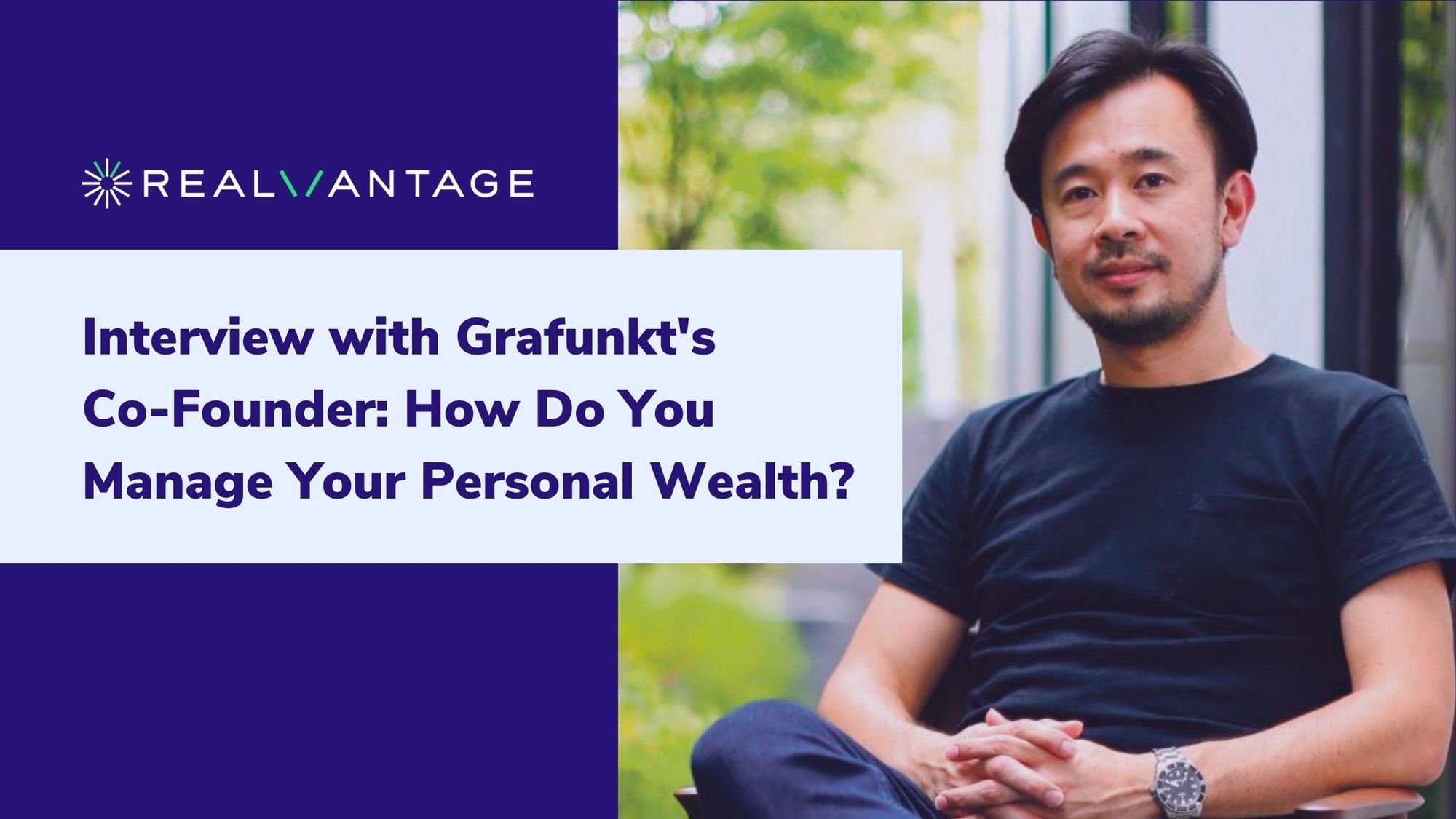 Table of Contents
---
"When it comes to investing, I am a firm believer of investing in things that I understand well and people that have the track record and experience. Don't over promise, all I want to see are results."
— Jefery Kurniadidjaja (Co-Founder, Grafunkt)
Jefery Kurniadidjaja is the co-founder of Grafunkt – a curator of high-end home furnishing business with brands such as Ligne Roset, Time & Style and Conde House. Having started the business 10 years ago in a modest 400 sqft shop, Grafunkt today occupies a 13,000 sqft premise at Funan Mall and serves many design-centric affluent clients around Asia. Jefery is an entrepreneur in his late 40s and is married with a 13 year old son.
---
Tell us about your entrepreneurial journey?
I started off my career in IT and at some stage became a civil servant with a statutory board. I would have probably stayed on being a wage earner if serendipity didn't get in my way. I met my business partner- Nathan Yong when I patronised his furniture shop. There was good chemistry between us and that's really how we started. As I reflect on the earlier days, it was a confluence of factors that came together – instincts, luck, hard work and tenacity. Today, we have been fortunate enough to achieve some level of success that make all the sacrifices worthwhile.
How do you manage your personal wealth?
Being a hands-on entrepreneur and working 7 days a week, I do not have a lot of time to look into my personal investments. I only invest in instruments that I am familiar with.  My personal investment is pretty simple – apart from setting aside some funds with my private banker, the rest are in blue chip shares and real estate. My wife and I own our current landed property and we co-invested in an Australian property with some friends.
Read also: Investing in Australian Residential Real Estate
Given that your business is closely related to real estate, your real estate investments seem pretty modest?
Indeed, I certainly have a penchant for real estate investing but given the capital-intensive nature, I tend to take a conservative approach to investing. Also, given my hectic schedule, I haven't really had the opportunity or time to invest and manage properties. I am acutely aware of the time and effort it takes to manage a property. My friends who own multiple properties have frequently lamented about tenants and maintenance issues. Given my work schedule, I have not dabbled too much into this sector. The only overseas property that I own is co-invested with friends and one of them is managing it.  That said, I have managed to gain further exposure into this sector through RealVantage who does all the heavy lifting for me.
Read also: Understanding Property Management
Sign Up at RealVantage
How was your investing experience with RealVantage?
It's been great so far. The online experience from depositing funds and deciding on an investment is efficient via their online portal. From the way deals are presented, it reflects the experience and expertise of the team. My personal dashboard also allows me to monitor the performance of my assets. The platform has also dedicated an investor relationship manager to address any questions that I have; this personalised service is perfect for my busy schedule.
Specifically, what kinds of real estate do you like investing in?
Through RealVantage I have invested across various asset classes in real estate - from residential to office projects. It's great that there are various investment options apart from just buying residential apartments, which the majority of investors are limited to. I particularly like it that through RealVantage, I am able to gain exposure to the residential sector without having to pay punitive foreign stamp duties that I would otherwise be subject to if I acquired residential assets on my own. Like any asset class, I believe in diversification. Through RealVantage, I also learnt a lot about investing across the capital stack and various strategies spanning the risk and return spectrum, a perspective I wasn't aware of before.
How does RealVantage add value to your portfolio and how do these investments complement your overall investing strategy?
RealVantage has added a wider dimension to my real estate investing by providing access to attractive opportunities that are not usually available to individuals. By laying each deal out in a transparent and comprehensive way, I can easily understand what the opportunity is, quickly decide if it fits my objectives and commit as much as I want. I find successful real estate investment a very demanding task, from understanding the market to carrying out due diligence, that I simply cannot afford the time and energy for.
Instead, I can now leverage on RealVantage's years of experience, let them do the intense work while I just fire questions and ensure that my concerns are satisfactorily addressed. In addition, the maturity of the investments ranges from 1 to 5 years, allowing me to manage the exits according to my liquidity needs or another investment opportunity. Also, RealVantage will be there if there are challenges, so much better than investing on my own especially considering that these investments are across jurisdictions with different time zones.
Read also: Building a Real Estate Portfolio
What advice would you have for a younger investor looking to take control of their portfolio?
Do your homework before investing. Educate yourself about the upside and more importantly the downside of any investment you become involved in. More importantly, ask yourself how much risk you can tolerate and allocate your investment quantum accordingly. Recognise that real estate goes in cycles, when a downturn represents opportunity, make bold, calculated moves without being pressured to see a profit in the short term.  Practice strong discipline, and keep looking for means of diversification. Finding investments that fits your level of knowledge and risk tolerance is very important.
---
Find out more about real estate co-investment opportunities at RealVantage. Visit our team, check out our story and investment strategies.
Sign Up at RealVantage
RealVantage is a real estate co-investment platform that allows our investors to diversify across markets, overseas properties, sectors and investment strategies.
Visit our main site to find out more!
Disclaimer: The information and/or documents contained in this article does not constitute financial advice and is meant for educational purposes. Please consult your financial advisor, accountant, and/or attorney before proceeding with any financial/real estate investments.