New York Last Mile Logistics Opportunity
Watch our webinar, to learn about our latest opportunity - the New York Last Mile Logistics Opportunity in New York, United States.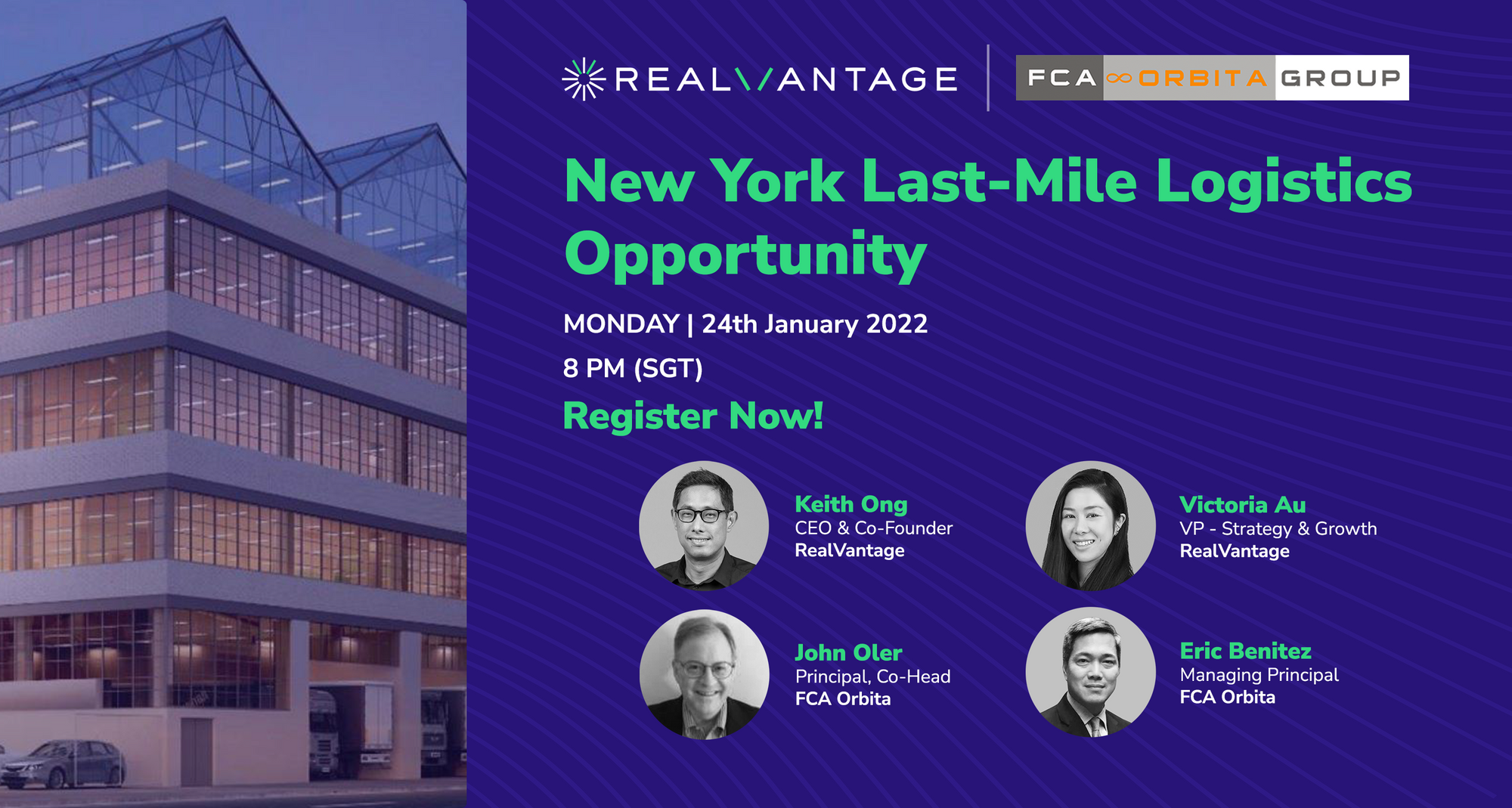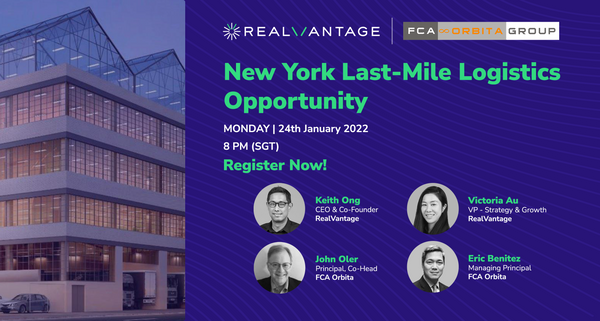 A rare opportunity to invest in a well-located Last-Mile Logistics Warehouse in Queens, New York City. The property presents strong upside through active re-positioning and primed to capitalise on the NYC industrial and logistic property market which is experiencing exponential demand with current vacancy levels at a record low of 1.6%.
Thank you for the great turnout, you will find this webinar on the New York Last Mile Logistics Opportunity page.
View New York Last Mile Logistics Opportunity
About The Speakers
Keith Ong | CEO and Co-Founder of RealVantage
Keith is an industry veteran with over 20 years of experience, he has transacted in excess of USD 3 billion across geographies, sectors and the entire real estate investment spectrum. He was the Assistant Director of Investment in ARA Asset Management, Director of Investment in Rockworth Capital Partners, and the Director of Investment Management and Capital Transactions for Firmus Capital.
John Oler | Principal, Co-Head of FCA Orbita LLC
John is a real estate executive with extensive experience in the commercial real estate industry, is currently a Senior Partner at FCA Orbita. He advises in devising strategic real estate plans and represents them when procuring, leasing, financing debt and JV equity, selling or acquiring commercial/residential property and land. He has served as asset manager for acquisitions and re-financings placed by JP Morgan Chase, Deutsche Bank, and Goldman Sachs, notably. He has taught as an Adjunct Professor at the NYU Schack Institute of real estate.
Eric Benitez | Managing Principal of FCA Orbita LLC
Eric has worked in real estate for over 2 decades where he spent nearly 10 years working with some of the largest global firms. In the United States, Eric represents the Benitez family, a family office that owns and develops real estate properties largely in Asia, including residential, office and retail. The family also owns interests in an investment bank, a publicly-listed consumer finance company, digital media and telephony content, health care, and auto-dealerships.

Victoria Au | VP -  Strategy and Growth of RealVantage
Victoria focuses on growing RealVantage on all fronts: from establishing strategic partnerships, to marketing outreach and improving user experience. She employs a multi-disciplinary approach to carve out new channels to make investing accessible for all. She is deeply convicted by her vision for greater financial inclusivity and fiscal empowerment.
---
Find out more about RealVantage, visit our team, check out our story and investment strategies.
Sign Up at RealVantage
RealVantage is a real estate co-investment platform that allows our investors to diversify across markets, overseas properties, sectors and investment strategies.
Visit our main site to find out more!
Disclaimer: The information and/or documents contained in this article does not constitute financial advice and is meant for educational purposes. Please consult your financial advisor, accountant, and/or attorney before proceeding with any financial/real estate investments.