What is the Deal with Last Mile Logistics?
Is last mile logistics just a trending hyped up buzz-phrase that will fade over time or is this really going to be an enduring "thing" going forward?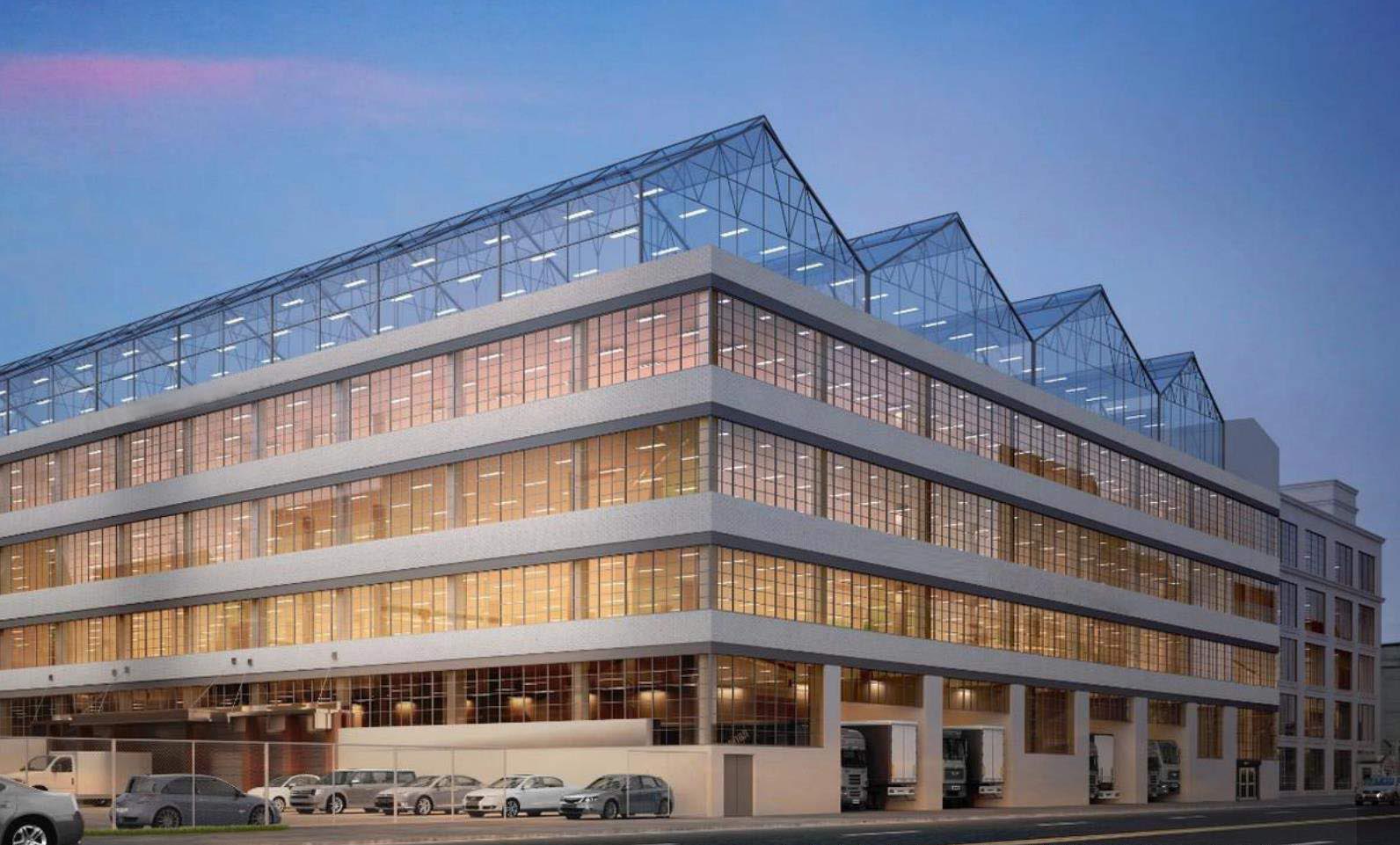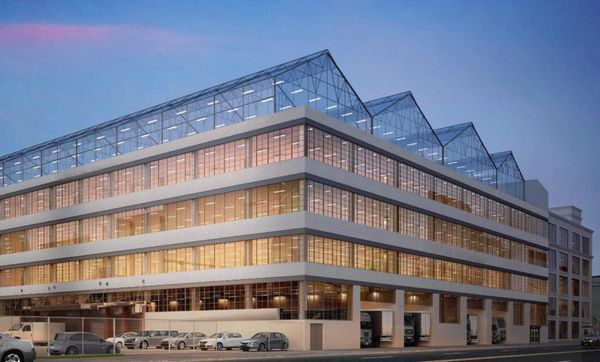 Table of Contents
---
It is hardly a secret by now that amongst the many real estate sectors, logistics is one which is underpinned by firm fundamentals and experiencing robust growth. Within the larger logistics ecosystem, the term "last mile logistics" in particular, is becoming increasingly more prominent. Is last mile logistics just a trending hyped up buzz-phrase that will fade over time or is this really going to be an enduring "thing" going forward?
What is last mile logistics?
In this short article, we seek to provide an answer to the question and explore the reasons behind our view. But first and foremost, what is last mile logistics? As its name suggests, though not to be taken literally, last mile logistics refers to the final leg of the delivery process within the larger transportation network. Typically, this actual "last mile" can range from a few blocks up to 2-hours worth of driving distance (let's say 120 km).
Why is last mile logistics coming to the fore now?
Consumers becoming more demanding
There are many reasons for the increased focus on the final leg of delivery. We will just discuss the most salient few here. A top-of-mind factor can be attributed to the explosion of e-commerce and B2C delivery volume. The structural shift in retail to online sales started in earnest years ago and is accelerated by the pandemic. With competition heating up, customers have grown more demanding with an increasing number willing to pay a premium for getting their orders sooner. Receiving their orders next week or even in a few days is hardly meeting expectations now. E-commerce players are responding by upping their game in this competitive arena to next day, same day or even instant delivery. Bringg's recent global survey finds 99% of retailers plan to offer same-day delivery by 2025, up from the current 35% that are able to do so today. Only 29% feel they are currently doing a good job with their delivery performance.  To this end, market players are thinking out of the box and looking to drone, robot, route optimisation technologies for solutions. Whichever creative solution, last mile logistics is a crucial element to allow shippers to get more products to consumers faster.
Reverse logistics and returns processing equally important
E-commerce players are not just competing to get their products into the hands of the consumers sooner and faster. They want to put more products in the customers' laps. In order to encourage more trigger-happy customer behaviour, retailers are scambling to put a reliable, convenient and efficient returns / replacement system in place. Again, last mile logistics play an instrumental role in returns processing and goes a long way towards improving customer satisfaction and retention. According to e-commerce consultant, Invesp, at least 30% of all products ordered online are returned.
Other mega-forces at play
Traditional supply chains used to focus on scale- and cost-efficiencies to the detriment of supply chain resilience. If anything, the COVID-19 pandemic has exposed some of these vulnerabilities. Huge hub-and-spoke, just-in-time supply models that were overly concentrated on limited channels experienced major disruptions in recent years – US-China trade war, Suez Canal incident, spike in shipping/freight cost, shortages of LGV (large good vehicle) drivers – tested the resilience of supply chains. With protracted and elevated geopolitical risks, even manufacturers have responded with re-shoring or near-shoring operations to be closer to end consumers. Again, enter the last mile logistics which allow suppliers to manage goods stocking and inventory more robustly and mitigate shocks to the larger supply chain.
View Opportunity
Last mile logistics from the perspective of a real estate investor
It should be clear by now the demand fundamentals for last mile logistics real estate are unassailable. What does the supply side look like? Herein lies the appeal from a real estate investor's perspective.
Being close to consumers within built-up, urban areas comes with a unique set of challenges. Land supply is scarce in such areas as compared to operating out of a huge warehouse many miles outside of cities. Further, to be operated efficiently, last mile logistics assets need to check off numerous boxes – access to major transport infrastructure, proximity to consumers and workers, within planning zones that allow for such usage – and all this while fending off competing real estate uses. Locations that are not already approved for this usage face an arduous journey and risks going through the planning approval process, especially in jurisdictions saddled by highly vocal residents and nimby-ism (Acronym for Not-In-My-BackYard – a characterisation of opposition by residents to proposed developments in their locality). After all, not many would appreciate the increase in traffic volume.
One can now appreciate how the explosion in demand for last mile logistics coupled with supply-side challenges go a long way towards explaining the acute shortage in this space.
Case-in-point: New York City
New York City presents a prime case study for the afore-discussed dynamics. Tenant demand for warehouses surged to record volume amid the backdrop of the strengthening local economy, lower unemployment, and continuing demand for online purchases. Demand for space from e-commerce will trickle down the supply chain from retailers to wholesalers, who will need to hold more inventory. All these factors have driven strong demand for warehouses in New York.
The key market highlights are as follows: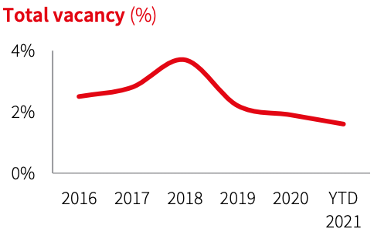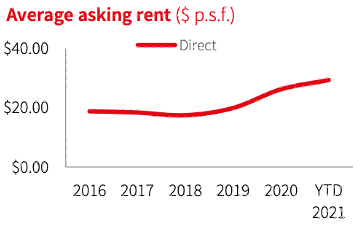 Extremely Low Vacancy - Due to the Covid-19 pandemic, e-commerce leasing demand has grown exponentially over the last two years, accounting for 60.5% of leasing activity in the New York City ("NYC") outer boroughs. This has driven vacancy for warehouses and logistics facility in the New York City ("NYC") outer boroughs to a record low of 1.6% which is the third lowest city in vacancy in the US.
Limited Supply on the Horizon - New supply in 2021 for NYC outer boroughs comprising 2.6% of current supply is under construction but 70% has been pre-leased further exacerbating the over-demand for modern industrial facilities.
Strong Rental Growth - The average asking rental rates have increase 15.6% year-on-year in 2021. Class B & C warehouse rents have increased 29.3% over the last two years, with rents being marketed close to USD 30psf.
Strong Demand from Tenants - Leasing velocity throughout 2021 has surpassed 1.6 million sft, another record year of net absorption. Over 75% of logistics companies expect to provide same day-delivery by 2023. As a result, the anticipated demand will continue to accelerate for last mile location within the New York City Outer Boroughs.
Strong Demand from Institutional Investors – Throughout 2021, sales activity totaled over USD1.21 billion, which is the highest it has in recent years. 67.4% of buyers were institutional owners, notable transactions being CenterPoint Properties acquiring a 134,734sqft warehouse in the South Bronx submarket for USD 119m, a capital value of USD 883psf, Brookfield's acquisition of 55 Bay Street, leasehold property for USD45 million.
Promising Outlook - With over 17 million sft of tenants actively searching in the market and 3.6 million sft expected to only break ground in the next two years across the Bronx, Brooklyn, and Queens the current imbalance between supply and demand is expected to continue and will only result in upward rental movements. On this backdrop, we are optimistic that our latest opportunity, the New York Last Mile Logistics Warehouse, will benefit well from the favourable market conditions.
To find out more about RealVantage's latest New York Last Mile Logistics Warehouse Opportunity, please click on the button below:
View Opportunity
(Sources: JLL NYC Outerboroughs Industrial Q4 2021, JLL US Industrial Q4 2021, CBRE)
---
Find out more about real estate co-investment opportunities at RealVantage. Visit our team, check out our story and investment strategies.
Sign Up at RealVantage
RealVantage is a real estate co-investment platform that allows our investors to diversify across markets, overseas properties, sectors and investment strategies.
Visit our main site to find out more!
Disclaimer: The information and/or documents contained in this article does not constitute financial advice and is meant for educational purposes. Please consult your financial advisor, accountant, and/or attorney before proceeding with any financial/real estate investments.