RealVantage Wins Two Awards in the 7th Annual Asia-Pacific Stevie Awards
RealVantage announced that it was named the recipient of not one, but two awards simultaneously in the seventh annual Asia-Pacific Stevie Awards.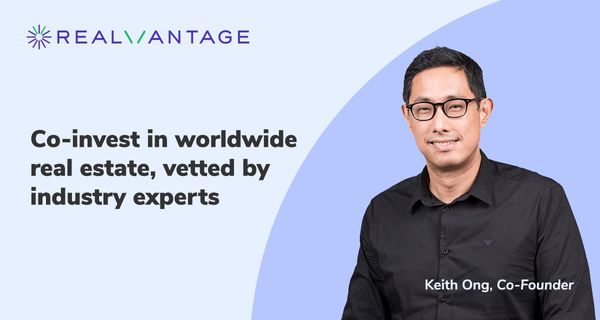 SINGAPORE, Aug. 7, 2020 /PRNewswire/ – RealVantage, aleading real estate co-investing platform in Southeast Asia, announced on 5 August 2020 that it was named the recipient of two awards simultaneously in the seventh annual Asia-Pacific Stevie Awards – a Silver Stevie Award in the Most Innovative Startup of the Year - Consumer Service Industries category and a Bronze Stevie Award in the Most Innovative Tech Startup of the Year – Services category.
More than 1,000 nominations from organisations across the Asia-Pacific region were considered this year. Gold, Silver and Bronze Stevie Award winners were determined by the average scores of more than 100 executives around the world acting as judges.
Founded in 2019, RealVantage is a property fintech firm and an online real estate investment platform headquartered in Singapore, with the mission to provide access to quality real estate deals and ease of diversification for real estate investors. Currently, RealVantage provides Singapore and Indonesia investors with access to the United Kingdom, United States, and Australian real estate markets. The firm carefully sources, evaluates and manages each investment opportunity with institutional-quality rigour. With fractional ownership, investors can get exposure to property investments, without having to fork out a huge outlay upfront and it is a smarter way of investing in real estate. This innovative investment platform provides solutions for Accredited Investors because it offers a great alternative asset class for portfolio diversification, which is also secured by physical real estate.
On winning the awards, RealVantage's chief executive officer & co-founder of RealVantage, Keith Ong, expressed: "We are delighted to win both awards at the same time. They are a testament to the hard work we have put in on all fronts. RealVantage is strengthening its proprietary technology to source for real estate opportunities across the globe with attractive risk-adjusted returns through robust deal assessment, risk management approaches and pricing tools."
The Asia-Pacific Stevie Awards are the only business awards program to recognise innovation in the workplace in all 29 nations of the Asia-Pacific region. The Stevie Awards are widely considered to be the world's premier business awards, conferring recognition for achievement in programs such as The International Business Awards® for 18 years.
About RealVantage
RealVantage is a leading real estate co-investment platform in Southeast Asia. Opportunities are carefully vetted by a team of highly experienced real estate professionals. Investors can gain access to excellent real estate deals across different sectors and markets and build a diversified global, high-performing portfolio. Our team comprises industry veterans with more than 100 years of combined experience in real estate fund management, data science, and technology, as well as private equity. The team's previous track record includes more than USD10 billion in real estate transactions and more than USD20 billion in Assets Under Management across different geographies.
---
Find out more about RealVantage, visit our team, check out our story and investment strategies.
Sign Up at RealVantage
RealVantage is a real estate co-investment platform that allows our investors to diversify across markets, overseas properties, sectors and investment strategies.
Visit our main site to find out more!
Disclaimer: The information and/or documents contained in this article does not constitute financial advice and is meant for educational purposes. Please consult your financial advisor, accountant, and/or attorney before proceeding with any financial/real estate investments.