Former ARA Asset Management Deputy Group CEO & Group COO Joins RealVantage
RealVantage is pleased to welcome real estate industry veteran, Beng Tiong Ng, as Chairman, advisor, and Investment Committee member. He is also a shareholder of the firm and will be actively engaged in guiding RealVantage into its next phase of growth.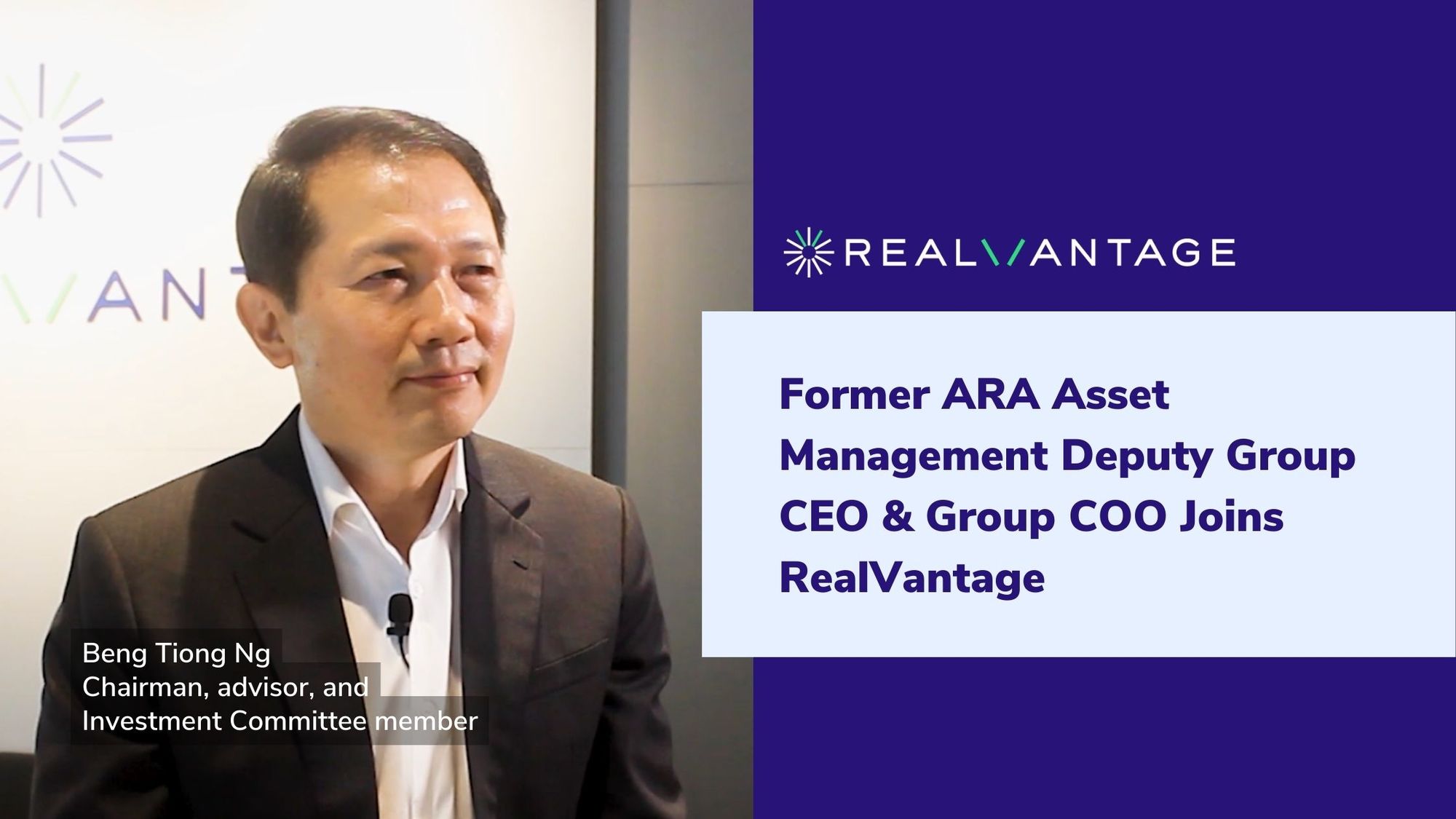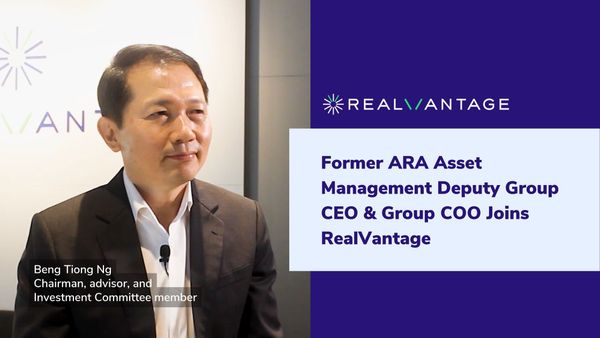 We are pleased to announce the appointment of Beng Tiong Ng ("BT Ng") as Chairman, advisor, and Investment Committee member of RealVantage.
Prior to joining RealVantage, BT Ng was Deputy Group CEO and Group COO with ARA Asset Management, which is part of the ESR Group – Asia Pacific's largest real asset investment manager and the world's third-largest listed real estate investment manager. He was with the firm for almost 15 years, during which he assumed various senior leadership roles, including the CEO of ARA Private Funds, Head of China Desk, and Executive Chairman of the real estate services division.
Earlier in his illustrious career, BT Ng took on other leadership positions in leading organisations, such as Board Member and Finance Director at Low Keng Huat (Singapore) Limited, Head of Mergers & Acquisitions at Stone Forest M&A Pte. Ltd., as well as Vice President of Investment Banking at DBS Bank. He had also been an independent director of various SGX-listed companies over the years.
BT Ng brings with him a wealth of experience spanning more than 30 years in real estate, finance, mergers and acquisitions, and governance. His primary remit at RealVantage is to chair the firm's Board of Directors and provide strategic guidance to grow the business. As advisor, he will seek out new business trends, opportunities and partnerships. He will also evaluate and approve deals in his role as an Investment Committee member.
"We are privileged to have BT on board the RealVantage team. Given his rich experience and achievements in the real estate industry, I am certain that he will be able to guide our firm towards greater heights. BT is not just Chairman, advisor, and Investment Committee member; he is also a shareholder of the firm. This is a testament to his confidence in our business model and our potential for future growth," comments Keith Ong, co-founder and Chief Executive Officer of RealVantage.
BT Ng comments: "The RealVantage investment platform has proven to be a simple yet powerful tool for family offices and individual investors to build a bespoke global real estate investment portfolio that suits their needs. The institutional-quality properties, robust underwriting, and hassle-free investment process are combined with transparent ownership and investment linkage to the underlying properties. The firm has so far demonstrated a stellar investment track record, with excellent realised returns and no defaults. All of these give investors peace of mind and a delightful investment journey."
"In the next five years, I have no doubt that RealVantage will grow to become one of Asia Pacific's leading property fintech firms that provides investors access to the most attractive real estate investment opportunities in developed markets globally. And we will spare no effort in improving our investment offerings and platform capabilities to make the investment experience a seamless and delightful one," he adds.
---
Find out more about real estate co-investment opportunities at RealVantage. Visit our team, check out our story and investment strategies.
Sign Up at RealVantage
RealVantage is a real estate co-investment platform that allows our investors to diversify across markets, overseas properties, sectors and investment strategies.‌
‌Visit our main site to find out more!
Disclaimer: The information and/or documents contained in this article does not constitute financial advice and is meant for educational purposes. Please consult your financial advisor, accountant, and/or attorney before proceeding with any financial/real estate investments.