Episode 5: How to Build a Real Estate Investment Portfolio Like a Pro
This episode of the RealVantage podcasts will see Victoria Au share more about how to build a real estate investment portfolio like a pro, so that you too can grow to become a pro in real estate investing.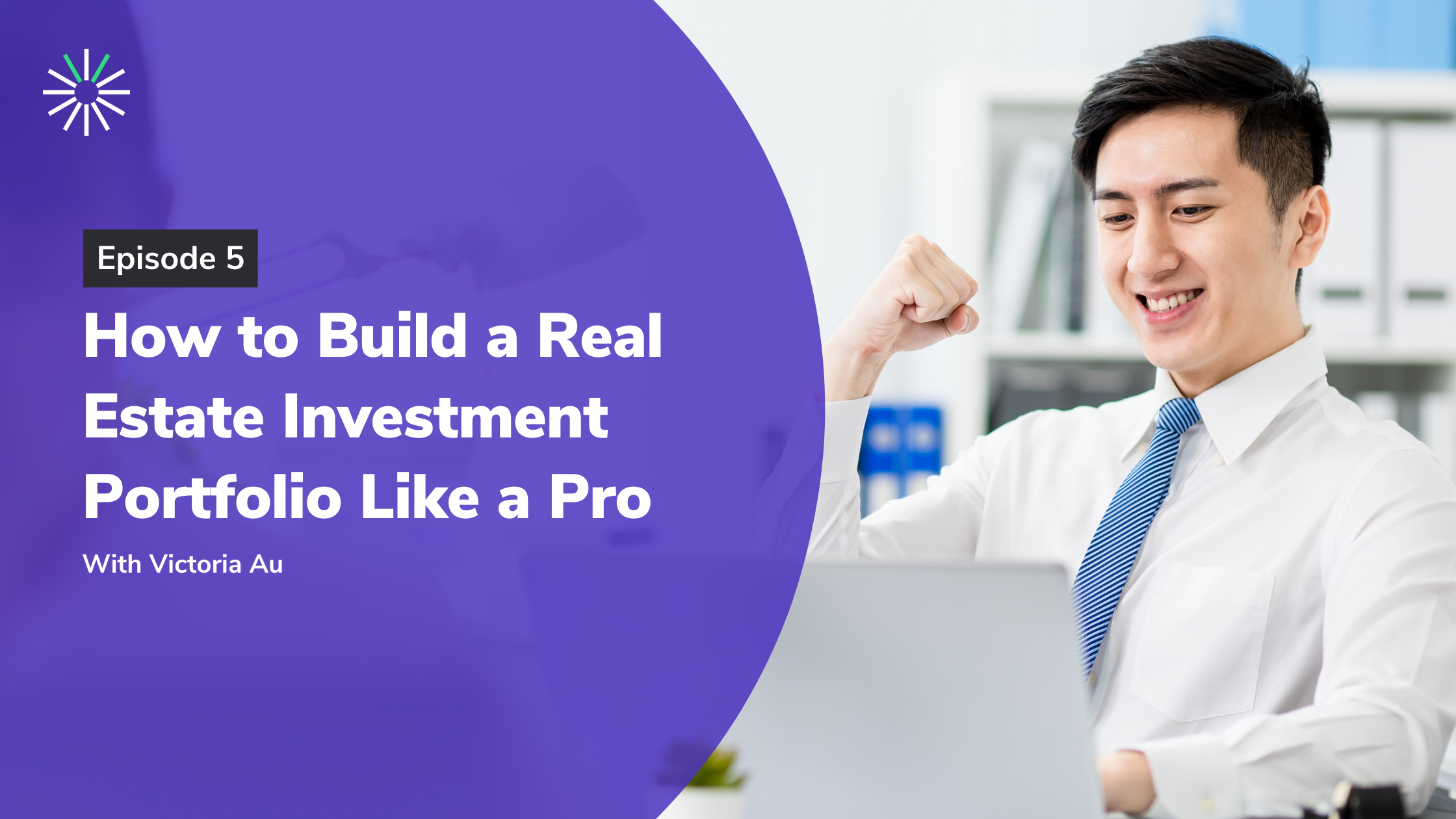 | Time Stamp | Topic Reference |
| --- | --- |
| 0:00 | Introduction |
| 1:08 | Summary |
| 2:01 | Know the Market You are Investing in |
| 2:26 | Do Your Research |
| 2:58 | Be Clear About Your Real Estate Objectives |
| 3:15 | Diversify Your Portfolio |
| 4:00 | Review the Performance of Your Portfolio |
| 4:58 | Leverage the Expertise of a Real Estate Portfolio Manager |
| 6:04 | Outro |
Transcript
0:00
Victoria
You're listening to the RealVantage podcast. The show that provides investors a better viewpoint into the real estate market with your host, Victoria Au.
0:15
Victoria
Investing can seem confusing and even feel downright scary sometimes, especially if you're just starting out. You understand the importance of investing, but you're just not sure how. With so many options out in the market: stocks, funds, bonds, ETFs, NFTs, it can be overwhelming. Add the backdrop of increased global market volatility and it's no surprise that people are realising a need to go back to the basics: Brick and Mortar. Intuitively, we all understand that there will always be some intrinsic value in property due to its tangible nature. That's a reason why real estate has always been deployed as a hedge against economic uncertainty- and for those with a little more patience, it can be a very powerful way to amass wealth.
1:08
Victoria
All investors have the same objective: Minimise risk and maximise returns. However, unlike institutional investors, individuals are left to fend for themselves with research tools like… Asking your friends and family. What was in an ad. Google. Okay, I love Google.
My point is... There are some clear differences in how the professionals do it. Rather than a haphazard approach, the professionals are guided by a checklist of items that have to be ticked off and carefully analysed. Which, by the way, is what RealVantage does with each and every real estate deal before it is released to our pool of investors to participate in.
Alright, enough of the marketing spiel. Now, I'm going to share my top 6 tips on how you can turn the odds in your favour to make better real estate investment decisions, just like the pros.
2:01
Victoria
The first tip would be: Know the market you are investing in!
Always be clear and kept up to date on what the relevant rules and regulations are. Whether it's located in your home country or abroad, legislations differ from country to country and even region to region! For example, as a foreigner owning a residential house in Australia you will be restricted to reselling only to Australian locals!
2:26
Victoria
Secondly, there are obviously a slew of costs associated with property ownership, such as property taxes, maintenance fees, mortgage financing, agent fees, and also hidden ones like insurance, maintenance costs.
And if you're looking to sell your property, you could face capital gain taxes and legal fees. Also, look out for additional stamp duties that may be imposed on foreigners for some overseas properties. This is not a full list, so please do your research.
Sign Up at RealVantage
2:58
Victoria
Next, Be clear about your real estate objectives.
If you fail to plan, you plan to fail. Set out:
Your investment time horizon;
Your budget; and
The type of returns you are seeking - on an annual basis and overall returns.
3:15
Victoria
Fourthly, Diversify your portfolio.
I'm sure you've all heard this "Don't put all your eggs in one basket!" What that means is don't risk all your money in a single investment. Because it takes just one mistake, one stumble to trip and break all your eggs. How do we prevent this? Own a wide variety of high-quality real estate investments across different markets, types of properties and strategies. For example, invest in a warehouse located in New York, an office tower in Brisbane CBD, a hotel in London, a shopping mall in Singapore. Which, by the way, are all deals we have raised funds for at RealVantage.
4:00
Victoria
You'll also want to review the performance of your portfolio.
This is to determine if what you've invested into makes financial sense, and you need to get a handle of two key metrics. The first is net cash flow: simply take your total portfolio income, minus the total expense, and that gives your net cash flow. A positive number indicates you are generating a profit, a negative number, generating a loss. Taking your net cash flow and dividing it by your property value gives you your yield. Did you know that in prime locations within cities like London or Singapore, you are seeing an average net yield of only around: 2%?
The next important number is the net asset value or NAV. The NAV demonstrates an investment portfolio's performance and ability to generate value for investors over time, and this is derived by deducting total liabilities from total assets in your property investment portfolio.
4:58
Victoria
My last and final tip would be to Leverage the expertise of a Real Estate Portfolio Manager.
They say, if you can't beat them, join them! Leverage off the experience, expertise and contacts your portfolio manager has in order to manage your invested properties to drive maximum returns. A few areas they would help in would be asset selection, financial analysis, and due diligence, also developing a tax-efficient investment structure.
At RealVantage, we act as your Real Estate Portfolio Manager, analysing the real estate market, relevant costs and taxes, setting and steering a clear investment objective, allowing diversification across various investment-grade real estate assets across geographies, asset types, and strategies through flexible starting investment sizes, and managing everything from start to finish with quarterly updates to boot. So, that's all from me today, catch you on the next one!
6:04
Victoria
Thanks for joining us this month on the RealVantage podcast. Make sure to visit our website, realvantage.co where you can sign up to join our investment community and start building your global real estate portfolio today. If you found value in this show, we would appreciate a rating on iTunes and do share this with your friends and fellow investors. Be sure to tune in next month for our next episode.
---
Find out more about real estate co-investment opportunities at RealVantage. Visit our team, check out our story and investment strategies.
Sign Up at RealVantage
RealVantage is a real estate co-investment platform that allows our investors to diversify across markets, overseas properties, sectors and investment strategies.‌
‌Visit our main site to find out more!
Disclaimer: The information and/or documents contained in this article does not constitute financial advice and is meant for educational purposes. Please consult your financial advisor, accountant, and/or attorney before proceeding with any financial/real estate investments.