Episode 4: RealVantage x CREtech: London Proptech Conference 2021 Digest
In this episode, Victoria Au shares her learnings at the CREtech London 2021, the biggest Proptech conference in Europe and the top three trends to take note of.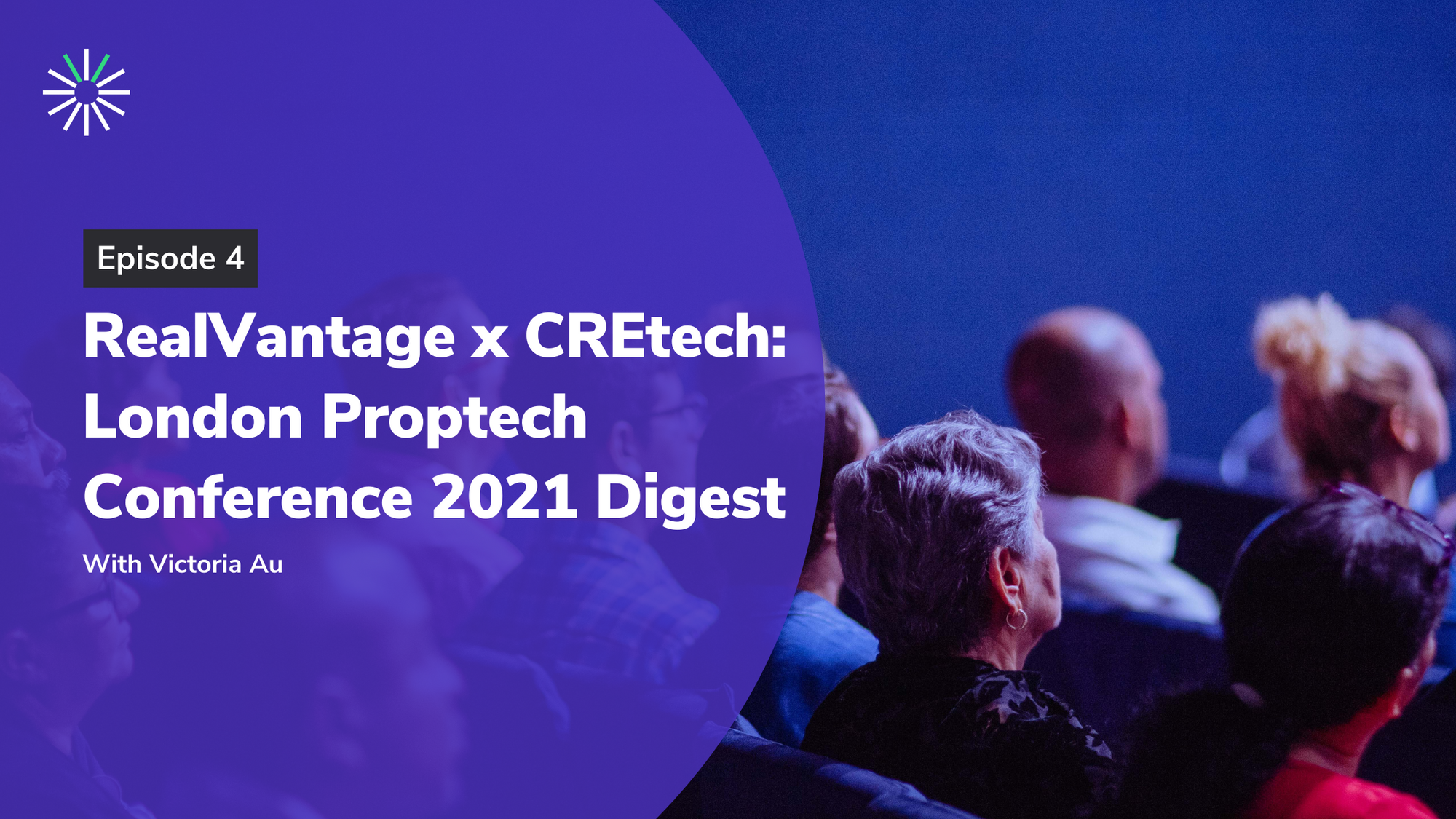 | Time Stamp | Topic Reference |
| --- | --- |
| 0:00 | Introduction |
| 0:22 | CREtech London 2021 Summary |
| 2:18 | Democratisation and Tokenisation |
| 4:35 | Sustainability and Climate Investing |
| 6:17 | The Increasing Importance of Data in Real Estate |
| 8:11 | Singapore FinTech Festival 2021 |
| 8:39 | Outro |
Transcript
0:00
Victoria
You're listening to "The RealVantage Podcast." The show that provides investors with a better viewpoint into the real estate market with your host, Victoria Au.
0:22
Victoria
So, last week, I attended the CREtech London 2021, which is the biggest PropTech conference in Europe. Across the two days, there were more than 1000 attendees, consisting of global innovators from leading startups, investors, real estate owners, operators, brokers and developers.
Besides how surreal it felt to actually be attending a conference in person, I was really blown away by the sheer energy of the keenest minds in Proptech. Here was a group of people, many who had flown in specifically for this conference, bounded by their vision of shaking up the old world of real estate, and abuzz with passion, excitement and possibility. It felt like I was part of a niche, fringe, small community of people, on the cusp of a revolution. I saw demos, new launches, and heard keynote presentations on important topics revolving around data analytics, smart building solutions, the increasing focus on real estate innovation in corporate giants such as JLL, PGIM, Savills, and the consolidation of the market with mergers and acquisitions. I spent hours in conversation with top leaders in their respective fields: VCs, asset managers, and founders. On emerging trends and the newest technologies, it's about their feasibility and where we think the future of real estate is headed. I even gained a mentor!
Even though it's been over a week since CREtech London, I don't think I've fully digested all the new ideas, and it might take me quite a while longer to allow the thoughts to percolate, but I'd still like to try my best to pick the top three trends. Well, here are some takeaways from those two amazing days that I hope to share with our listeners.
2:18
Victoria
1. Democratisation and Tokenisation
So, when it comes to real estate, especially large-scale projects such as office towers, apartment blocks, shopping malls or factories, it's always been controlled by a limited group of wealthy elites. Why? Because it's just so capital intensive... by that I mean, you need anything upwards of millions of dollars to participate in this asset class. However with the introduction of crowdfunding and co-investing platforms, investors can now pool their money together in order to gain access to these private off-market deals- and so they can start with tens of thousands vs millions that were needed before.
So, a lower entry price, gaining expert guidance on which deals are suitable and being able to simply log in online means that more investors are able to invest in real estate easily. Real estate developers also benefit from the increased flexibility and access to an otherwise inaccessible source of funding. I love being part of a movement that is working to increase financial inclusivity. It's really something that is close to my heart, and being able to include investors with limited resources in this resilient asset class that provides great portfolio diversification and good yields, is helping make the world a more equitable place.
Democratisation will continue and it's a sentiment echoed by one of the key-note speakers at CREtech London, M7 Real Estate - a EUR4.1 billion leading specialist in pan-European real estate with whom RealVantage has worked together. Tokenisation is the natural next step - being able to fractionalise the real estate into even smaller sizes and allow even more investors to participate in the USD280 trillion global property market while allowing for new and cheaper pools of capital for property developers. The jury is still out on if the power of tokenisation lies in the back office in terms of administration or as an enabler of a secondary market to allow trading akin to the stock market- I think the next year or two will be immensely exciting for the asset management industry, and my observation is that Australia, the U.S. and U.K. are further ahead and more robustly developed in this arena as compared to what we are seeing in South East Asia.

Sign Up at RealVantage
4:35
Victoria
2. Sustainability and Climate Investing
The real estate industry contributes 30% to 40% toall greenhouse gas emissions, and the general consensus is that the regulations we have seen and are seeing are only the beginning. Ignoring the environmental effects of building or operating a building is simply no longer financially prudent - with COP26 underway, we expect to see harsh penalties for properties that do not meet the criteria such as energy efficiency standards. What this means is that not having a climate-friendly solution incorporated in any investment moving forward would be a short-sighted venture - as there will be future additional costs where one could expect onerous taxes or having to retrofit to comply with new regulations, or even have their assets be put into disuse.
One of the projects we ran on RealVantage was the development of a sustainability-focused townhouse and apartment complex development in Leeds, UK. It had no fossil fuels on-site, 100% electrical vehicle charging coverage when regulations only required 10%, air-source heat pumps to drive down energy bills and lots of green space to create modern, highly energy-efficient and low carbon homes. Even if it may seem expensive to build sustainable real estate at the outset, it will ensure that what you invest in, survives the incoming wave of environmental controls. I also noted that VCs such as Proptech1Ventures and 2150 emphasise funding startups in sustainable tech, focusing heavily on materials, infrastructure, and supply chain. It's clear that this problem is important enough for all of us to have a serious think about - both on a personal and corporate level, and it will take multiple stakeholders implementing various policies and technologies to move the world towards net zero carbon.
6:17
Victoria
3. The Increasing Importance of Data in Real Estate
Commercial real estate is an industry that is late to embrace the data revolution. Traditionally, property data providers had to spend copious amounts of time looking through poorly kept records and phoning up brokers for verbal ballpark figures. Considering every decision is hopefully an informed one, rather than just a pure gut-feel, andrequires some sort of data to justify a particular course of action. In other words, it's critical that the data that decision-makers are relying on has to be accurate, reliable and accessible.
I heard from startups such as Cherre that look to make data consistent with a "single source of truth" for better market intelligence. So, it's not so much as replacing real estate professionals as it is about facilitating their ability to prospect for deals, and validate and acquire the right property.
The use of Artificial Intelligence with a problem-solving approach meant to approximate human intellect and machine learning with algorithms that acquire knowledge by detecting complex patterns in large data sets and which could unveil unexpected and useful insights- for example, prediction of property market value, deal sourcing according to the asset manager's risk/sector appetite, or even predicting and tracking the most common maintenance issue for property management.
We look at the biggest names such as Compass, Zillow - with "Zestimate".. Millions of data points are scrutinised and all that complexity of having to crunch the numbers prior to guessing a property's price is outsourced to a computer, allowing for upfront direct cash-offers, which is pretty incredible! It's clear that the ability to collect, analyse and learn from data is going to impact real estate in a big way- and large corporates are starting to embrace this fundamental shift in their operations, especially in light of the pandemic with a higher need for accurate and just-in-time data for greater transparency.
8:11
Victoria
This rounds up the three trends that struck to me during the CREtech London Conference. RealVantage is also in attendance of the Singapore FinTech Festival 2021 which is happening this week. Unfortunately, it's all virtual this year but it's been quite eye-opening, learning more about Web 3.0 and the movement towards data being able to be interconnected in a decentralised way. Till the next time, it's Victoria, signing off!
8:39
Victoria
Thanks for joining us this month on "The RealVantage Podcast." Make sure to visit our website, realvantage.co where you can sign up to join our investment community and start building your global real estate portfolio today. If you found our insights on the show valuable, we would appreciate a rating on iTunes and do share this with your friends and fellow investors. Be sure to tune in next month for our next episode.
---
Find out more about real estate co-investment opportunities at RealVantage. Visit our team, check out our story and investment strategies.
Sign Up at RealVantage
RealVantage is a real estate co-investment platform that allows our investors to diversify across markets, overseas properties, sectors and investment strategies.‌
‌Visit our main site to find out more!
Disclaimer: The information and/or documents contained in this article does not constitute financial advice and is meant for educational purposes. Please consult your financial advisor, accountant, and/or attorney before proceeding with any financial/real estate investments.