Kirkstall Place Opportunity
Watch our webinar, where we will be discussing this new shovel-ready development opportunity in Leeds, UK in more detail.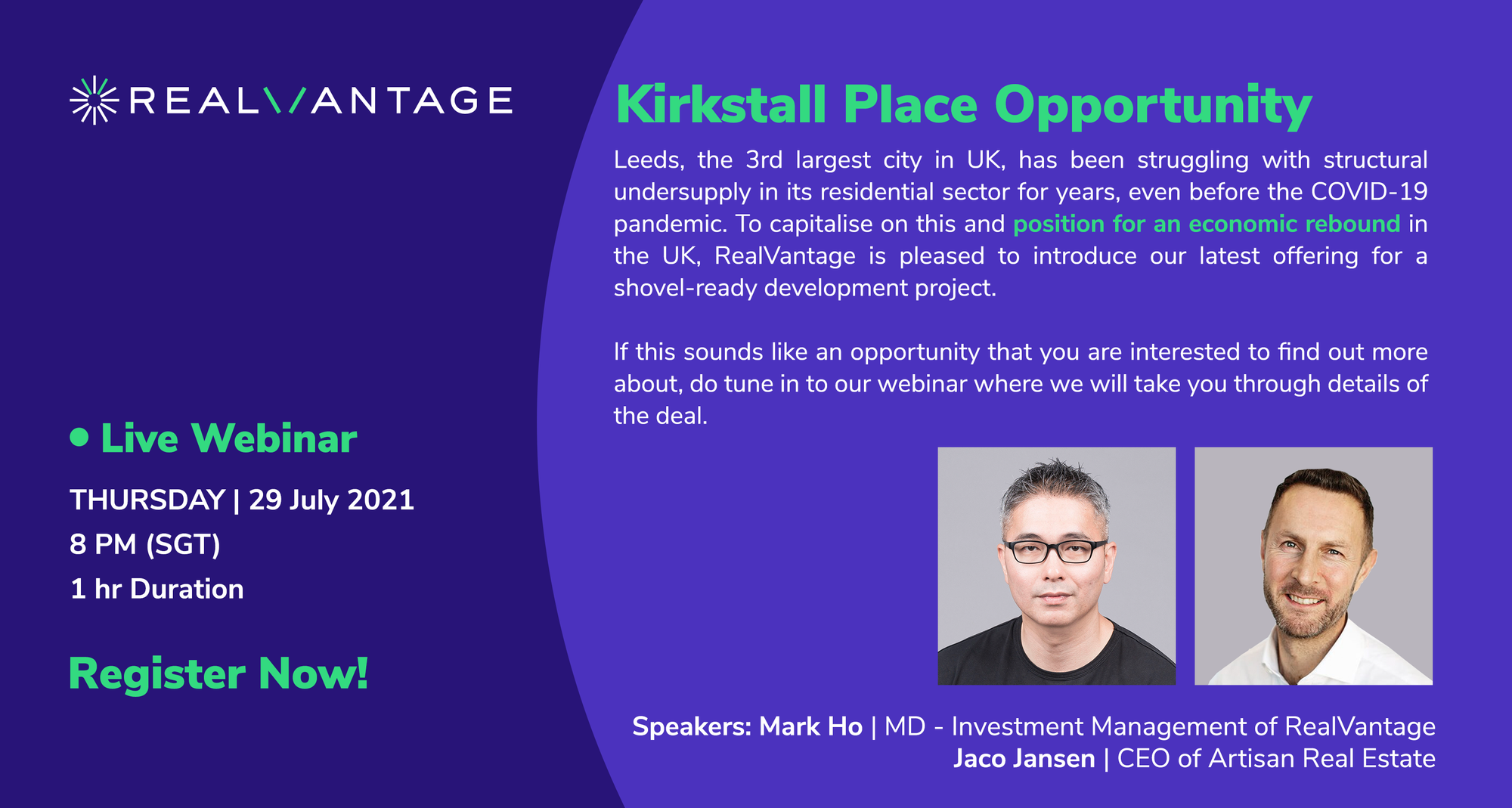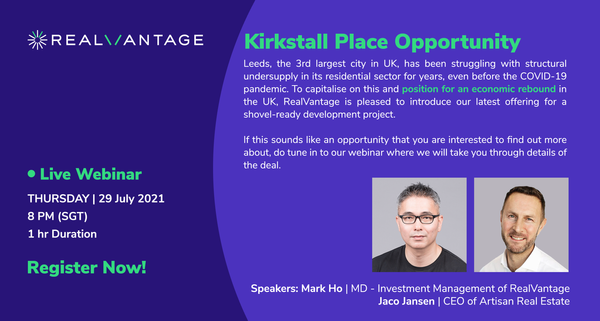 Thank you for the great turnout, you will find this webinar on the Kirkstall Place Opportunity.
Kirkstall Place Opportunity

About The Speakers
Mark Ho | Managing Director - Investment Management of RealVantage
Mark has over 16 years of experience spanning cross-border investment, research and strategy, he has advised on and executed transactions in excess of USD 800 million across multiple asset classes and investment strategies. He was involved in investment, research and strategy at Pacific Star Group, capital market transactions and investment research at JLL, and real estate private equity at Deutsche Bank before joining a family office.
Jaco Jansen | CEO of Artisan Real Estate
Jaco joined Artisan Real Estate as chief executive officer in January 2016. Previously Jaco spent 14 years at an international wealth management, advisory and fiduciary services business where he was the head of the investment services division, managing in excess of $500 million for private clients and providing investment advice to institutional clients with $2,3 billion of assets.
After qualifying as a South African chartered accountant, Jaco started his career as a corporate finance executive at Brait, a South African private equity group. Jaco is based in the Isle of Man.
---
Find out more about RealVantage, visit our team, check out our story and investment strategies.
Sign Up at RealVantage
RealVantage is a real estate co-investment platform that allows our investors to diversify across markets, overseas properties, sectors and investment strategies.
Visit our main site to find out more!
Disclaimer: The information and/or documents contained in this article does not constitute financial advice and is meant for educational purposes. Please consult your financial advisor, accountant, and/or attorney before proceeding with any financial/real estate investments.