UK Retail Warehouse Portfolio Mezzanine Loan
An opportunity to participate in a mezzanine loan backed by a portfolio of five freehold retail warehouses throughout the UK.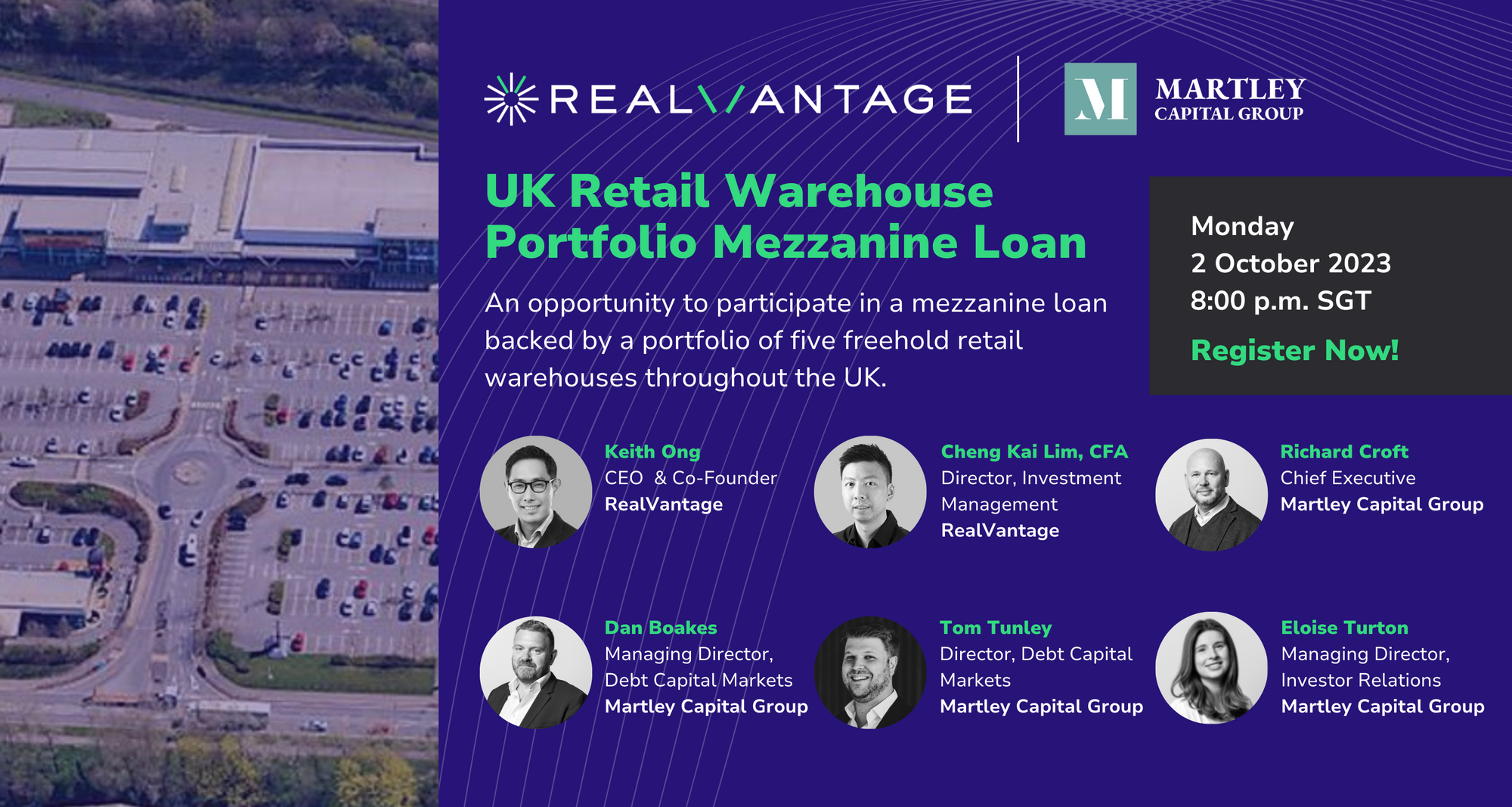 About The Speakers
Keith Ong | CEO & Co-Founder of RealVantage
Keith is an industry veteran with over 20 years of experience, he has transacted in excess of USD 3 billion across geographies, sectors and the entire real estate investment spectrum. He was the Assistant Director of Investment in ARA Asset Management, Director of Investment in Rockworth Capital Partners, and the Director of Investment Management and Capital Transactions for Firmus Capital.
Cheng Kai Lim, CFA | Director Investment Management of RealVantage
Cheng Kai (CK) is responsible for investment origination, deal structuring, as well as asset management. Having spent 6 years living in the United Kingdom, he has led the origination and execution of over USD 400 million of debt and equity, and transacted over USD 1 billion of real estate across various geographies and sectors.

Richard Croft | Chief Executive of Martley Capital Group
Richard Croft is the Chief Executive of Martley. Richard is responsible for the company's strategic direction and capital raising and leads the real estate fund management function.
In addition to his duties at Martley, Richard is an adviser to M7 Real Estate Ltd which he founded in 2009. In this capacity, he sits on the GP board and investment committees of all M7's Funds in addition to numerous other M7 JV boards.
Richard is also Chairman of the CSF Group, a Non-Executive Director of Maya Capital and sits on the board of The Pinnacle Group and is a Trustee for The Chicken Shed Theatre Trust.
Dan Boakes | Managing Director, Debt Capital Markets of Martley Capital Group
Dan Boakes is Managing Director of Debt Capital Markets at Martley Capital Group. He oversees the commercial real estate debt strategies across the group including the origination and execution of loans for TREC II, Martley's UK credit fund, and Iken Loan Servicing, a subsidiary of Martley Capital Group, providing commercial loan servicing across all loans originated in TREC II as well as having third party servicing capability.
Based in London and reporting to Alison Lambert, Dan joins from M7 Real Estate where he was Director of Debt Capital Markets for six years.  Dan's past experience includes primary and special commercial loan servicing of large loan portfolios across Europe and commercial asset and property management.  
Prior to M7 Real Estate, Dan held the position of co-Head of European Commercial Servicing at Situs where he was responsible for the management of commercial real estate loan portfolios totalling approximately €40 billion across Europe.
Prior to Situs, Dan held the position of Head of European Commercial Loan Servicing at Deutsche Bank overseeing the Primary and Special Servicing of €18 billion of commercial real estate loans across Europe. Before joining Deutsche Bank, he spent four years at Morgan Stanley.
Dan graduated from Oxford Brookes University with a BSc in Urban Estate Management. He is a member of the Royal Institution of Chartered Surveyors and has more than 24 years' of commercial real estate experience.
Tom Tunley | Director, Debt Capital Markets of Martley Capital Group
Tom Tunley is a Director for Debt Capital Markets at Martley Capital Group. He oversees the origination, deal execution and underwriting for all European debt investments. Tom is responsible for the day-to-day management of existing debt funds at Martley and will play a key role in the growth of the TREC series of funds.
Prior to joining MCG & M7, Tom worked in the European CRE Debt industry specialising in distressed real estate and non-performing loans. During his time as an Associate at Morgan Stanley and Mount Street Loan Solutions LLP, Tom worked in the Special Projects and Special Servicing teams where he worked on over €15bn of commercial real estate debt across Europe. 
Tom has significant experience in CRE underwriting and CRE Lending through all market cycles previously working on large portfolios up to £500m to smaller sub £20m loans where TREC II operates today. Whilst at both Morgan Stanley and Mount Street Tom worked on a multitude of CMBS/CLO transactions across Europe, he was involved in the rating, issuance and ongoing management of these structures over a number of years, giving a depth of knowledge which supports his strong CRE capital markets background.  
Tom graduated from Kingston University reading Commercial Real Estate Investment and was awarded Master of Science with Commendation.  He has over 10 years' experience in Commercial Real Estate Finance.
Eloise Turton | Managing Director, Investor Relations of Martley Capital Group
Eloise Turton is a Managing Director at Martley Capital Group. She oversees Investor Relations, including the management of existing investors, the onboarding of new investors, as well as marketing and capital raising for new Martley Funds.  
Based in London and reporting to Richard Croft, she joins from M7 Real Estate.
Prior to joining the Investor Relations team at M7, she worked in the firm's Investment Management team on the UK and Listed Funds. Before this, she was an Associate at Savills in the Valuation Department in the Margaret Street office, with a focus on commercial and mixed-use investment and development valuations for a number of lender, developer, HNW and institutional clients.  
She graduated from the Royal Agricultural University with a BSc (Hons) in Real Estate and is a Chartered Member of the RICS (MRICS).
---
Find out more about RealVantage, visit our team, check out our story and investment strategies.
RealVantage is a real estate co-investment platform that allows our investors to diversify across markets, overseas properties, sectors and investment strategies.
Visit our main site to find out more!
Disclaimer: The information and/or documents contained in this article does not constitute financial advice and is meant for educational purposes. Please consult your financial advisor, accountant, and/or attorney before proceeding with any financial/real estate investments.