Senior Investment Banker Joins PropTech Co-Investment Firm - RealVantage
RealVantage is pleased to announce the appointment of Teddy Tjandra as the Country Managing Director for Indonesia.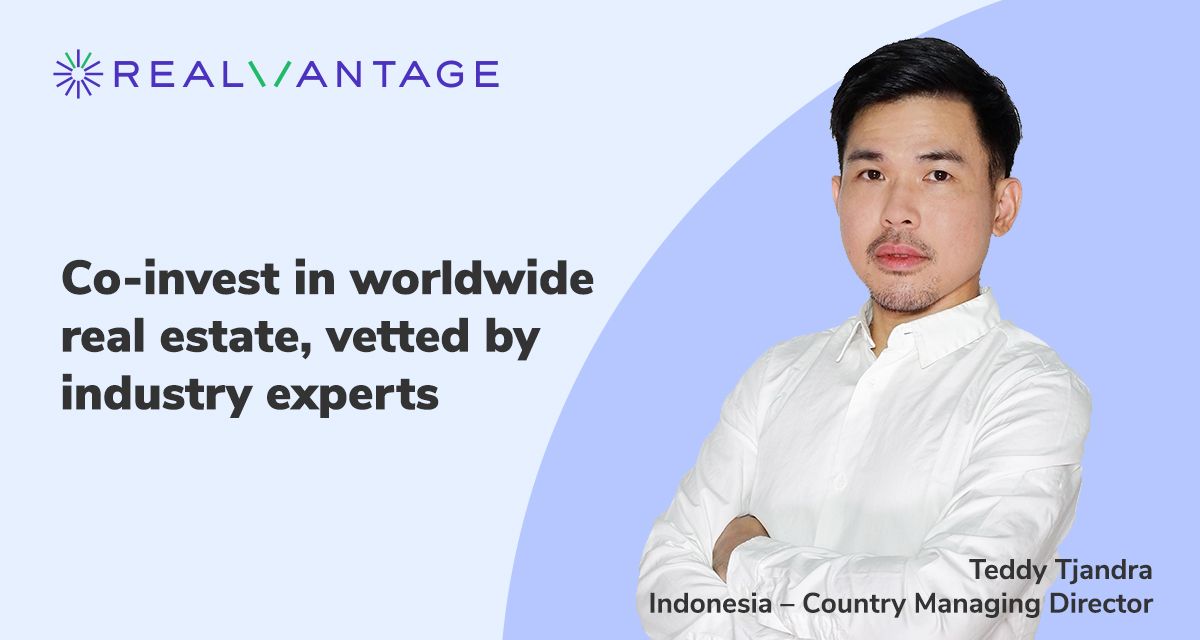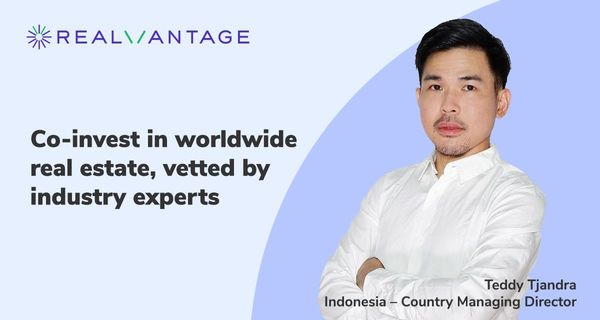 SINGAPORE, Sept. 14, 2020 /PRNewswire/ – RealVantage, the leading PropTech real estate co-investment platform in Southeast Asia, is pleased to announce the appointment of Teddy Tjandra as the Country Managing Director for Indonesia.
Over the last 15 years, Teddy has transacted multi-billion GBP and EUR asset-backed debt securities and advised on risk and compliance for top global banks and asset management funds whilst at Barclays Group, Lloyds Banking Group and KPMG. Teddy has been recognised for exceptional achievements in his work covering group treasury, debt capital markets, and risk management advisory.
In his new role with RealVantage, Teddy will be responsible for driving growth in the Indonesian market as well as leading overall strategy, business development, and operations within Indonesia.
"We are delighted to have Teddy lead our Indonesia business bringing real estate deal access and ease of diversification to local real-estate investors. With his plethora of experience and strong track record in senior roles across banking, consulting and building start-up, I am confident that Teddy will be able to further propel RealVantage into its next stage of growth in Indonesia," said Keith Ong, CEO & Co-founder of RealVantage.
"At RealVantage, not only do we carefully source each investment opportunity with due diligence, we also help investors manage the assets with institutional quality rigour. Investing in overseas real estate can be a daunting process for some, especially if they lack time, expertise, and local market knowledge. There's a significant amount of work required to identify, negotiate and close an attractive real estate asset. With fractional ownership, investors can get started without involving huge capital upfront and it is the smarter way of investing in real estate. For any High Net Worth and Accredited Investors, it is a great alternative asset class to add for portfolio diversification, while being secured by real estate." says Teddy.
RealVantage is doubling down on its focus on technology with projects underway in building their proprietary tech to source for real estate opportunities across the globe with attractive risk adjusted returns through assessment, risk and pricing tools.
Dr Teddy Tjandra received his doctorate DPhil in Quantitative Brain Imaging from St. Edmund Hall, University of Oxford. He gained his B.S. cum laude in Biomedical Engineering from Washington University in St. Louis, U.S.A. upon transfer on scholarship from Johns Hopkins University.
About RealVantage
RealVantage is the leading real estate co-investment platform in Southeast Asia. Opportunities are carefully vetted by a team of highly experienced real estate professionals. Investors can gain access to excellent real estate deals across different sectors and markets and build a diversified global, high performing portfolio. The team is backed by industry veterans with over 100 years of combined experience in real estate fund management, data science and technology as well as private equity.
---
Find out more about RealVantage, visit our team, check out our story and investment strategies.
Sign Up at RealVantage
RealVantage is a real estate co-investment platform that allows our investors to diversify across markets, overseas properties, sectors and investment strategies.
Visit our main site to find out more!
Disclaimer: The information and/or documents contained in this article does not constitute financial advice and is meant for educational purposes. Please consult your financial advisor, accountant, and/or attorney before proceeding with any financial/real estate investments.