Invited Talk - RealVantage Weighs in on Proptech / FinTech Platforms
RealVantage's co-founder Keith Ong, will be speaking in Singapore Fintech Association's (SFA) Niche and Hot InvestTech Series.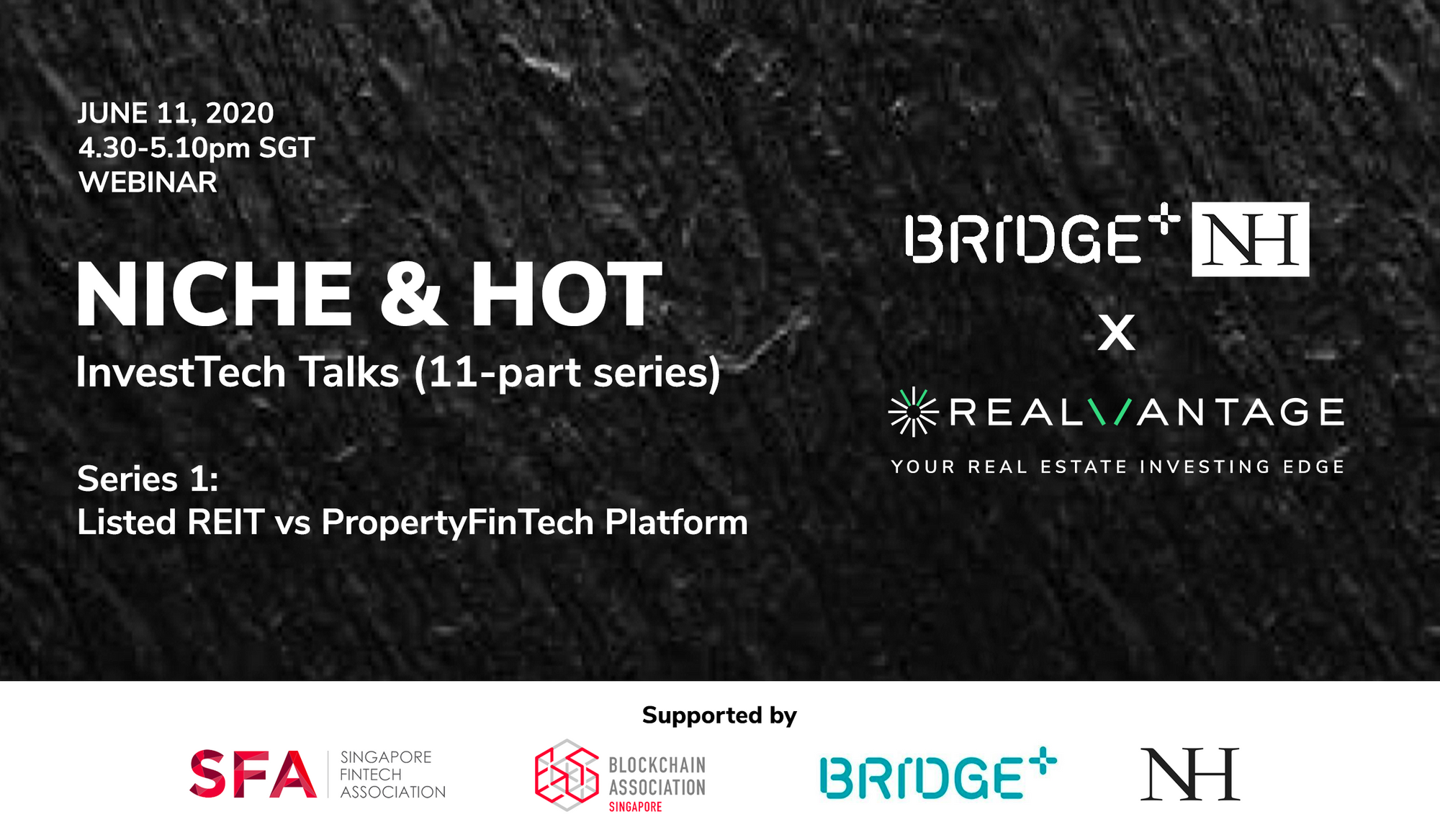 RealVantage's co-founder Keith Ong, will be speaking in Singapore Fintech Association's (SFA) Niche and Hot InvestTech Series, an 11-part virtual series to inform family offices and investors on various forms of investment technology platforms.

The Webinar topic: Listed REIT vs Property FinTech Platform.
| Time Stamp | Topic Reference |
| --- | --- |
| 00:00 | Panel Introduction by Moderator |
| 01:20 | Prop FinTech Investment Platform (RealVantage) sharing |
| 09:30 | Market Incumbent (CEO CapitaLand International) |
| 17:55 | Prop FinTech Investment Platform (Fraxtor) sharing |
| 24:06 | Q&A |
| 42:58 | Conclusion |
Moderator: Ngee Hua LIM, Secretary General of Singapore Fintech Association & CEO of NH Expansion
Ngee Hua is a former venture capitalist as foundling staff of Far East Organization Venture Capital arm, and a former merger & acquisition staff of SembCorp Environmental. She graduated with a Bachelor of Science degree in Building (1st Class Honours), from National University of Singapore.  She passes Level 2 of CFA before relocating to Australia, Japan and China working under Ascott REIT and its Private Equity Fund. Today based in Singapore, she advise on cross-industry investment and business strategy as intermediaries in fintech & alternative investments.
Panellists:
Market Incumbent VIP Speaker:  Gerald YONG, CEO CapitaLand International. CapitaLand owns and manages a global portfolio worth S$131.9 billion as at 31 December 2019, with presence across more than 200 cities in over 30 countries.  The Group's market capitalisation is S$54.9 billion as at 31 December 2019.
Gerald is responsible for spearheading the growth of CapitaLand Group's real estate investment portfolio in international markets in USA, Europe, Japan, Korea and Australia. Prior to his current appointment, he was Deputy Chief Investment Officer of CapitaLand, and concurrently Head, CapitaLand International. He was also the Chief Investment Officer of The Ascott Limited.  He played an instrumental role in the IPO of Ascott Residence Trust when he was the Head of Investment and Asset Management.
Speaker 2: Keith ONG, Co-Founder of RealVantage, a Property Fintech Investment Platform.
Keith has transacted in excess of USD 3 billion across geographies, sectors and the entire real estate investment spectrum over span of 20 years.  He has held senior positions at ARA Asset Management and headed Investment Management functions at boutique real estate firms namely Firmus Capital and Rockworth Capital Partners investing for family offices.  He  graduated with a MPhil (Land Econ) from the University of Cambridge and BSc (Real Estate) from the National University of Singapore.
Speaker 3: Oliver SIAH, Co-founder & CEO of Fraxtor, an online real estate co-investment platform powered by blockchain technology.
Oliver has more than ten years' experience managing commercial, industrial and residential real estate investments and had served in the Republic of Singapore Air Force as pilot. He holds a Bachelor of Engineering degree in Aeronautical Engineering, a Bachelor of Science in Accounting and Finance, a MBA from Imperial College London and a Master of Science in Real Estate from the NUS.  He is also the Regional Chair of the Foundation of International Blockchain Real Estate Expertise (FIBREE).
---
Find out more about RealVantage, visit our team, check out our story and investment strategies.
Sign Up at RealVantage
RealVantage is a real estate co-investment platform that allows our investors to diversify across markets, overseas properties, sectors and investment strategies.
Visit our main site to find out more!
Disclaimer: The information and/or documents contained in this article does not constitute financial advice and is meant for educational purposes. Please consult your financial advisor, accountant, and/or attorney before proceeding with any financial/real estate investments.