Investment Opportunity in Hong Kong's Commercial Real Estate Sector
Join our webinar to learn how you can capitalise on the rising demand for commercial real estate and its undersupply in Hong Kong's prime Tsim Sha Tsui area.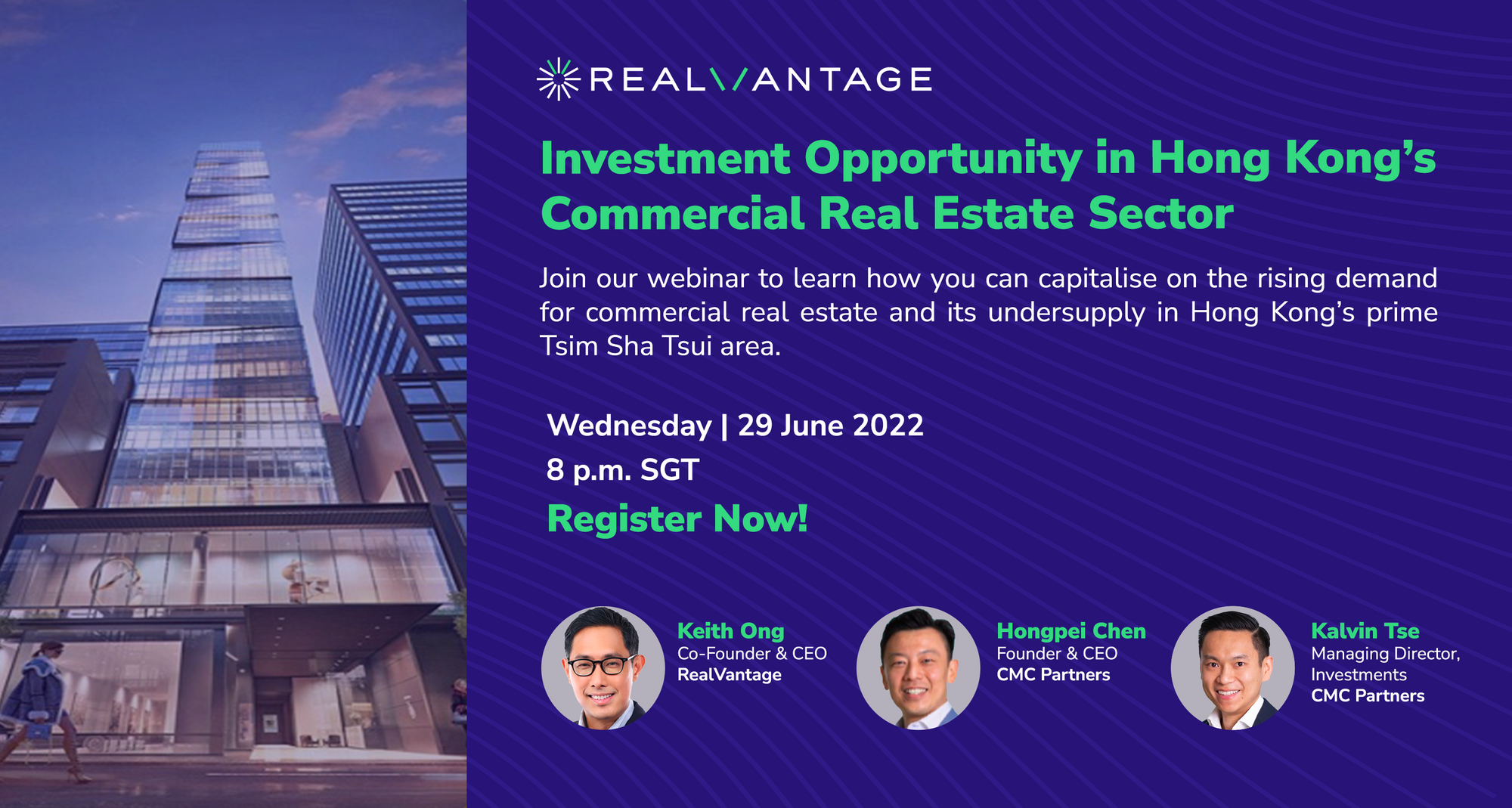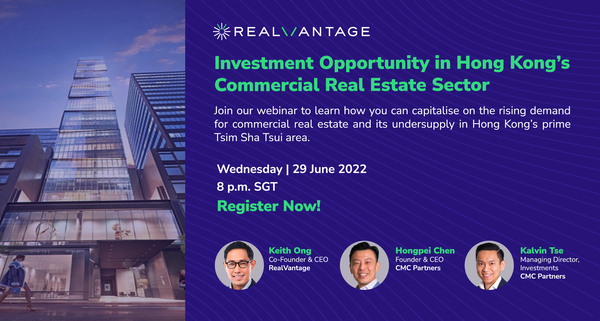 View Investment Opportunity in Hong Kong's Commercial Real Estate Sector
About The Speakers
Keith Ong | Co-Founder and CEO of RealVantage
Keith is an industry veteran with over 20 years of experience, he has transacted in excess of USD 3 billion across geographies, sectors and the entire real estate investment spectrum. He was the Assistant Director of Investment in ARA Asset Management, Director of Investment in Rockworth Capital Partners, and the Director of Investment Management and Capital Transactions for Firmus Capital.
Hongpei Chen | Founder and CEO of CMC Partners
Hongpei has 20 years of Asia/China real estate investments, private equity, and company management experience. Former Asia director of APG Asset Management, the largest European pension fund. Served on the Board of ESR and successfully oversaw the company grow from a Chinese logistics developer to the largest Asia logistics developer & fund manager, and ultimately listed in the HKEX in 2019. Served on the Board of Greystar Asia Pacific, the largest fglobal multi-family operator. Managed a China core-strategy fund (>USD2.0 billion) on beflad of CAlPERS. Set up Vietnam Innovation Parks, a Vietnam based industrial developer, hired >75 FTE within 9 months during the COVID-19 pandemic. Other experience in ARA Asset Management, JPMorgan Asset Management, JLL.
Kalvin Tse | Managing Director, Investments of CMC Partners
Kalvin has 16 years of experience in international capital markets and real estate investments. Former Director of APAC Investments at Crane Capital, the Private Equity investment arm of Washington State Investment Board. Former BNP Paribas Head of Real Estate Finance APC. Involved in over USD20 billion of capital markets and investment transactions, representing world renowned international investment banks and investment funds. Other experience with international real estate lenders and investment banks including Standard Chartered Bank, Credit Suisse, HSBC, and Deutsche Bank.
---
Find out more about RealVantage, visit our team, check out our story and investment strategies.
Sign Up at RealVantage
RealVantage is a real estate co-investment platform that allows our investors to diversify across markets, overseas properties, sectors and investment strategies.
Visit our main site to find out more!
Disclaimer: The information and/or documents contained in this article does not constitute financial advice and is meant for educational purposes. Please consult your financial advisor, accountant, and/or attorney before proceeding with any financial/real estate investments.