Episode 6: Diversifying Income Streams Through Real Estate Investing
In this episode, our investor Bernie Choy joins Victoria Au in a conversation and shares more about his plans to diversify his income streams through real estate investing, as a second-generation business owner.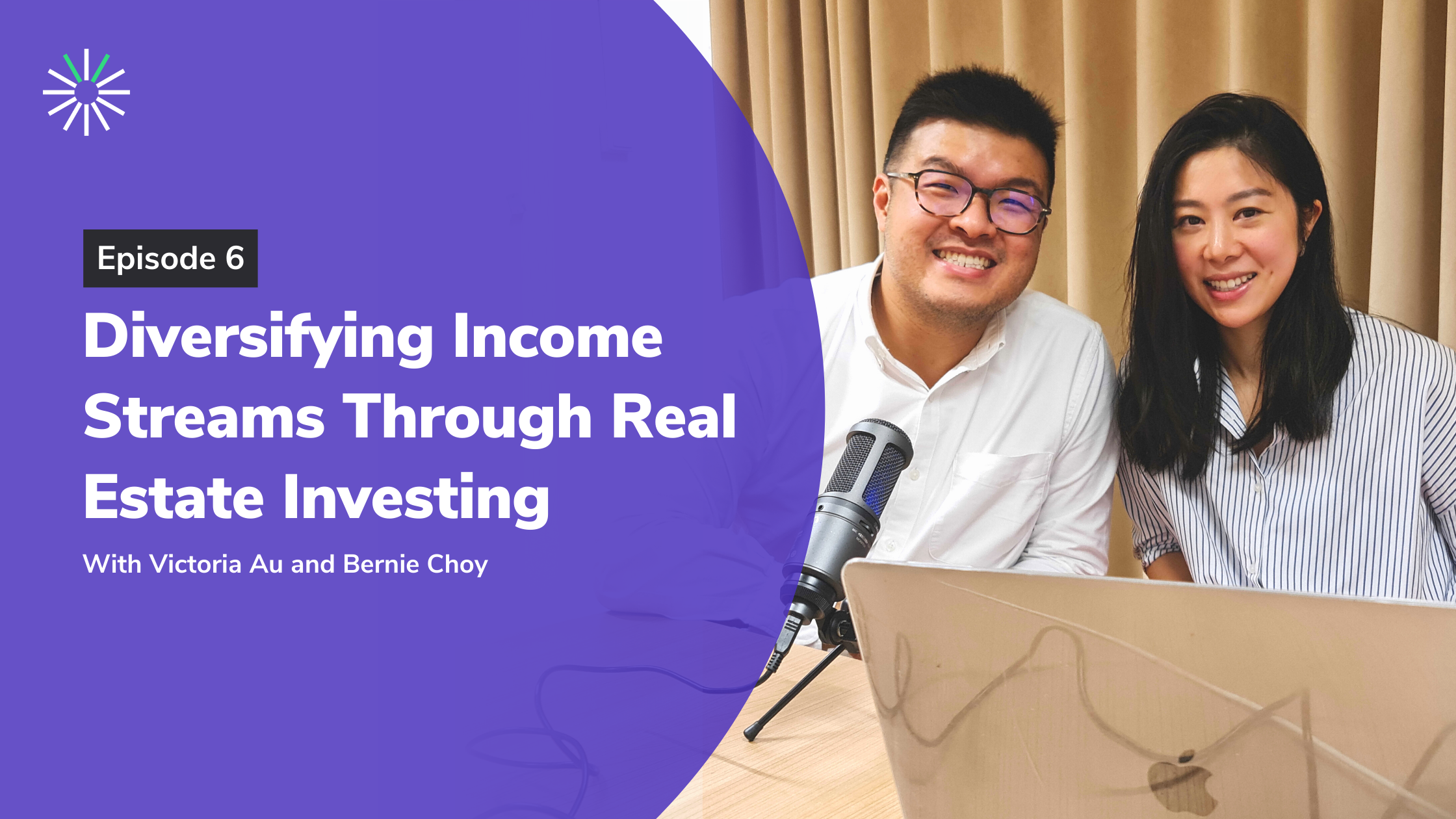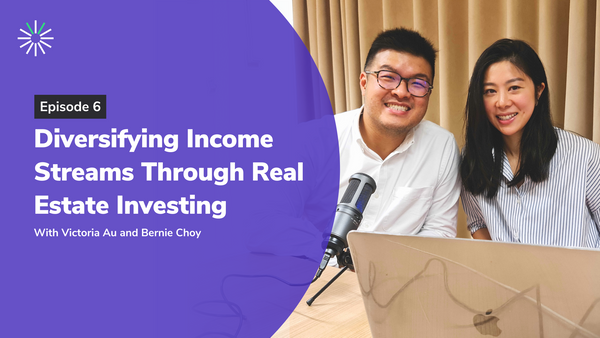 | Time Stamp | Topic Reference |
| --- | --- |
| 0:00 | Introduction |
| 0:39 | Bernie Choy's Story and Background |
| 2:49 | How Do You Diversify Your Funds? |
| 3:51 | Diversifying His Business Income Streams |
| 5:56 | Choosing Who To Manage Your Investments |
| 7:27 | Why Did Bernie Chose RealVantage? |
| 9:55 | Outro |
Transcript
00:00
Victoria
You're listening to the RealVantage podcast. The show that provides investors a better viewpoint into the real estate market with your host, Victoria.

00:12
Victoria
Hi everyone. I'm Victoria today, I'm joined with our investor, Bernie Choy. Welcome to the show.

00:22
Bernie
Good afternoon Victoria. Thanks for having me.

00:24
Victoria
Yeah, it's such a pleasure to have you here together with us. And you know, we wanted to ask Bernie a little bit more about his story and you know, he helps to run his family business. Maybe that's something that you can share more on.

00:39
Bernie
Yeah. Um, so I'm Bernie like how Victoria has introduced, I help I'm helping my family business right now. We are in the contract manufacturing space, you know, particularly in the oil and gas industry. We do precision engineering work as we have other services.

00:55
Victoria
So how many years have you been in it?

00:59
Bernie
I have currently am at my 11th year in the business has been there for a while. Have seen the ups and downs of the business as well.

01:09
Victoria
Yeah and I mean, I understand that you have invested personally with us and you are an investor in general. I mean, and you kind of have this philosophy of being very diversified when you're investing and perhaps maybe you can share a little bit more about that.

01:27
Bernie
Yeah, I've been a pretty late investor if I have to put it against my peers, right? I really started picking up, I think the last 3-4 years to start understanding a little bit more, you know what it is like. Right. And I actually heard of RealVantage I think quite early when they started like 19 or early two thousands In the early 2020s right? And for me I think really the deployment of my funds was in the last 1.5 years. And then we started to understand a little bit more and studying to invest and I think investing is key.

02:04
Victoria
Yeah, I still remember when I first got to know Bernie, I actually just reached out to him because it was a user on the platform and we have been speaking for what like more than a year or because almost two years maybe.
Sign Up at RealVantage
02:18
Bernie
Yeah, it was, it was a long time I think it was a long time and then finally I think reconnected with Victoria and to understand a little bit more I think since then
they went on from like 2, 3 deals. To I think now there are over 30.

02:35
Victoria
Yeah, close to 30, 25, and counting.
02:40
Bernie
And some has already even been closed you know, so I think they have come a long way and I think that that that track record kind of like you know got me interested again.

02:49
Victoria
Definitely. Yeah, I think that's really important having a good track record. Um, and you were mentioning a little bit about your investment journey like in terms of that, like where did you actually place your funds in or how do you actually diversify across that?

03:03
Bernie
So to build my own diversified portfolio. Right. I put in different fronts, some of these are in equities, you know, and the others also in private credit. So I think the space that I felt that was lacking was something a bit more on the stable, the real estate side, which to me wasn't any part of my portfolio. And also, just, just nicely, when Victoria rang me, I started to look at it right, and say, hey, you know, I'm actually missing a chunk of my investment. That's not deployed to this area. And naturally, I think the, I would say the investment itself, you know, it's more stable, right? And especially it's not as, it doesn't fluctuate as much as the equities, you know that the equity side, you know, that we're all facing right now.

03:51
Victoria
Right, right yeah, I guess that's why the markets are really looking into the private side of things because I think the public markets have been experiencing a little bit of volatility with a little bit of those macro-economic issues, geopolitical things that are happening. And, and I mean in terms of that, then, what are your plans to, in terms of your business, you mentioned the other time and we're having a conversation about the income streams and also diversifying in that aspect, I mean in light of all of this.

04:21
Bernie
Yeah. So I think it's, it's important like you know, as I've been in business for 10 years right? I see the ups and downs sometimes very hard to, you know people talk about diversifying, you can go to complementary but you don't just switch it overnight, you know totally another business. Right? It's not easy, there's a learning curve and all. And also, but one of the things I think that's great right, is that the deployment of the capital that is sitting in the bank, right? If we are able to deploy some of this out, you know, you could you could just be talking like you know versus anything between 5 to 10-12% right? It's better than sitting in the bank for almost less than the percent. And right now with inflation in place, you're actually losing a lot, a lot more. So that that's got me thinking that you know I have my primary business right? But there is a there is a other income streams that we can build up, right, and then we can also gather from it so that eventually these investments were able to be repaid right?

05:19
Bernie
And you know it's with money that is with you is capital. And I think the thing that was interesting is that some of these deals right? They are quite short, you know short meaning that one year, two years, right, which is relatively quite okay, you know, and most you just get a short term bridging loan. You know, most of us have facilities with the bank, you can actually get anything between 2 or 3% and if you're getting returns about 7-8% you still have a net gain. Right? So I think that is pretty important. And we started looking at this possibility, you know, of other income streams via investing.

05:56
Victoria
And I guess for you, you know that you're so busy with your main line of business, right? Um, so it's always business first and then for a second, it's kind of like of course the investments to make sure that the business income stream is also diversified in that sense.  And I mean you obviously spend a lot of time working your business and you know, how do you go about choosing people that, you know, I am guessing you partner with people in order to also manage the investment side of things.
Sign Up at RealVantage
06:26
Bernie
Yes, I think most important is the trust, I think trust and track record and familiarity, I think these are very important and people that can actually deliver on the results, right? I think these are the things that we look out for because eventually, right, we are partnering someone to grow, you know, your capital in your investment, right? And you need to trust the person to deploy, right? We are not experts in this area, like example, if we talk about the real estate investing, space, RealVantage is the expert in that area, right? So we want to partner with them, we deploy some of the funds that's there, you are able to manage it and eventually, you know, there's a manager, of course, there's always a management fee, you know, nothing, there's no free lunch, you know, it's fine to take a management fee, right? But eventually, you know, is that both parties gain by growing and taking off and taking, taking chance of the opportunities that are out there, you know, and, you know, in a totally different space from whatever that we are doing.

07:27
Victoria
Yeah so I, you know, with real estate, I think leveraging of a team of experts in order to vet and curate, kind of like, you know, deals that are already analysed and ensuring I think skin in the game is probably quite important in terms of alignment. I think the most important thing is alignment investors and you know, at RealVantage, I think that's the reason why Bernie chose to invest with us and being able to hit that kind of diversified angle with the different real estate opportunities across the four markets that we're active in the US, Australia, Singapore, UK, across, you know, different strategies and sectors, industrial, residential, offices and things like that. And I guess the best part is that it's really hassle-free because, you know, we really act as your portfolio manager.

08:18
Bernie
Exactly, You know, I mean, we looked through the deals, you know that on the platform, which is quite straightforward and do it any time of the day, you know, the team also sometimes even let you know of certain deals that there are, that are coming up, you know so that you can be ready for it and they go through in very great details, and for me, sometimes I may miss the live webinar, but I definitely made a point to go through the recorded ones right to see, you know what the questions that people ask, how and I can pause and I can listen back anytime and I think they really give a very good flavour and insights right of the entire deal itself, which is great, you know, so that you know, for me at the end of the day is that you know, if the numbers are then justified and is even illustrated on the platform itself, it makes things a lot easier for me to then digest and eventually is then the amount of capital that you know that I want to deploy, right?

09:22
Bernie
I think what Victoria mentioned, there are different classes like different markets, you know, there's the commercial side, there's also the real estate side, you know, and everything is really broken down really clearly right and it's great for me, right, you know, I, don't want to go ahead to churn out all these numbers and to think of it myself, right and but you know, I think that Victoria, and the RealVantage team has, I think done a really great job in that aspect and it makes it really easy sometimes it's just about, you know, the worry is that, how much to deploy and you know, what's next?

09:55
Victoria
Thank you so much for placing your trust in us Bernie and yeah, looking forward to, you know, growing together. I wish you continued success in your business and thank you again for being on the show.

10:09
Bernie
Thank you, Victoria.

10:12
Victoria
All right, okay. So we've come to the end of our podcast. Do catch us for the next one in a month's time and check-in with you guys again later. All right, bye.
10:23
Bernie
Bye-bye.

10:31
Victoria
Thanks for joining us this month on the RealVantage podcast. Make sure to visit our website realvantage.co, where you can sign up to join our investment community and start building your global real estate portfolio today. If you found value in this show, we'd appreciate a rating on iTunes, and do share this with your friends and fellow investors. Be sure to tune in next month for our next episode.
---
Find out more about real estate co-investment opportunities at RealVantage. Visit our team, check out our story and investment strategies.
Sign Up at RealVantage
RealVantage is a real estate co-investment platform that allows our investors to diversify across markets, overseas properties, sectors and investment strategies.‌
‌Visit our main site to find out more!
Disclaimer: The information and/or documents contained in this article does not constitute financial advice and is meant for educational purposes. Please consult your financial advisor, accountant, and/or attorney before proceeding with any financial/real estate investments.