Episode 3: Overview of the London Hospitality Market
In this episode, Victoria Au discusses the London hospitality market with RealVantage's Chief Executive Officer Keith Ong on how this sector is expected to fare in the post-pandemic era.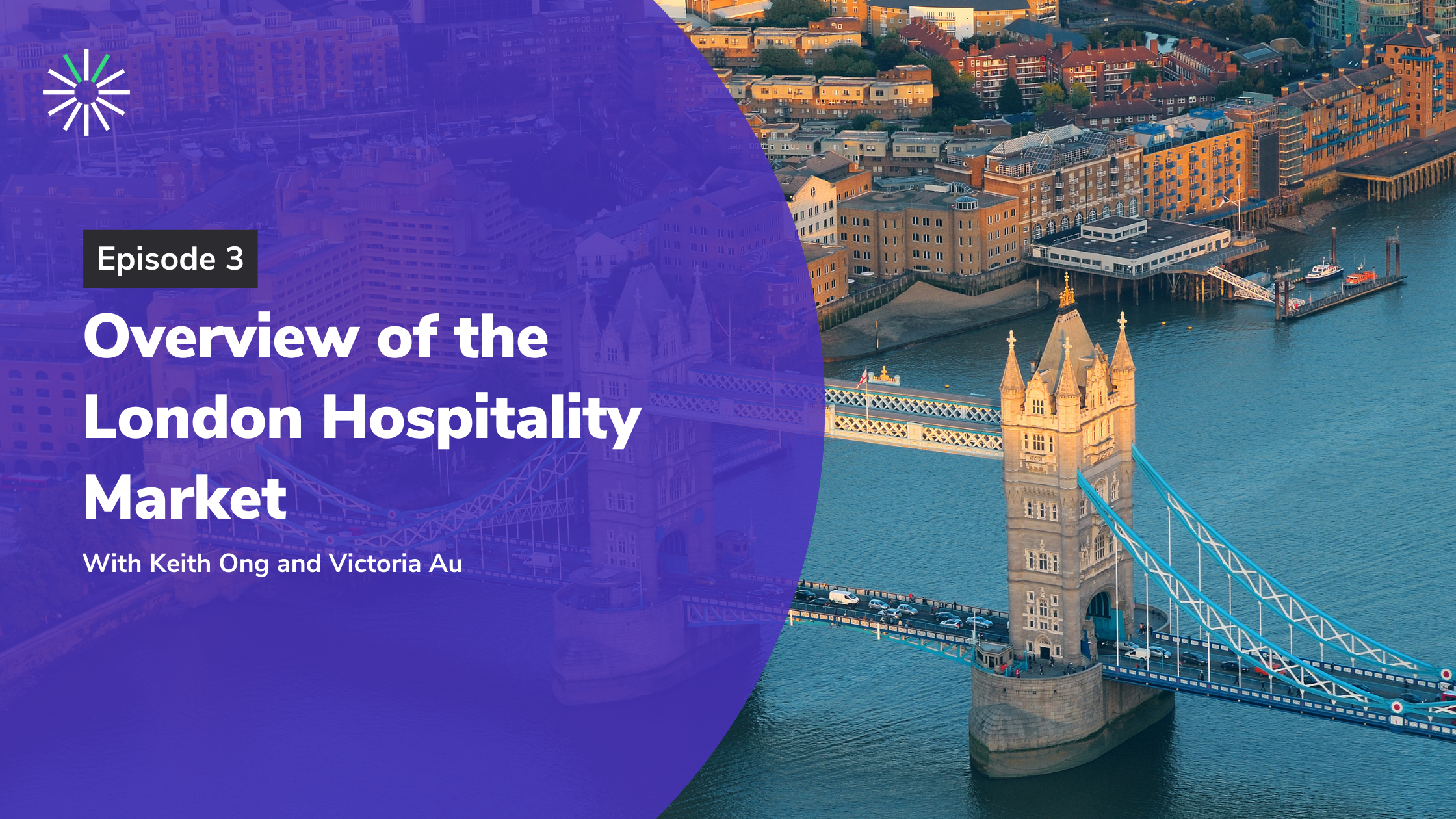 | Time Stamp | Topic Reference |
| --- | --- |
| 0:00 | Introduction |
| 0:58 | The Current UK Economy |
| 1:58 | Performance of the Current Hotel Sector |
| 2:57 | Effects from the Easing of Restrictions |
| 3:54 | Overview of the Entertainment Market in London |
| 5:45 | UK Hotel Investment Volumes |
| 6:56 | Odeon Shaftesbury Revitalisation Opportunity |
| 8:32 | Outro |
Transcript
0:00
Victoria
You're listening to "The RealVantage Podcast." The show provides investors with a better viewpoint into the real estate market with your host, Victoria Au.
In today's podcast, we'd like to touch on the hotel sector, specifically within the London market, and how we expect things to be moving, going forward, from Q3 2021.  Covid-19 has led the tourism industry to experience some difficult times. However, after the reduction in sanitary restrictions, economic and touristic activities are starting up again. It's no wonder we are seeing the hospitality sector in London drawing more and more private and institutional investors, as it is expected to offer attractive returns on investment. Today, I have Keith Ong, RealVantage's CEO to elucidate more upon our team's take, and I'll jump straight into our first question!

0:58
Victoria
Thanks for being on the show today Keith, and it seems that the U.K. economy is back on track- I mean, everyone in the U.K. is walking around unmasked, restaurants have opened, footballs matches are packed. People are partying on the streets! What does this mean for the economy? What are the statistics showing us?

1:17
Keith
You are right Victoria. With the vaccination programme well underway in the U.K. (82% are fully vaccinated and 90% have received one dose) and the corresponding easing of social distancing restrictions, a combination of excess savings, pent-up demand, and a range of government incentives, the U.K. economy looks to be on a steady recovery path. KPMG is forecasting robust GDP growth of 6.6% in 2021 and 5.4% in 2022, allowing the economy to reach its pre-COVID-19 level by early 2022.
1:58
Victoria
And what does this mean for the hotel sector, and specifically, how do we see it performing within the U.K.?

2:05
Keith
The hospitality sector, along with the sub-sectors including food and drinks, hotels, and air travel, was not spared from the impact of COVID-19. However, with the successful rollout of the vaccine and further easing of restrictions, the sector is forecasted to return to pre-pandemic levels by late-2021. Air travel remains a lagging sub-sector which is set for a further fall of 32% in 2021, according to KPMG, but will be followed by strong growth in 2022. Forecasts by other leading industry experts (CBRE, STR and McKinsey) see the broader hospitality sector recover by 2023/2024.
2:57
Victoria
So, what I'm hearing is that with the easing of the pandemic restrictions and an increase in travel, we can expect to see more tourism both domestically and internationally. How do you see this affecting the hotel property sector in London?
Sign Up at RealVantage
3:11
Keith
Certainly, there will be a positive effect on the London hotel sector. Demand in the upper echelons of London for both international and domestic tourism, and the London hotel market will benefit greatly when tourism returns to normal. The London hotel market with international and domestic tourism has a more prominent demand in the upper and luxury segments in London, and we think this sector should benefit strongly as tourism returns.
Previous statistics have shown that demand will be strong, leveraging on the robust and consistent occupancy rates from 2015 till 2019. We can safely say that as the pandemic goes into remission, we can expect a very strong and sustained recovery for the financial health of London's Hotel population.
3:54
Victoria
Hospitality is usually tied to the entertainment industry. I mean, it'd be a crying shame if you visit London without having at least watched a musical.. or three! The iconic London West End has always been a "must-do" for tourists - both domestically and internationally. Seeing how intertwined these two industries are, could you give us an overview of the entertainment market in London and how you expect it to perform?

4:23
Keith
Based on the Soft Power 30 indices,  the U.K. is only ranked second to France and its greatest attribute remains in its culture and cducation – British art, film, music and sport retain their global appeal even at present time.
London is home to one of the largest live-event venues in the U.K.; the O2Arena is one venue which boasts many famous artists in its portfolio (e.g. The Script, The Wanted, Kings of Leon, etc.)
5:00
Victoria
Coming to the key question that I'm sure is on every real estate investor's mind...What about hotels as an investment? How do big investors view this sector?

5:10
Keith
Since the onset of the pandemic, leading global brokerage firm CBRE has observed a shift in the type of capital seeking hospitality investments. Opportunistic funds and family offices are ' taking a view beyond the immediate term', and have displaced more traditional core "income-seeking" capital. Despite the circa 60% reduction in investment volume in 2020, hotel prime yields in London have been resilient, increasing by just 25 bps over the challenging period.

5:45
Victoria
So, considering all that you've shared about the broader macros on the U.K. and London, and your views on the hospitality and entertainment sector, would it be accurate to say that investments into hotels are starting to flow in?

5:59
Keith
Oh yes, most definitely. The U.K. hotel investment volumes reached GBP1.7 billion in the first half of 2021, across 59 deals,  representing an increase of 135.2% compared to the previous six-month period (July 2020 to December 2020), according to the international real estate adviser Savills.
Demand for London assets remains strong, with ongoing investor appetite for prime assets as investors remain positive about a return to international travel over the short to medium term.

According to Savills, we are also seeing capital being raised at an increasing rate and ready to be deployed into the market. There are a number of notable deals under exclusivity and expected to complete during Q3 and as a result, we are currently forecasting the year-end hotel investment volumes to exceed 2020 levels by more than  67%.
Sign Up at RealVantage
6:56
Victoria
Thanks for the comprehensive overview of London and the hospitality sector, which brings me to the fact that we've actually launched a live entertainment and boutique hotel scheme located right in the heart of Covent Gardens, in London's famous West End precinct. There are so many reasons why I love this particular project, and if I had to condense it into three key reasons, it would be: Location; Location; and Location.
To give more colour to the operators, I think there will be a sizeable number of us who are familiar with citizenM, a privately held Netherlands-based hotel developer, design, project management and hotel chain operator who has three other hotel chains in London itself (namely, the Tower of London, Shoreditch and Bankside). I first stayed in their Glasgow hotel about eight years back with my last stint at Zurich, Switzerland, just two weeks ago, and the quality is fantastic - they've really got modern travellers figured out. It's stylish, it's tech-savvy with everything controlled via an app or iPad within the room, 24/7 canteens serving food and drinks round the clock, and you can even check-in via your phone or a kiosk on-site. And this project we have on will certainly benefit from such an experienced and unique hotel chain manager, with heavyweights such as the Singapore Sovereign Wealth fund GIC and the Dutch pension fund APG backing them.
So, don't miss this chance to participate alongside institutional partners in a prime location with an asset that's positioned to benefit from the post-pandemic era. We expect there to be ample room for investment outperformance and invite you to join alongside us in this rare opportunity right in the heart of London, so check out all the full details on our RealVantage platform! Till the next time, it's Keith and Victoria signing off!
8:32
Victoria
Thanks for joining us this month on "The RealVantage Podcast." Make sure you visit our website, www.realvantage.co where you can sign up to join our investment community and start building your global real estate portfolio today. If you found value in this show, we would appreciate a rating on iTunes and do share this with your friends and fellow investors. Be sure to tune in next month for our next episode.
---
Find out more about real estate co-investment opportunities at RealVantage. Visit our team, check out our story and investment strategies.
Sign Up at RealVantage
RealVantage is a real estate co-investment platform that allows our investors to diversify across markets, overseas properties, sectors and investment strategies.‌
‌Visit our main site to find out more!
Disclaimer: The information and/or documents contained in this article does not constitute financial advice and is meant for educational purposes. Please consult your financial advisor, accountant, and/or attorney before proceeding with any financial/real estate investments.