RealVantage Appoints Kuok Meng Han as an Advisor
RealVantage Announces Appointment of Kuok Meng Han, Founder of Camtech Diagnostics and Angel investor in startups, as Advisor.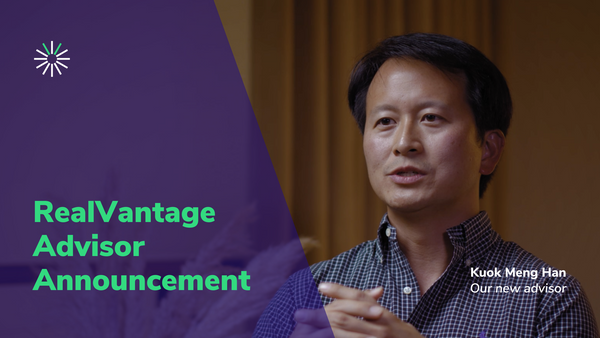 Singapore, November 01, 2021 – RealVantage is pleased to announce the appointment of Kuok Meng Han, founder and chief executive officer of Camtech, who has more than 15 years of experience in entrepreneurship and startup investments, as our new advisor. Dr. Kuok will provide strategic direction and mentor the RealVantage team.
Keith Ong, chief executive officer of RealVantage, commented: "We are thrilled to welcome Meng Han to our Board of Advisors and honoured to have him as an equity investor in RV. Meng Han brings good diversity to the advisory team with his deep experience and vast contacts in venture capital, technology and early-stage startups and has had a great track record in growing businesses. My co-founder Mao, together with the team and myself, are delighted to have him on board, we are certain he will help us scale our efforts to reach a wider audience."
Kuok commented: "I am excited to be joining Keith and Mao and the experienced team at RealVantage. I am personally confident in the awesome product that RealVantage offers and believe that many more people will come to appreciate the value that the platform brings to real estate investment."
Kuok received his Bachelor's and Master's degrees as well as PhD in Engineering from the University of Cambridge. Meng Han is an angel investor who has seeded many successful platforms; he is also the founder of Camtech Diagnostics based in Singapore. He also sits on the board of a social music platform and a property investment holding company with a substantial U.K. portfolio.

Hear directly from Meng Han below:
---
Find out more about RealVantage, visit our team, check out our story and investment strategies.
Sign Up at RealVantage
RealVantage is a real estate co-investment platform that allows our investors to diversify across markets, overseas properties, sectors and investment strategies.
Visit our main site to find out more!
Disclaimer: The information and/or documents contained in this article does not constitute financial advice and is meant for educational purposes. Please consult your financial advisor, accountant, and/or attorney before proceeding with any financial/real estate investments.