Australia First Mortgage Fund Opportunity
Join our webinar to find out more about how you can invest in a diversified portfolio of shorter-term first mortgage property loans and benefit from greater security and resilience against inflation and interest rate risks.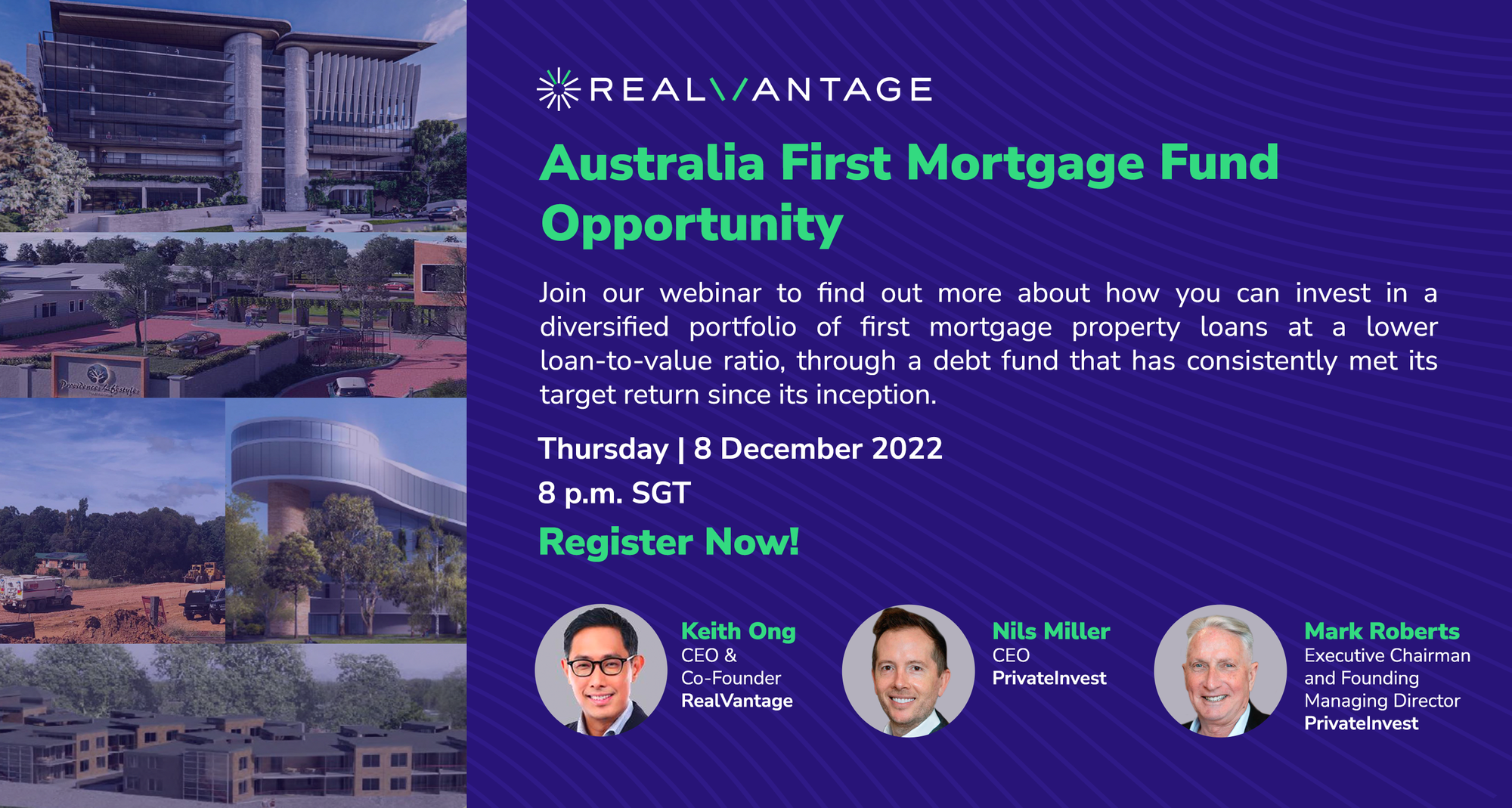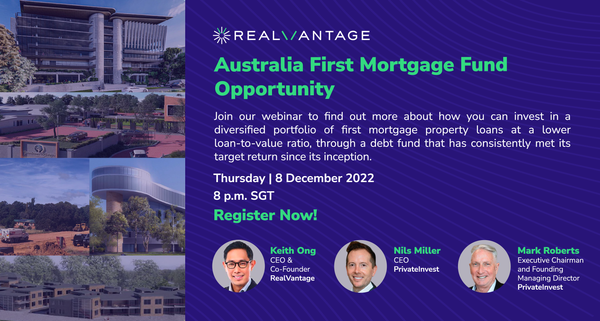 View Opportunities Page
About The Speakers
Keith Ong | CEO & Co-Founder of RealVantage
Keith is an industry veteran with over 20 years of experience, he has transacted in excess of USD 3 billion across geographies, sectors and the entire real estate investment spectrum. He was the Assistant Director of Investment in ARA Asset Management, Director of Investment in Rockworth Capital Partners, and the Director of Investment Management and Capital Transactions for Firmus Capital.
Nils Miller | CEO of PrivateInvest
Nils has over 22 years of banking, corporate advisory and finance experience across a range of industry sectors. For over 10 years he worked with Investec Australia, in a senior role in the Infrastructure Finance and Investment Team.
Over his career, Nils has acted as an adviser, lender, investor and developer in the property and infrastructure sectors, with responsibility for principal investment, asset management, oversight of institutional, strategic and investor partnerships, business development, strategic positioning and team strategy.
While at Investec Australia, Nils worked closely with a range of stakeholders including investors, developers and governments to develop and deliver innovative, affordable housing solutions.
Mark Roberts | Executive Chairman and Founding Managing Director of PrivateInvest
Mark brings over 30 years' property experience to PrivateInvest and its clients in both the public and private sectors.
His real estate experience includes corporate and property finance, funds management, asset management, investment management, and large-scale commercial property development.
Mark founded PrivateInvest over a decade ago, taking a measured approach to its evolution as it grew. Four years ago, Mark identified the opportunity to move into the non-bank lending sector, one of Australia's fastest growing asset sectors which PrivateInvest has now become a genuine alternative finance solution to underserviced lenders in the commercial property market. Since that time, PrivateInvest has grown providing a range of tailored financial solutions to qualified borrowers in the real estate sector and supporting a range of significant projects and developments across Australia.
Mark has directed and executed a number of significant transactions in the finance, property and securities industries including listing an ASX entity as a major shareholder and as Managing Director. This entity became Australia's largest in its sector, managing 5,600 rental retirement units and providing asset, facilities, tenancy, and funds management services to institutional, wholesale and retail owners.
The Roberts family private investment entity has also undertaken direct developments in the industrial, commercial, retail, hospitality and healthcare sectors.
---
Find out more about RealVantage, visit our team, check out our story and investment strategies.
Sign Up at RealVantage
RealVantage is a real estate co-investment platform that allows our investors to diversify across markets, overseas properties, sectors and investment strategies.
Visit our main site to find out more!
Disclaimer: The information and/or documents contained in this article does not constitute financial advice and is meant for educational purposes. Please consult your financial advisor, accountant, and/or attorney before proceeding with any financial/real estate investments.